Gallery Furniture
Over seven years, we have amassed an incredible gallery furniture and antiques. Thankfully, we got most of our best pieces on film and can reminisce about this collection from the gallery.
As we go into our seventh year of business, it is nice to look back at our most unique furniture we have sold. Of course, each antique furniture piece from our gallery tells a story. Sincerely, we hope you enjoy the stories behind our most unique gallery furniture.
Unique Furniture
Unique furniture can be unusually carved, have very strange features or just be a superb example of a particular period. Some of these unique furniture pieces have a striking look, or an amazing story.
Other times, these unique pieces show incredible craftsmanship and truly were one of a kind.
Our list of the most Unique Furniture Pieces include:
Antique Poster Bed
Lundee Dundee Scottish Clock
Art Nouveau Cabinet
Antique Banquet Table
Carved Breton Cabinet
Antique European Armoire
Mercury Clock
Carved Drop Leaf Table
Berkey and Gay Eagle Table
Antique Gettysburg Chest
Kittinger Desk
Mediterranean Cabinet
Unique Table (Round Table)
Tall Chest of Drawers
Antique Carved Cabinet
Oak Pier Mirror
Tiger Maple Table
Unique New England Sideboard
Victorian Desk with Combination Lock
Antique French Wardrobe
Of course, this includes some of our most fantastic, exciting and truly unique furniture pieces of the last seven years!
Moreover, many of these pieces were memorable because some very fabulous clients purchased them. We thank you all for your passion for these wonderous and unique furniture pieces!
1. Antique Poster Bed
This antique poster bed has incredible carvings all around every post.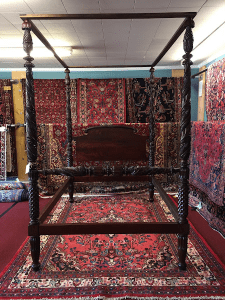 Additionally, it features solid mahogany and dates to 1825. No doubt this fabulous antique poster bed continues to rank as both an incredible antique and an outstanding piece of art for our gallery furniture!
2. Antique Scottish Clock, Lundee of Dundee Clock
Not only did this unique antique clock have an incredible rhyming name, it had a great look. The early antique clock featured beautiful mahogany case. Also, it had a beautiful hand-painted face.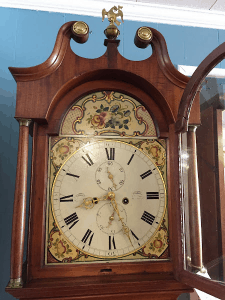 Finally, even the early pendulum had paint decoration on it! Truly, this was a fantastic antique clock.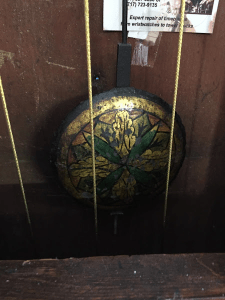 3. Art Nouveau Cabinet
Of course, this art nouveau cabinet had a fantastic artsy look. Additionally, it is rare for us to find furniture from this era.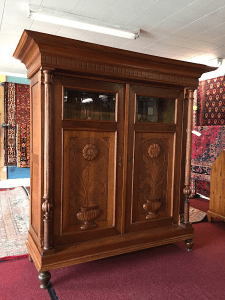 The doors had beautiful and unique sunflowers carved on them. Obviously, this made the unique furniture cabinet a very quick sale! This piece of gallery furniture really stands out as part of a unique historical movement as well.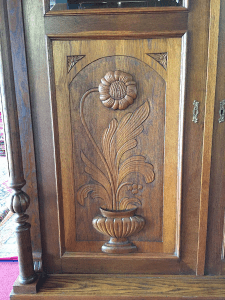 4. Antique Banquet Table
Not only did this early antique table have beautiful inlay along the apron, it also had a very adaptable look.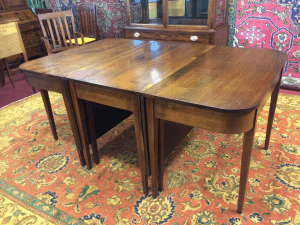 The table could go from extremely tiny. Then, with some adjustment, it could seat over twelve people! Obviously, this unique antique table does not come around that often. It sat for only a few days in our furniture gallery.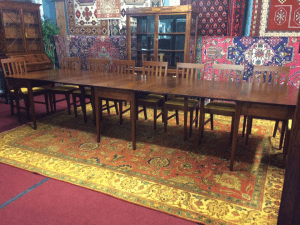 5. Carved Breton Cabinet
Rarely does an antique also have a great sense of humor. However, this antique Breton cabinet featured a narrative style that really brought this unique piece of furniture to life.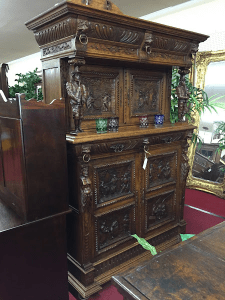 The cabinet featured a beautiful array of carved panels, all depicting a drinking story. By the final panel, the protagonists in this cabinet seemed to have a very amusing evening!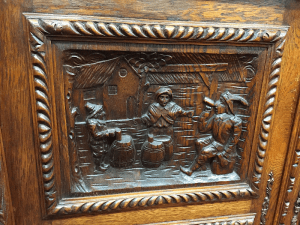 6. Antique European Armoire
This unique antique European armoire shows incredible detail. Obviously, it had a very wealthy owner commission it. Of course, the paneled doors and lovely middle column made for a beautiful display.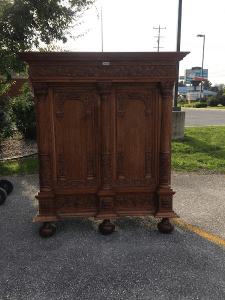 However, the long key and incredible lock make this cabinet truly unique. Surprisingly, the new owner accidently locked the key inside, and had to have her police officer friend retrieve it. How did she get him to get it open? She told him to pretend a baby was locked inside!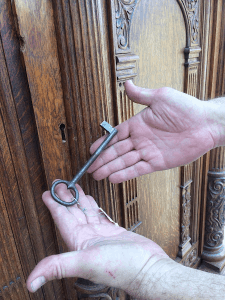 7. Mercury Clock
Luckily, we knew a bit about mythology before purchasing this antique figural clock! Of course, Mercury has many traits, but his status as God of business and commerce makes him a great character for the clock.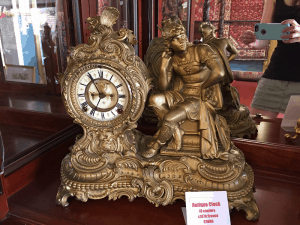 This late 19th century clock by Ansonia no doubt continues to be a focal point today. When it was in our gallery furniture and clock lovers alike took notice!
8. Carved Drop Leaf Table
Now, many people know we love collecting finely carved antiques. However, this unique hairy paw carved drop leaf table really takes the cake!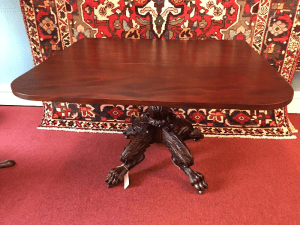 The incredible detail on this Empire Period table really gives it a rich feel. And the authentic looking paw and hair really come to life in this unique table.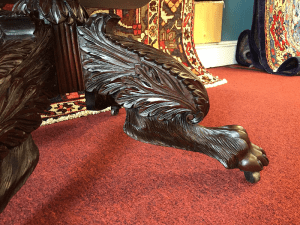 9. Berkey and Gay Eagle Table
Obviously, we love American furniture and Americana furniture. So, when we saw this little table with the carved Eagle drawer, we knew we had to have it.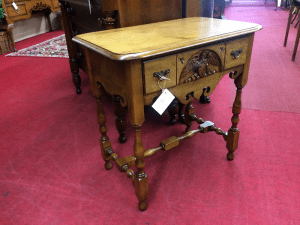 However, what really surprised us was the story inside the drawer. This table had a plague that explained the wood came from the floorboards of the U.S. Constitution! What an incredible piece of history!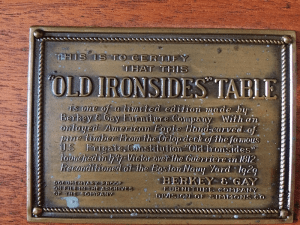 10. Antique Gettysburg Chest
This antique Gettysburg chest came from the McPherson estate. Of course, the Civil War buffs will remember McPherson's Ridge very well, as the location of the first battle at Gettysburg.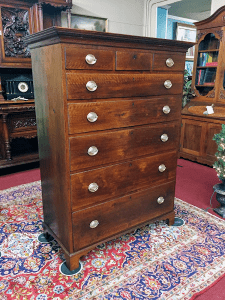 However, the chest had unique attributes as well: Very beautiful hardware with signs of peace, and also an ingenious wooden locking mechanism.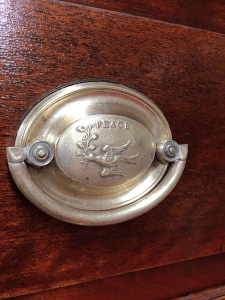 11. Kittinger Desk
Obviously, Kittinger is known for their fine reproduction furniture, especially their Colonial Williamsburg Collection. Indeed, many pieces of Kittinger Furniture sit in the most loved furniture gallery: The White House. Nevertheless, this vintage furniture brand also made incredible Jacobean style furniture in the 1910s and 1920s.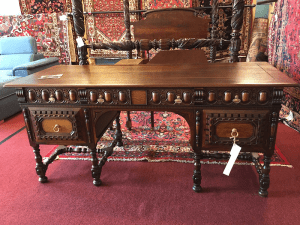 This unique two tone Kittinger desk had an incredible look and makes for a great statement piece in a lawyer's office today!
12. Mediterranean Cabinet
Large, bold and with an incredible variety of motifs, this antique cabinet had imagery of both land and sea. The corners looked like mast heads, and shells decorated the top.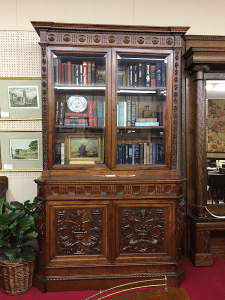 Additionally, fruit and nuts cascade down the edges, making this rich antique cabinet an incredible showpiece.
13. Unique Round Table
While not an antique, this vintage table had an ingenious design. With a painted base and cherry top, this unique table could expand like many we stock in the store.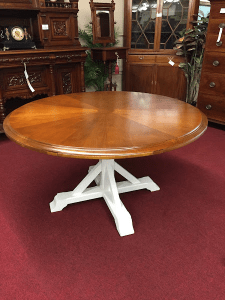 However, this round table remains a perfect circle when you add the leaves. So, it had fitted half moon shaped leaves that clipped into place and were supported by extending arms.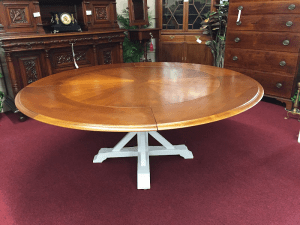 Now, it makes a perfect round table for its new owners.
14. Tall Chest of Drawers
Sometimes, it is just the size that makes something unique. This unique furniture chest of drawers from the early 1800s had an incredible look and stood well over 6.5 ft tall.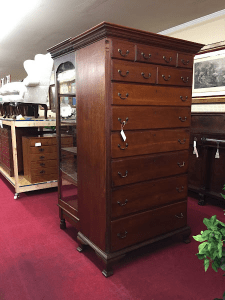 The cherry antique chest had a great look, and no doubt gets plenty of use in its new home in Georgia.
15. Antique Carved Cabinet
During the Renaissance revival period, furniture looked to castles, folk lore and mythical beings for inspiration. Of course, this piece of unique furniture has an incredible amount of high relief carving.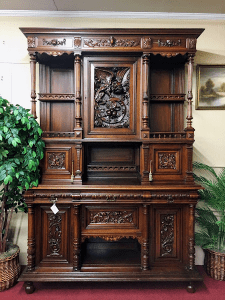 Obviously, this griffin or dragon carving in the center served as the focal point for this huge antique cabinet.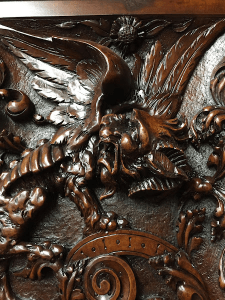 16. Oak Pier Mirror
As most of the items we get our true furniture pieces, this oak pier mirror actually could be considered a piece of architectural salvage. Of course, it could simply lean against the wall as we did here. However, more than likely it served as part of a wall molding in a late 1800s home.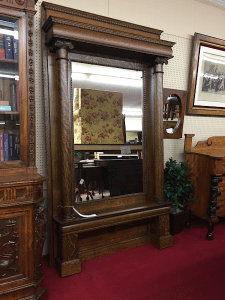 Naturally, this oak mirror also makes the list because of the incredible tiger oak veneers and beautiful column capitals.
17. Tiger Maple Table
What do you get when you combine a truly unique furniture design with incredible unique wood? Well, you get something like this incredible vintage table. Each half of the table tilted upwards when you don't need it. And, it had the most incredible tiger maple wood table top.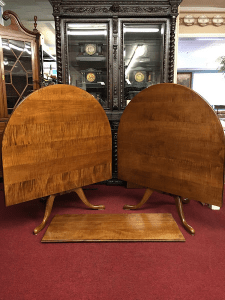 Likely made by high end furniture company, D.R. Dimes or Eldred Wheeler, this vintage table did not have a mark. However, it certainly will not be soon forgotten!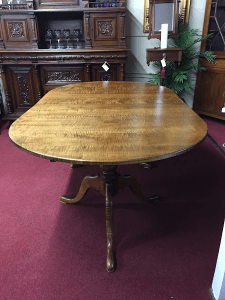 18. Unique New England Sideboard
Believe it or not, this unique New England sideboard continues to strike me as one of our greatest pieces. Even though it does not have a traditional look, I loved this sideboard for its unique furniture design. Of course, it had carved columns and a great two tone look in the finish.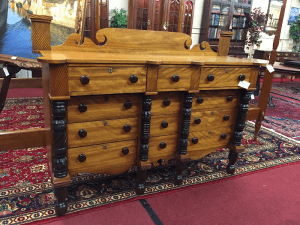 The curly backsplash and bun feet made it all the more fantastic. What a statement piece!
19. Victorian Roll Top Desk with Combination Lock
This unique walnut roll top desk actually ended up in a politician's office in DC. Of course, it is not hard to see why! The desk had a very unique look with the heavy roll top. Additionally, it had a carved backsplash. Finally, it had an original combination lock.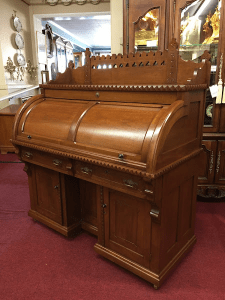 Honestly, who wouldn't love this unique desk? Victorian furniture can really add a special touch.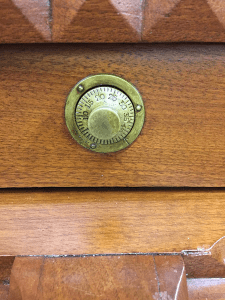 20. Antique French Armoire
Enormous, beautifully carved and rounded on each end, this French Armoire made such a statement! It had such an amazing design, with roses, cherubs and flowers decorating the exterior. The absolutely magnificent wardrobe also showed incredible quality. Indeed, you can see this quality in the paneled door, beveled mirror and fabulous hand carved detail.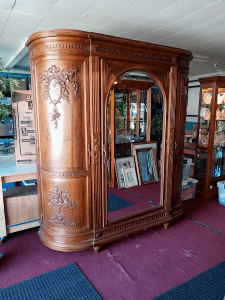 It even came with fitted hat boxes. Truly, this antique wardrobe now makes a beautifully statement in a lovely sitting room. (It was just too pretty to hide away in a bedroom!)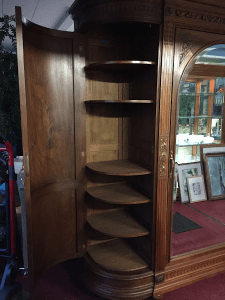 Our Most Unique Furniture
Well, I hope you enjoyed touring this virtual gallery and learning more about some of our most memorable pieces. We love sharing our passion for antiques and fine furniture with our clients. Also, we feel incredibly lucky to meet so many that share in our passions for unique furniture and antiques.
Thank you for reading!
Spread the love, Save for Later