Country French Furniture
Country French Furniture offers a classic look for those who love the elegance of French furniture but want a relaxed feel. In fact, country French style can be achieved with authentic antiques or with country French furniture reproductions.
In this article, we will look back at our best French Country style pieces of all time. Some of these items were over 100 years old and actually came from France. Others feature beautifully made reproduction items that mimic the Old World look.
Is Country French Still in Style?
Unfortunately, country French style has waned in popularity in recent years, according to some style experts. However, just because something has less popularity in the marketplace today, doesn't mean it is not a worthy pursuit.
Country French is a beautiful, livable and charming decorating style. Done correctly, it brings a feminine and comfortable look to a home.
Additionally, most country French furniture items show good quality. Reproductions from brands like Ethan Allen, Drexel and Henredon made high end furniture that will last for decades.
So, without further ado, here is our list of the top 20 French Country furniture pieces
Century Furniture Country French Cabinet
Antique French Sideboard
Thomasville Vintage Buffet
Ethan Allen French Country Dining Table
Antique Sunflower Cabinet
French Country Dining Chairs by Pennsylvania House
Pine Vintage Hutch Cabinet
Hickory French Country Desk
French Provincial Vanity
Vintage French Settee
Ethan Allen French Country Cabinet
Century Wardrobe
Antique French Rococo Clock
White Furniture Dresser
Victorian Limoges Plate Set
Floral Chair
Antique French Wardrobe
Thomasville French Writing Desk
Henredon Vintage Secretary Desk
Country French Ethan Allen Chairs
1. Century Furniture Country French Cabinet
This High quality vintage cabinet by Century Furniture had an incredible look.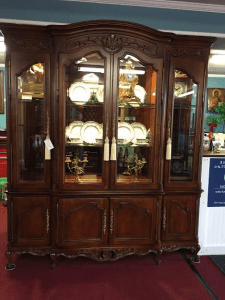 It featured beautiful heavy doors, carving and cabriole style legs. Of course, Century Furniture has a reputation for quality.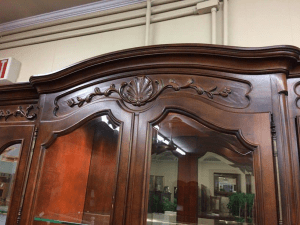 In fact, the Century Cabinet was so heavy that we dreaded delivering it. The quality could be seen in the thick glass shelves as well.
2. Antique French Style Sideboard
This beautiful antique sideboard had beautiful walnut veneers, lovely subtle carvings and incredible French style hardware.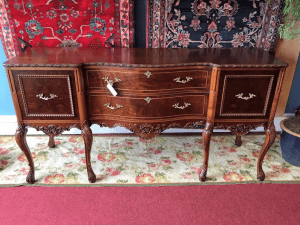 In order to bring it back to life, we refinished this lovely circa 1920 buffet.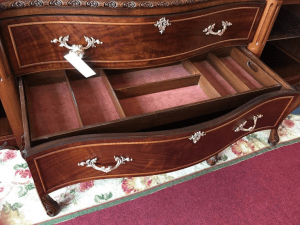 Although bordering on the formal side, this buffet no doubt could work in a traditional French Country dining room.
3. Thomasville Vintage Buffet
This adorable French Provincial Buffet had a charming, more casual look. Of course, Thomasville Furniture Company made beautiful French reproductions in the 1960s and 1970s.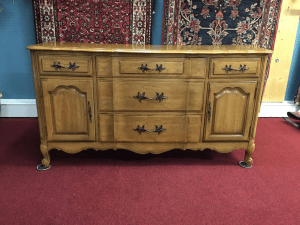 Additionally, many people like the way the Thomasville finish mellows over the years. Indeed, this vintage buffet really added a ton of charm to its new room!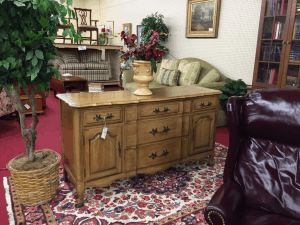 4. Ethan Allen Vintage Dining Table
Certainly, this Country French Dining Table by Ethan Allen has a similar French charm. Obviously, the scalloped corners and nice curved legs add to this southern French style.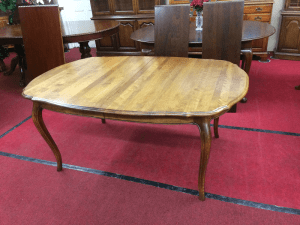 I think the best description for this type of table is casually elegant. Can't you see it under a large Crystal chandelier?
5. Antique Sunflower Cabinet
This antique Art Nouveau Cabinet has a great look for a sunny home in the South of France. Certainly, I can see this unique cabinet becoming a focal point in any French Country living room or bedroom.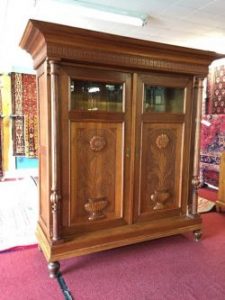 Like a Van Gogh painting, this fine antique cabinet really steals the show.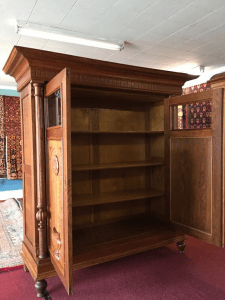 6. Pennsylvania House Dining Chairs
Rush seats definitely evoke the relaxed atmosphere of a true French country manor. So, these vintage Pennsylvania House Dining chairs made quite an impression.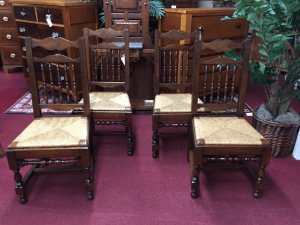 The vertical rungs on the chairs made these unique chairs fit right at home with a trestle table.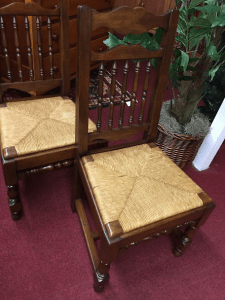 7. Light Pine Country Hutch Cabinet
Light finishes and soft woods often speak of country homes. So, this Pine Country hutch could fit right at home with a relaxed French style home.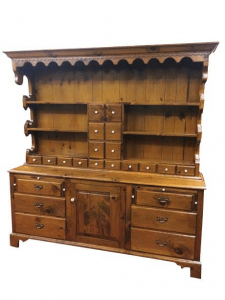 The thick pine wood really gives this cabinet a relaxed look. However, the tiny drawers gave it lots of detail, perfect for a French Country kitchen. I can see striped dish towels strewn on the top.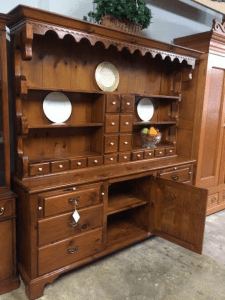 8. Hickory French Country Secretary Desk
Chicken wire doors automatically give a rustic country look to any secretary desk.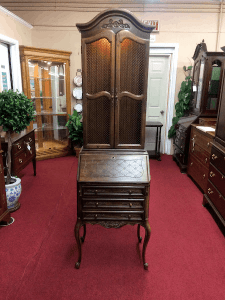 This adorable narrow vintage French Secretary Desk by Hickory Manufacturing really adds a sweet touch to any Provincial style room.
9. French Provincial Vanity
Sometimes, French Provincial furniture can look a little fake. In fact, in the 1960s through 1980s, many vintage furniture companies added a white factory finish to many of their French provincial pieces.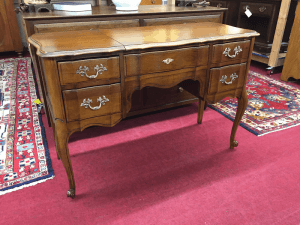 However, personally, I mostly prefer the wood finishes, like on this solid cherry French style vanity. Indeed, the classic cherry color can fit very nicely in a traditional bedroom.
10. French Tufted Settee
Of course, this list could not be complete without some really luxurious French Style sofa or settee. Certainly, this tufted and curvy little settee could work in any entryway, living room or bedroom decorated in the Country French style.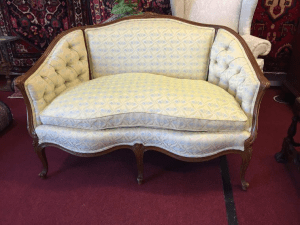 Additionally, the cute pale blue and yellow fabric really adds to the delightfulness of this petite sofa.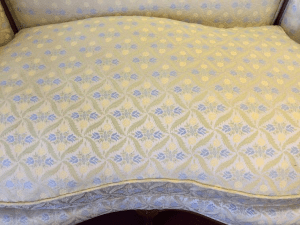 11. Ethan Allen Country French Hutch
As mentioned, Ethan Allen made some incredible country French style pieces. Over the years, we have been lucky to buy and sell some beautiful solid cherry French style pieces. However, this charming Ethan Allen hutch really had a memorable look.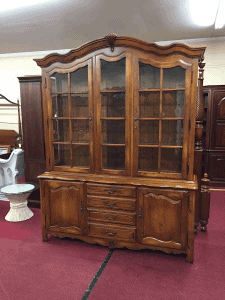 I loved the wavy glass in the doors, and the antique style hinges on this nice vintage china cabinet.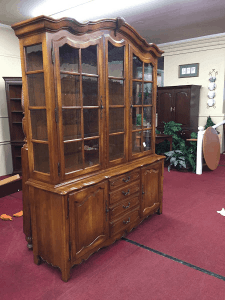 12. Century Furniture Wardrobe
Predictably, Century Furniture has another spot on our list, this time with their beautiful French Style Wardrobe. This reproduction wardrobe had soft curtains and chicken wire in the doors, adding a very simply and provincial look.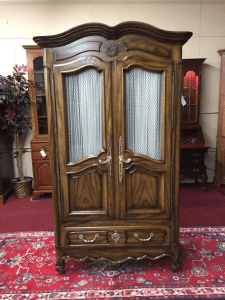 Of course, the cabinet showed great quality. It had fitted drawers and shelves on the interior, making it a very useful French country furniture piece.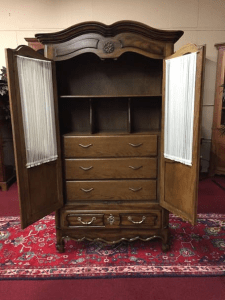 13. Antique French Rococo Clock
While not exactly a piece of French Country furniture, this Rococo clock adds tons of glamour to any French style home.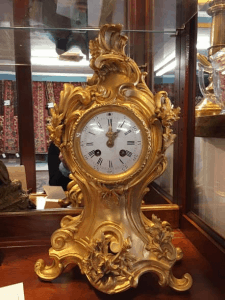 The circa 1850 antique mantel clock adds a layer of richness to any room that starts to get too tarnished. After all, authentic French antiques add a certain "je ne sais quoi" to a room.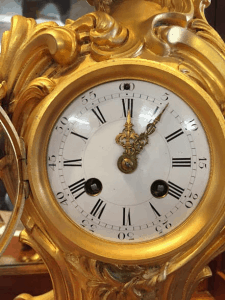 14. White Furniture French Tall Chest
Although not as well known as Ethan Allen, White Furniture Company made some really great French style pieces back in the day. This Fitted French tall chest is no exception.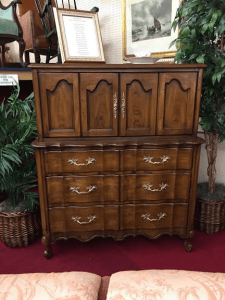 The accordion style doors and beautiful glitzy hardware made this tall chest a beautiful fit in a French Country bedroom.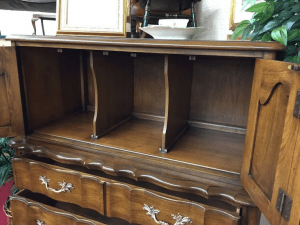 15. Victorian Limoges Plate Set
Again, accessories tend to bring a room to the next level. In Country French homes, plates often take the place of expensive artwork on the walls. These early Limoges plates were decorated by hand in the Limoges region of France.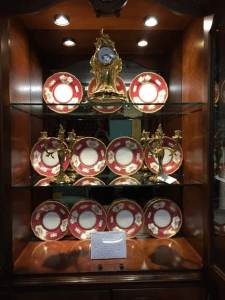 Their ruby red backgrounds and touch of gold made them a great choice for any lighted cabinet or wall decoration.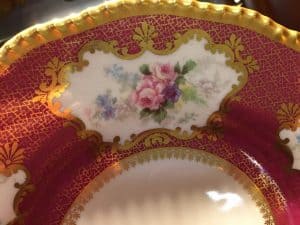 16. Floral Chair
With most relaxed country homes, there is a sense that the upholstery doesn't change too often. And this was exactly the draw in this yellow floral arm chair set that could have a place in any sunny French home.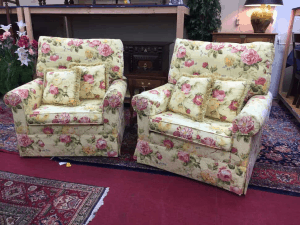 Eventually, these sweet accent chairs found their way to a little girl's nursery.
17. Antique French Wardrobe
If you inherited a huge manor from some great aunt, you might expect to find this grand old French armoire sitting in the bedroom!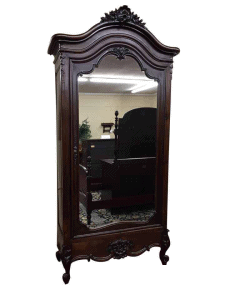 An amazing and incredible work of art, this antique wardrobe has so much detail. The beautiful floral motifs have a subtle and romantic feel.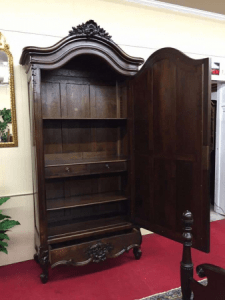 18. Thomasville French Writing Desk
Sometimes, a petite writing desk is all you need to set off a room. This nice French Country style desk had a parquet top and beautiful Cabriole style legs.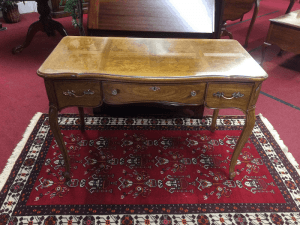 Of course, if you have the heart of a writer, this romantic French desk is for you.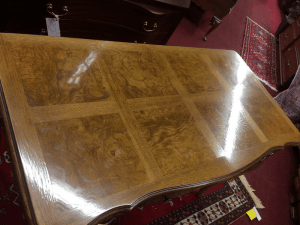 19. Henredon French Country Secretary Desk
If you need a grander focal point, this tall vintage Henredon Secretary Desk could really set off a room.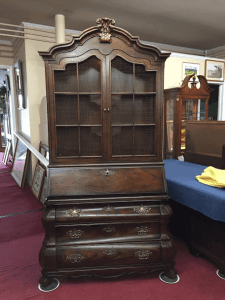 Of course, this dark oak finish really gives off a country French furniture vibe. And, the curvy bombe shape really adds to its presence.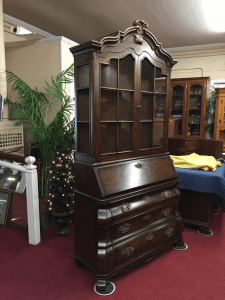 20. Ethan Allen Country French Chairs
Dainty and petite, these lovely Ethan Allen Country French chairs had a charming striped fabric.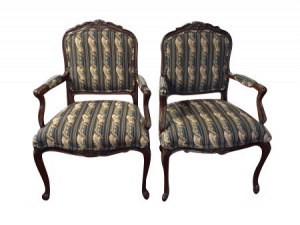 Of course, the real lure of these vintage chairs was their elegant shape and curvy back. Indeed, these fantastic vintage chairs could really add the strong element of French decorating to any home.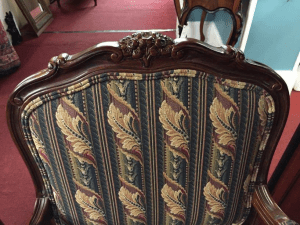 Decorating with Country French Furniture
So, there you have it! Our list of our favorite Country French furniture over the years. While some of these pieces are no longer available, we hope that it gives you a good starting point if you intend to decorate in this classic style.
Ultimately, although not found in modern furniture stores today, this style furniture offers a nostalgic and comfortable home. With a lack of hard edges and a slightly regal touch, French Country still manages to look homey and cozy.
By layering in accessories, touches of nature, floral and checkered fabrics, you can bring these Country French furniture pieces to life.
But please, let us know, do you like French Country decorating? What brands or pieces do you look for for a Country French room?
Spread the love, Save for Later