If you are looking for ways to add elegance and femininity to your home, antique and vintage French Furniture could be your answer. Traditional French furniture of all eras and styles offers class, romance and above all sophistication to your home.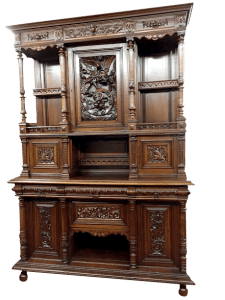 In fact, modern furniture companies have imitated the styles of French antiques and have blended them with other design elements for decades. Thus, modern, vintage and antique French furniture can be great options when you start down your redecorating journey.
French Furniture Characteristics
France has been influential in the design and fashion world for centuries. For that reason, there are a dizzying array of French furniture styles to experiment with. While the finish and design can vary, the most typical French antiques has feminine lines, cabriole legs and gilded or carved details. Fancy inlay and complex satinwood details decorate wood surfaces. These design characteristics originated with French Kings and Queens and continue to offer inspiration to modern furniture makers.
In fact, Renaissance style furniture has been revived multiple times throughout history. Particularly influential are Louis XIV, Louis XV and Louis XVI styles. These three monarchs introduced opulent and rich decorative forms into their palatial residences. Although there are nuances to each of these antique styles, suffice it to say that the furniture styles that emerged from these three monarchs are among the most copied in the Western world.
More casual French furniture, often called French Provincial Furniture, mimics the charm of country styles found outside of Paris and Versaille. Authentic french provincial style pieces often feature serpentine front, meaning the dressers are curved and bowed. French provincial tables often have cabriole legs and simple planked tops. In addition, caned back chairs and beds were common in the late 19th century country areas of France.
Reproduction French Furniture
Reproduction French Provincial furniture became very popular in the mid 20th century in the US.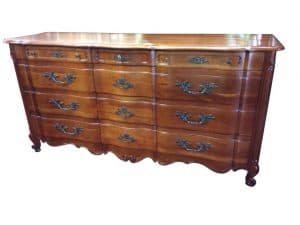 Several furniture companies introduced lines of French Provincial inspired bedroom furniture, dining room furniture, and living room furniture. It is often factory painted in cream and white and has gold painted details. Lots of American furniture companies capitalized on the popularity of this French Provincial style during the 1940's through the 1970's. Drexel Vintage French provincial is one such company.
Reinventing French Provincial Furniture
Today, many people are repainting these vintage French Provincial style vintage pieces. Because these pieces are factory made reproductions and not authentic french furniture, people can have guilt-free fun painting them. We even have experimented with sassy painted French Provincial furniture back before we were antique aficionados!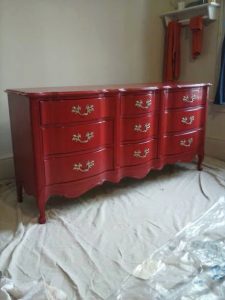 French reproduction furniture from the 20th century can add a dramatic and eye catching look to a home.
Authentic Antique French Furniture
While reproduction pieces and vintage French furniture can give a taste of French style, it cannot compare to authentic antique French furniture.
Antique French Cabinets of the mid to late 19th century are a staple to our ever changing collection.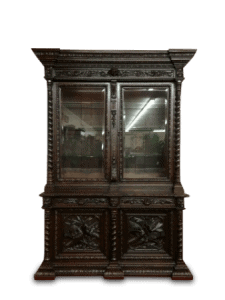 Antique French cabinets vary from Gothic to Art Nouveau in style. These cabinets can be light or dark in finish, can have glass fronts or carved wood fronts. We have sold a vast number of authentic French antique cabinets as bookcases, china hutches and library pieces. This particular piece of French furniture is perennially popular, and makes a lovely and grand statement in the home.
The quality and craftsmanship of authentic French furniture is unparalleled.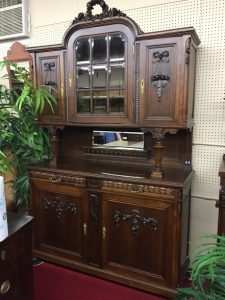 The carvings on French furniture cabinets are beautifully detailed works of art! Theses pieces were carved by hand by trained artisans. Typically, French cabinets are found in walnut or solid oak. Modern factory pieces simply cannot compare to this type of French Furniture.
If you would like to browse our current collection of antique cabinets, please head over to our antique cabinets category.
French Furniture Accent Pieces
Diving head first into French style can be intimidating for some. Often, it is best to start adding a small piece of French furniture to your collection.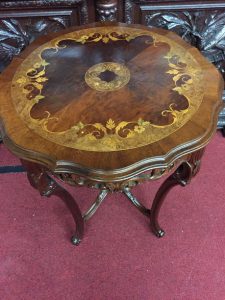 Antique French side tables can be an excellent way to get your feet wet in French furniture styles. A small French inlaid table, for instance can decorate a hallway or entryway without becoming overbearing.
A French accent chair can also blend in easily with your decor. French chairs can tuck in a living room or bedroom quite beautifully. Or consider French sconces to add as decor.
Interior Design and French Furniture
Incorporating French style furniture into your home is a great way to elevate your interior design, no matter your budget. If you would like advice about your particular design dilemma, feel free to reach out to our design department.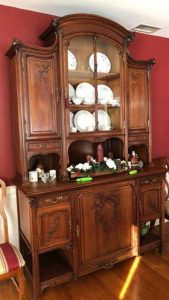 Also, we can help you decide whether a piece of furniture in our collection would be right for your space. Finally, we can also advise you on other ways to incorporate timeless French style into your home.
To get free design direction, please feel free to email us photos of your room. Start your friendly design consultation today!
Thank you for reading!
Rachel LaBoheme
www.ebohemians.com
Spread the love, Save for Later