Potthast Brothers furniture

A quick video of high quality handmade antique custom made furniture by The famous Potthast Brothers. A heirloom furniture company from Baltimore Maryland. Indeed their slogan, The antiques of tomorrow, was understated.
Potthast Brothers Furniture Video
First of all, The Potthast Brothers antiques are always stylish, beautiful and well constructed. You may notice the fine inlaid wood work in the furniture. The company meticulously imitated the inlaid patterns of the 18th century. Indeed, the fancy swags and line inlay speak of Hepplewhite creations.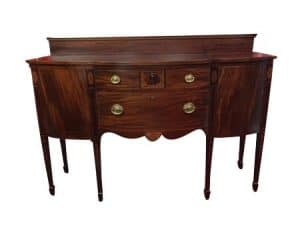 A glimpse at the construction of their furniture speaks volumes. Potthast sideboards and dressers often have very sturdy paneled backs. Subsequently, Potthast furniture is often very heavy. The furniture will last a lifetime!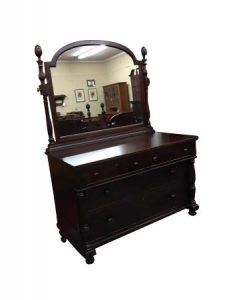 Of course, the fine materials are top notch as well. Fine mahogany, tulip wood and oak were the woods of choice of Potthast Company. Certainly, cheaper lumber was not an option for these high end makers.
The Potthast Brothers factory remained a small but profitable enterprise for many years. They continued the small workshop atmosphere for several decades. This ensured their quality control on their pieces, and cemented their legacy as a fine furniture company.
Although not widely celebrated, collectors of Potthast furniture are very passionate. Once you enjoy a piece of Potthast furniture in your home, you certainly do not settle for less. Hopefully, once you experience furniture by this Maryland company, you too will become an undying fan and aspiring collector. We admire a Potthast piece in our home everyday, and are very grateful to have it in our collection.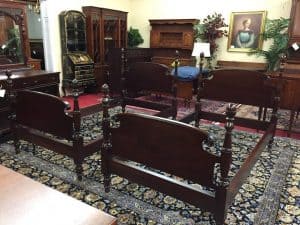 Please enjoy this presentation of some Potthast Brothers antique furniture we have or have had in our antique gallery.
In conclusion the direct URL to this Potthast Brothers video clip watch video.
Most of all! Thank you for inviting us into your home! See more at Potthast Server
Rachel La Bohème
Bohemian Style