Empire Dressers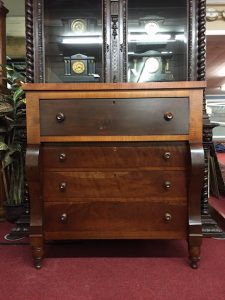 Antique Empire dressers make an elegant statement in the home. In addition to being beautiful, empire dressers are extremely useful as an antique piece of furniture. There are a number of reasons to start collecting empire dressers (often called empire chests), and we'd love to explain to you just a few of the reasons we can't get enough of this decorating classic!
History of Antique Empire Dressers
The Empire Period, in regards to American furniture, dates to roughly 1825-1850. In this respect, the Empire Period marks the end of the Federal Period and the beginning of the Victorian Period. Empire furniture is bold, grand and completely different from its predecessors. Take a look at this Empire sofa to get an idea.
Empire style in American furniture was heavily influenced by Napoleonic styles in France. However, the American empire furniture, and Empire Dressers in particular, maintained a heavy American flavor. American empire dressers feature native American woods, unique designs and excellent craftsmanship.




Characteristics of American Empire Dressers
Antique empire dressers are immediately recognizable as such. Tell tale signs of Empire dressers include the following:
Heavy Proportions
Graduated Drawers (the top drawer is much larger than the bottom drawers)
Columns or scroll work flanking either side
Threaded Glass Knobs or Wood knobs are common
Can feature decorative inlays, veneer work and book veneered fronts
Claw Feet, Hairy Paw Feet, or Bun Feet are common
Fine Dovetailing in the drawers indicating excellent craftsmanship
While it is not especially common to see every feature of this list, certainly the heavy proportions are almost ubiquitous in empire dressers. Most empire dressers are chest high, around 45-48 inches in height. Furthermore, they are usually quite deep and girthy.
In this way, we see a reaction to the fineness of Hepplewhite and Sheraton furniture that came before. Gone were the days of tall tapered legs and dainty femininity. Empire dressers, with their masculine profiles and thick columns, seem to stand proudly and unabashedly in a room.




Empire Chest Examples
The other decorative features of empire chests can vary by regional preferences and by maker.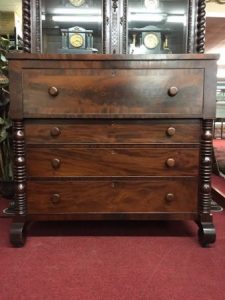 For instance, this plain empire chest with simple turned columns allows the beauty of the wood grain to shine. Notice the top drawer and its mahogany banding, and the incredible swirls of mahogany across the three remaining drawers. A woodworker had to work quite hard to slice and work with veneer for pieces like this. It demonstrates great skill.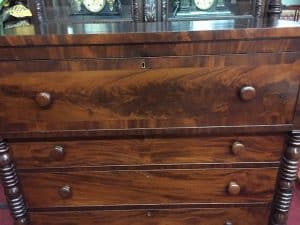 Also, the columns are an interesting turned spindle shape. Craftsman often turned a single spindle and then sliced it in half lengthwise to achieve this look. Wooden knobs and bun feet complete the empire dresser.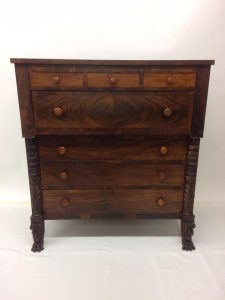 This more ornate Empire dresser achieves an incredible formal look! The prominent large drawer is offset by three smaller drawers up top. However, it is the incredible carved legs and animal feet that steal the show!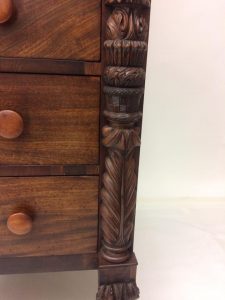 Take a look at the beautifully hand-carved detail on these legs.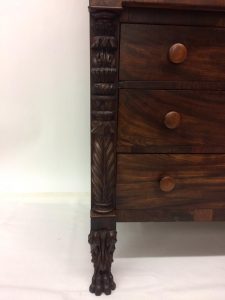 Often called hairy paws, the dressers with this feature often originated in Philadelphia and other urban centers. Craftsmen competed for business, often flaunting their skills. In this way, ornate carvings becoming their calling cards.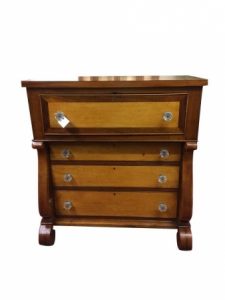 A third example of a very different empire chest, brings to light early 19th century tastes. This tiger maple empire dresser differs from the other two. It has scroll "s-shaped" columns on either side, made of cherry. "S-shaped" columns give a very bold, yet toned down look to the empire chest.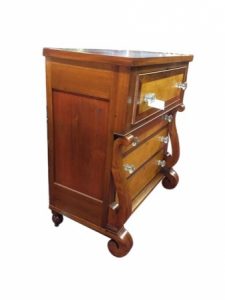 The beautiful mix of tiger maple and cherry takes this empire dresser to the next level. The striped rare tiger grain simply glows in its cherry frame! It is complimented by carved polished glass knobs.




Empire Dressers in the Modern or Historic Home
Empire dressers look smart and stately in many different styles of homes. We particularly like to see empire dressers used in rooms other than the bedroom, for the simple fact that they are so pretty!
Currently, I am looking at a beautiful mahogany empire chest in our entryway. With a mirror or painting above, these stately pieces make great statements in an entryway. The deep drawers make empire chests perfect for stashing winter wear and paper clutter.
In old homes, empire chests are great for dining rooms as well. They act as narrow servers and can be beautifully decorated with china on top.
Empire Dressers and their Unending Usefulness
The deep top drawers of empire chests work great for men and women in the bedroom. Indeed, modern dressers pail in comparison to the tall and hefty drawer space found in an empire dresser. Thick sweaters, jeans and sweatshirts can be stacked high inside. With a bit of wax on the drawer undersides, these nearly two hundred year old chests function every bit as well, if not better, than their modern counterparts.




Empire Style Revivals
In the late 1880's, empire styles were revived briefly. Brands like Potthast copied the original features of Empire dressers. Oak empire revival furniture also appeared to gain great popularity. Original empire dressers, however, show a greater exuberance. Whether made in cherry, maple, or mahogany, antique empire dressers are a beautiful antique piece to own.
Antique Empire dressers are a staple both in our store and in our lives. In fact, some of the first pieces we bought for our home were empire dressers, and I believe we can count at least four in our home right now. Obviously, they remain some of our most cherished antique furniture, as well as some of the most useful. We love to see and hear how others enjoy their antiques.
If you would like to see all of our antique dressers in stock, please visit the Antique Dressers category.
Comment below if you own and love an empire dresser!