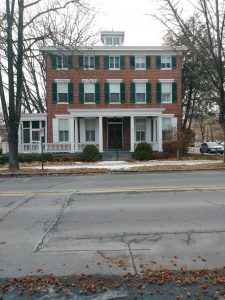 Designing traditional yet dynamic homes with antique furniture is part of Bohemians mission. The mix of traditional design elements with unique antiques, when done artfully, results in a Bohemian style home. Rich colors, fine furniture, and beautiful art are the ingredients of a fine Bohemian home, and we are very lucky to have been able to witness the transformation of an historic home.
Rebecca and Tim purchased their property along with its contents for convenience, since they live the Bohemian lifestyle and travel often. This Gettysburg property has historic significance and was built in 1817 and survived the brutal years of the Civil War.
While the Gettysburg property has beautiful architectural features, the inherited furniture just didn't seem to do justice to the period and quality of the home. The couple wanted to bring in some genuine antique furniture and Persian rugs and asked for some design direction for their historic home. Our design team set to work at helping them create a classic, traditional, antique Bohemian Style Home.
After seeing several photos of their property, we were able to suggest some beautiful Oriental Persian rugs and antique furniture. The home owners have great taste and had fabulous ideas for their vision. They also are deeply in love, so that makes working with them extra nice. 🙂 We were lucky enough to work with them for several weeks on the project, both through email and in-person, and the results are quite amazing.
Bohemian Style Entryway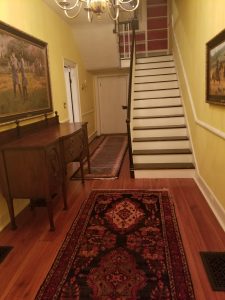 The entryway sets the tone for their stunning historic home design. These Persian rug runners help bring immediate beauty and warmth to their hardwood floors. Rich in color and somewhat unexpected, they add serious Boho style to the front entryway. The runner closest to the door features bold floral pattern and has a sophisticated feel. I love this photo from the top of the staircase. What a beautiful vantage point for admiring the carpets!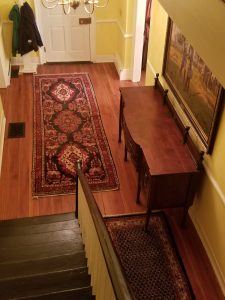 Obviously though, the fine oil paintings steal the show in this room.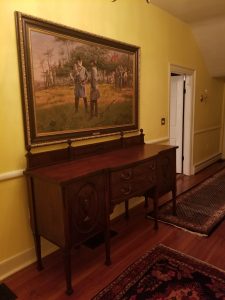 This antique Lincoln Drape sideboard does a fine job of complimenting the wonderful large original painting. Lincoln Drape is an historic motif that defines the sweeping drape and urns carved on the sides of this antique sideboard. I love how the couple chose this antique buffet for their foyer. Bohemian style allows a fresh multi-purposed approach to antique decorating. It helps ground the artwork on the wall.
Bohemian Style Dining Room
The dining room previously was decorated with some Amish oak furniture, and while still serviceable, lacked the historic charm and beauty of period antique furniture. This wide mahogany claw foot pedestal table with eight matching claw foot Chippendale chairs looks much more period within the formal dining room.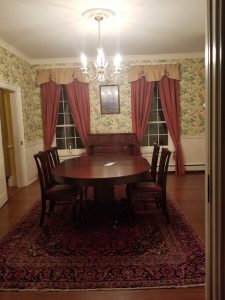 I love that the seats still have the original needlework! An antique chest is a great and unexpected twist on traditional antique furniture and looks perfect between the two tall windows. Antique dressers work perfectly in all areas of historic homes. They are often narrower than antique buffets and provide just as much storage. (Later, a beautiful Federal style mirror found a home between the two windows.)
Tim fell in love with this beautiful tall Victorian secretary desk and luckily, it fit perfectly in this corner of the formal room.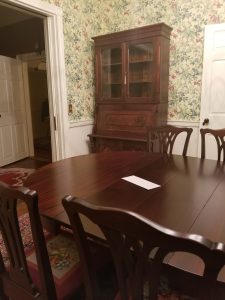 It has some beautiful Eastlake furniture elements. The burl walnut panels bring extra warmth to the room. The Kashan Persian rug grounds the table while still allowing the aged wood floors to show.
While many people might shy away from a patterned Persian rug with a wallpapered room, I feel the two work very well together in this setting. The white chair rail helps break up the two busy patterns. Both the Persian rug and the wallpaper have a very delicate floral movement to them and compliment one another quite well. I for one think the two patterns help give visual interest and Bohemian style to the room.
Bohemian Style Living Room
The long living room presented a bit of a challenge, but a huge, nearly 15 foot Persian rug carpet unified the gorgeous room.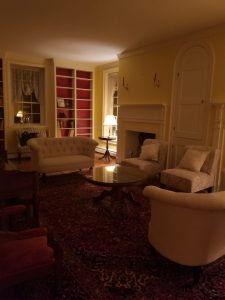 How stunning are those fireplaces by the way!? This room's architectural features would have sold me on the house right away. 🙂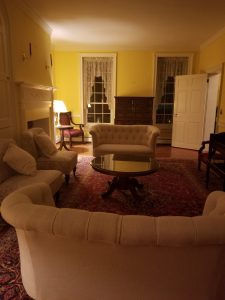 The Oriental Carpet helps bring in some of the deep colors painted inside the built-ins. A rich and floral Persian rug works wonders for the room. Later, more traditional camel back settees replaced the modern upholstery and helped create an even more traditional look.
Along the back wall in the living room sits one of our all time favorite antique artifacts. It is an incredible late 17th Century William and Mary Chest on Chest in solid oak. This chest has incredible surface decoration and is in remarkable condition for its age. My better half had a hard time letting this antique go, but we were thrilled that it has such a happy home with two fabulous people! 🙂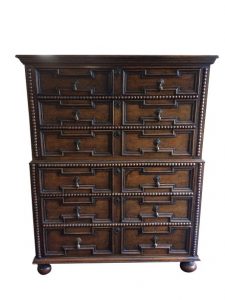 Boho-chic Bedrooms
Upstairs, Rebecca and Tim chose some gorgeous cherry vintage canopy beds.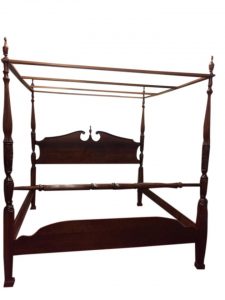 We were able to order custom made crocheted canopies for these beds. A Pennsylvania Made reproduction bed in King size was selected for the master bedroom. Reproduction beds are a perfect solution to historic bedrooms, because they are ready for what we all want: comfy king size mattresses! Pennsylvania Furniture makers made some extraordinary high quality reproduction furniture. As far as fine vintage furniture goes, PA furniture is always a great choice.
The second was a Queen sized custom made bed in Cherry.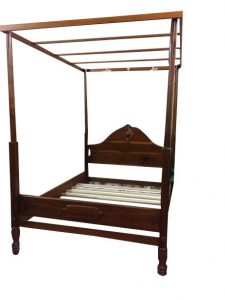 This piece has great height and is extremely well made and has a beautiful mellow cherry finish. I love that this sweet guestroom received a canopy as well. What guest wouldn't love the romantic and bohemian touch of a canopy bed?
Decorating a Historic Home: Bohemian Style
This Gettysburg home is proof that Bohemian style can be sophisticated and traditional. While filled with period pieces, their home is incredibly livable and comfortable. It features a mix of high quality fine reproduction furniture, and incredible antique furniture. In the more formal rooms of their home (the dining room, entryway and living room) these heirlooms capture everyone's attention. The fine carvings, beautiful veneers and stunning deep wood grains of these antique furniture artifacts make them artful additions to this historic home.
The fine vintage furniture looks elegant and stately. Fine reproduction furniture is made using the same techniques and high quality materials of the past. Thus, fine furniture still imparts a feeling of authenticity to the home. Of course, their own collection of vintage art helps tie everything together.
Finally, the finely hand knotted carpets give each room in Rebecca and Tim's home a stunning and polished look. Persian carpets are long lasting, hard wearing and timeless. They can add so much beauty to a room, while still being incredibly artistic and Bohemian!
Would you like some suggestions for Persian rugs in your home? Click the links below to score some seriously stylish rugs!
8 by 12 Tabriz Rug
10 by 13 Mashad Rug
10 by 13 Kashan Rug
10 by 13 Persian Rug
8 by 11.5 Tabriz Rug
5 by 8 Rug
Tabriz Room Size Rug
7 by 10 Carpet
While great homes take time and resources to decorate, the results are completely worth the effort. We were so happy to help these antique enthusiasts with their beautiful home. We wish them many more years of happiness in the future.
Thank you for inviting us into your home!
Rachel La Bohème
Victorian Center Table