Entryway Furniture
Entryway furniture can often be a challenge. Indeed, one common obstacle has to do with space and depth. Often, entryway furniture must conform to small narrow spaces, stairways, windows or doorways. However, despite often being small, most people want to communicate a lot with their entryway furniture. After all, the foyer welcomes people into your home and can present your guests with a feeling of hospitality!
Foyer Decorating
The foyer of your home may be defined architecturally, or it could simply be an open space. Either Way, chances are that you want to use and enjoy the furniture pieces in your foyer. Below are some of our tips for foyer decorating!
1. Antique Hall Trees
Antique Hall trees are an obvious but somehow easily forgotten staple for the foyer. Often, antique hall trees have ornate carvings, inserted mirrors, umbrella stands and hooks. Additionally, they may have a handy bench seat for storing hats and gloves in the winter. Antique hall trees present a great option if you use your entryway everyday. They can keep the ephemera of winter at least decently organized while still looking beautiful.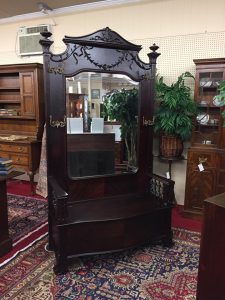 This R.J. Horner antique mahogany hall tree is one of the most elegant antique hall trees we have ever seen. Beautiful applied carvings, beveled mirror and a deep dark finish makes this antique stand even more glorious draped with scarves and hats. If you go for this high end antique beauty, most likely your fashion has enough style to match the furniture! I can envision silk scarves and tailored handbags, can't you?
2. Antique Dressing Tables
Antique Dressing tables take many forms. Commonly referred to as vanities, antique dressing tables often have drawers and a tilting or trifold mirror. While many find use for antique dressing tables in the bathroom or bedroom, they can often be fitting in a defined foyer entrance.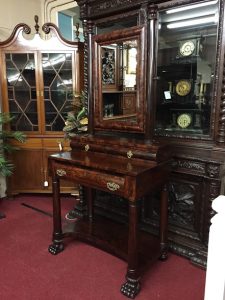 This standing antique Empire dressing table has the benefit of being tall and narrow. The deep hand rubbed finish and paw feet give it quite an impressive presence. We can just see a nice deep basket sitting on the shelf below. Or, a collection of blue and white ginger jars for a more refined look.
3. Antique Dressers and Antique Chests
Antique dressers are often overlooked as entryway furniture. However, if you have the space, antique dressers can look gorgeous in an entryway. Plus, antique dressers have the added bonus of keeping your things hidden away! (I know. I have a beautiful Empire dresser in my foyer. The deep drawers are a definite bonus!)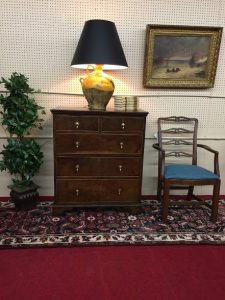 Here, this very rustic antique oak dresser looks very charming as an entryway piece. With a beautiful Portuguese Wine Vessel lamp lamp and antique painting, this antique dresser looks very inviting and cozy! This somewhat distressed vignette would look beautiful in a cozy historic cottage.
4. Antique Lowboy Dresser
On the topic of dressers, an antique lowboy dresser floats to the top of the mind as an excellent foyer decorating idea. Antique Lowboy dressers might be a bit antiquated in today's bedrooms (the pitcher and washbowl are no longer needed too much for bathing, thank goodness), they add incredible style to any foyer. Of course, they have just the right amount of drawers to keep you organized.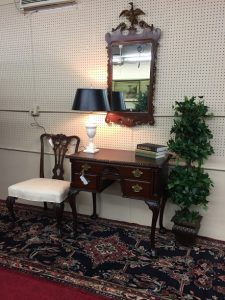 This Chippendale Lowboy has the perfect amount of stately detail – shell carving on the apron, rope carving around the edge, and awesome ball and talon feet (who can resist?!). A dainty carved chair adds the perfect spot to tie the sneaks up, and a alabaster lamp with black drum shade adds a touch of class.
5. Antique Huntboard
An antique huntboard might be a term only furniture nerds (moi) and furniture salespeople use with much regularity (also moi), but it does specify a particular style of furniture. The antique huntboard classified a low and often long piece that would serve as a man butchered his kill.
Don't worry vegetarians and animal lovers! These antique huntboards nowadays mostly find themselves decorated with china and flowers (and occasionally booze) these days. Indeed, most of our clients use huntboards as an alternative sideboard in the dining room. However, they also make great entryway furniture!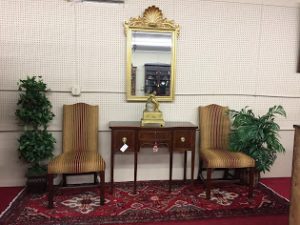 This vintage huntboard by Baker furniture has touches of the old but has a refined look. Banded mahogany and beautiful hepplewhite hardware makes it more of a shrunken down formal sideboard. Perfect for an entryway. If you have the space, it's always nice to flank it with a pair of chairs. These Henkel Harris dining chairs fit the bill and are comfortable too! The vintage shell mirror has a great look for a formal entryway as well.
6. Antique Shaving Mirror
If you find yourself even more pressed for space, a quirky antique shaving mirror on stand could be perfect. Certainly, it allows you a nice drop spot for keys, sunglasses and the like, and a place to check your face before you leave the house.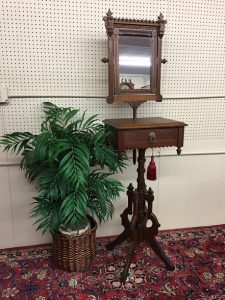 This antique shaving mirror is from the late 19th century. This Victorian mirror has great detail and a tiny little drawer. It certainly makes a narrow entryway or hallway serviceable and unique!
Other hanging wood mirrors, like this vintage mirror could also be great in a foyer.
7. Antique Secretary Desk
An antique secretary desk will always steal the show, in my book. But in a foyer, an antique secretary desk in the foyer simply says "class." Antique secretary desks come in all shapes and sizes, but in particular, slant front desks look great in a large foyer.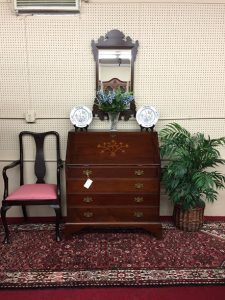 This vintage secretary desk imparts a beautiful colonial style to the home. You could leave it open if you are particularly good at de-cluttering (ie close to one percent of the population), or keep it closed to keep all the mail and bills under control. This vintage secretary desk also looks beautiful with antique china decorating the top. The top surface of the slant front makes it ideal for showing off some of your antique ephemera. A vintage Ethan Allen Mirror looks great hanging above. (Here is another cherry Chippendale mirror to consider.)
Conclusion
Decorating a foyer or entryway can present a few challenges, but there are tons of ways to incorporate antique furniture in the entryway. Of course, it always help to think a bit outside the box and really consider your storage needs. Then, it is just a matter of finding quality heirloom furniture you know will suit your lifestyle and home.
If you would like to learn more about the rugs and runners in this article, please follow the links below:
13 Foot Runner
12 Foot Runner
13 Foot Persian Runner
16 Foot Runner
10 Foot Runner
12 Foot Long Runner
15 Foot Runner
Hamadan Runner
As always, thank you for inviting us into your bohemian style home!
Rachel LaBoheme
Bohemian Style
Antique Mirror