Victorian Furniture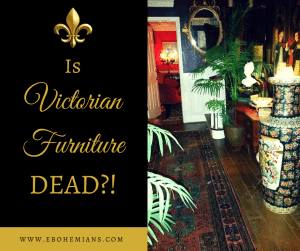 Antique Victorian Furniture is one of the most popular styles of antique furniture we carry. As an interior style, Victorian décor has seen a huge resurgence in the last few years among designers. We grew very tired of bland minimalism and plain mid-century style furniture. Antique dealers greatly exaggerated the death of Victorian furniture during mid-century style's boom. However, our clientele continues to enjoy different antique Victorian styles, both in small doses and in huge servings in their homes. 🙂 This leads us to the answer of our question: Is Victorian Furniture Dead? Of course our answer is clear: AU CONTRAIRE (just the opposite)! This style of antique furniture is alive and well.
What is "Victorian" furniture?
But just what does the term "Victorian" mean when it comes to antiques?
How can we identify Victorian Furniture?
How can we tell if a piece of old furniture is a genuine Victorian antique?
And how is antique Victorian furniture best used in traditional or historic homes?
Come with Bohemians on a journey as we attempt to unravel the mysterious and exciting world of the Victorian era! Embrace your inner Victorian lady (or gent) and enjoy all that this lavish and exuberant style has to offer!
The Term "Victorian"
The Victorian era in its most basic definition designates the time of Queen Victoria's rule in England, which– hold onto your kerchiefs– was from 1837 to 1901. Since her ascension to the throne at age 18 until her death, her 64 years of rule became known as the Victorian Era. During that time, she reigned over an expanding and industrializing Empire in England. In fact, the "Golden Years" took place during her rule (1850-1870). These two decades saw some of the greatest economic development and overall prosperity in her country's history.
This growth and industrialization came with new machines, new technology and new ways of life. Work in factories and mines became an often harsh reality for most people. However, by the last quarter of the century, wages and standards of living increased dramatically. New found leisure time and decorating pursuits made their way to a growing population of people in both the United States and England.
The Victorian Style Home
The growth of the middle class and the Industrial Revolution contributed to a greater interest in domestic life. Those with means took an interest in the home as a place of privacy and of order, away from the chaotic and bustling cities. The upper and middle classes strove for a stylish and well-appointed home. The Victorian parlor, often the foremost room of the home, became the epicenter of entertaining.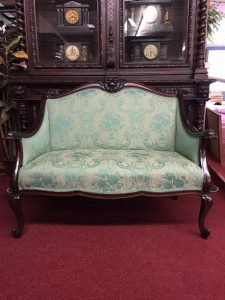 Most of the other rooms in a Victorian home were partitioned off and considered off limits to the public. During this period, people decorated these public spaces lavishly, as a display of wealth and class. Victorian living rooms became visually rich and intricate spaces. In fact, bare rooms were considered very poor taste, so lavish and complex patterns made their way to wallpapers, tapestries, floor coverings, upholstery and even ceilings. Oriental carpets, as well as woven machine made carpets with ornate patterns became very popular for those who could afford them.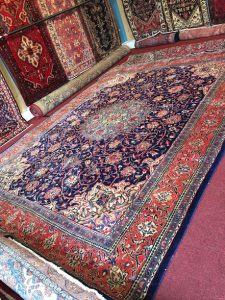 Characteristics of Antique Victorian Furniture
In an effort to create a rich and luxurious home, Victorians looked towards the past to inform their fine furniture styles. Design features from the Renaissance, Rococo and Gothic periods were reinvented and combined. These historic designs helped to portray stylish Victorians as people of great education and sophistication. Victorian furniture is often robust with carvings, and heavy in look.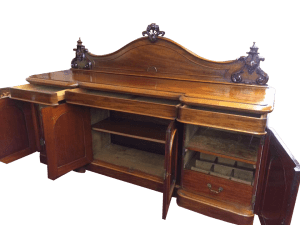 American walnut, rosewood and oak became the principal materials for recreating these historic styles, and carvings were in no shortage. The backs, arms and legs of Victorian chairs are often carved with sinuous vines, fruits and flowers. Victorian sofas often feature Rococo elements like pierce carving and tufted backs. French Rococo furniture of the 16th and 17th century was revived in new forms for mass market furniture production.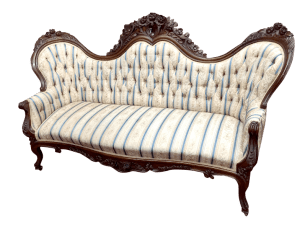 Gothic Revival Furniture
Gothic revival furniture is a large part of Victorian design too. The Gothic spirals and flying buttresses of the cathedrals of Europe inspired towering and often arch-topped furniture. This strong trend towards monumental furniture is often seen in Victorian bedroom furniture.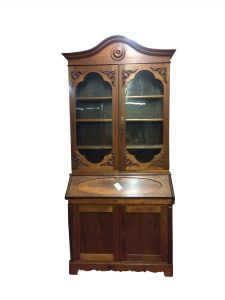 Victorian dressers and Victorian beds often echo the tall Gothic arches of Medieval castles and cathedrals, with monumental mirrors and headboards crowning their bases. Deep rosewood and walnut pieces are often accented with gold and black paint to highlight the architectural elements of the furniture. Flamboyance was considered tasteful and beautiful. It was a very "maximalist" aesthetic with a "more is more" philosophy.
Eastlake Victorian Style
In the late Victorian period, Charles Eastlake, a British designer, tried to reign in this flamboyance. While Eastlake lived during the Victorian period and his namesake style is still considered a subset of Victorian style, Eastlake furniture rejects Rococo and Gothic Victorian style. Instead, it stresses a simplified and geometric style.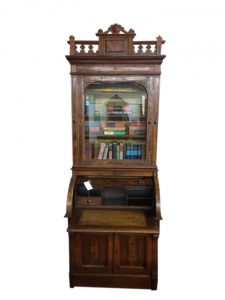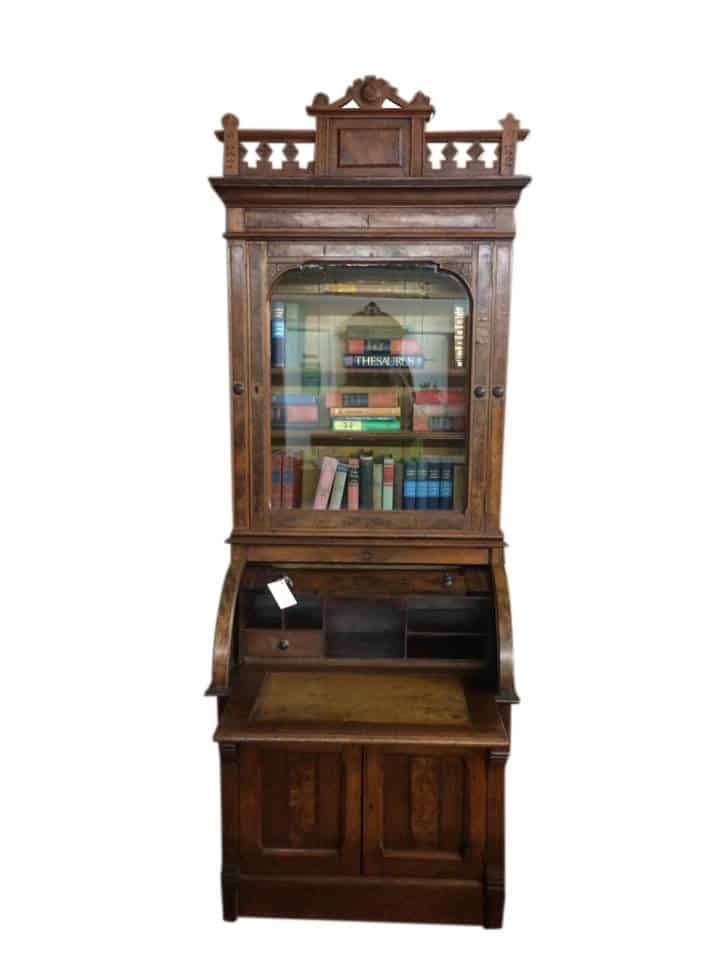 Simple "spoon carvings" (called such because they look like carvings incised with a spoon), simpler lines and geometric elements make up the characteristics of Eastlake furniture. Ornament is still very integral to Eastlake design, but it is decidedly more basic and less gaudy. Furniture became more rectangular and masculine. Eastlake settees, for instance, are often rectangular and upholstered with squares of fabric, instead of the sensual tufted curves of Rococo Victorian Furniture.
Period Victorian Furniture Versus Reproductions
Because of its undying popularity, Period Victorian Furniture of all types has been reproduced after the Victorian age. Sofas and living room furniture of even the late 20th century sometimes fool those with an untrained eye.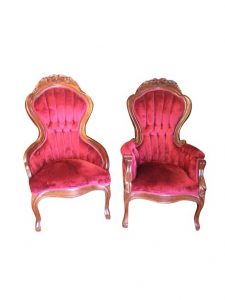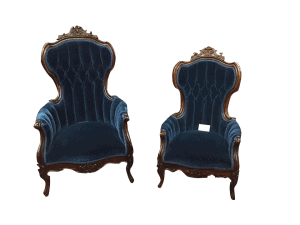 While there is certainly nothing wrong with enjoying a high quality reproduction Victorian Style Piece, authentic period Victorian furniture often appreciates in value. Genuine antiques are typically constructed of higher quality materials such as marble, rosewood, mahogany and walnut.
While it is tough to give generalities about the difference between reproductions and period pieces, there are a few tips to determining if a piece was produced in the Victorian period.
What to look for in Victorian Antiques?
Firstly, look for things like old hand tied springs within the upholstered pieces. Reproductions often have modern coils. Secondly, a natural looking patina of the wood finish also signifies age. Often, reproductions are coated in shiny lacquers that would have been impossible to produce in the 19th century. Thirdly, the construction of dressers, bookcases and chests can also show differences between antiques and reproductions. Antique dressers and antique bookcases often have tongue and groove slats that make up the back. Modern reproductions have typically one simple board of wood on the back.
Fourthly, authentic marble top tables often have a square slab of marble or a simple bull-nose edge, whereas reproductions sometimes have a fancier edge. Of course, Victorian Secretary desks and bookcases often have wavy and dimpled glass. Their modern counterparts have straight machine made glass. Indeed many Victorian chairs seem smaller and more dainty than modern pieces, while reproductions often sit higher off the ground. Likewise, modern screws, plated or plastic hardware, too "new" looking gilding or finish can be dead giveaways that a piece was made in the Post-Victorian era.
Antique Victorian Furniture in Victorian Homes
Victorian homes are in abundance in America, found in nearly every industrial city and town of the Eastern United States. Thankfully, more and more people are restoring and rehabbing these homes. Many people are finding the stunning architecture, tall ceilings, elaborate moldings and other artistic features of Victorian era homes very desirable.
While modern plumbing, wiring, and paint colors often replace the original systems in a Victorian home, many people still find it very fulfilling to dress their home with at least some period appropriate furniture.
Antique Victorian Furniture
In most cases we can recommend any number of design options. Victorian living room furniture offers an exciting and dramatic style choice. Victorian sofas and chairs usually bring out the delighted squeal and "oohs and ahs" of our antique buyers. I have to say, I urge Greg to purchase more settees and sofas than I would like to admit. 🙂 In their jewel toned velvet and with their tufted backs, they are simply the epitome of femininity. I can't see myself ever getting tired of Rococo Revival sofas.
We have delivered a great number of Victorian settees and Victorian sofas for use in sitting rooms, hallways and entryways. When in good condition, Victorian settees set the tone for an elegant Victorian home. They become more decorative in function, because they don't provide the prime space for regular TV lounging.
Victorian Chairs
Smaller Victorian arm chairs and accent chairs are also very popular. They find their place in front of vanities and antique dressing tables.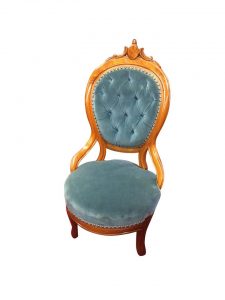 People also place Victorian chairs in bedrooms as accent seating, and even in large modern bathrooms. They can be updated with more modern fabrics and new upholstery, or kept in more traditional velvet and brocades. They also look beautiful flanking a fireplace or antique server. In fact, adding a small piece of Victorian seating can be a great way to introduce antiques into a home without overdoing a "period look." Don't underestimate the power of pillows when it comes to modernizing a piece of antique furniture.
Victorian Furniture adds Style to Modern and Traditional Homes
Victorian desks and Victorian secretaries can look grand and imposing, but can also be very nice in traditional homes. We have even seen quite a few used in dining rooms with limited wall space. They are great design alternatives for a larger china cabinet or breakfront. Because they typically have a bookcase top, they make very nice statement pieces that can also house a small collection or display of books.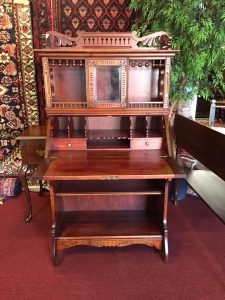 Small Victorian Tables
Small Victorian accent tables look fabulous in any style home. Their ornate bases and marble tops make them very well suited for entryway pieces and to place in stairways.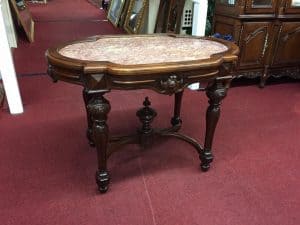 On either side of a bed, marble top tables add a touch of style to a room without being overbearing. We have also seen a great number of marble top Victorian dressers and stands make their way to the bathroom. (Our clientele have very beautiful bathrooms.) Certainly the marble top becomes very practical in this situation.
Antique Display Cabinets
Victorian showcases, antique display cabinets and Victorian bookcases are a final pieces of antique furniture we can't seem to keep in stock.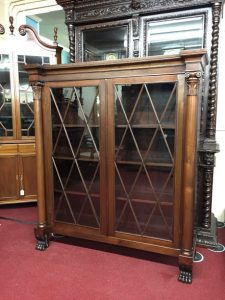 Whether they are simple Eastlake style bookcases, or have more elaborate moldings and carvings, Victorian bookcases carry a room or office beautifully. They give the space an "Old World" feel. Large Victorian bookcases give a room that might be lacking architectural features a sense of history. Freestanding Victorian bookshelves also give people the flexibility that built-in bookcases can't allow, and when decorated with a little time and thought, can be the showpieces of one's home.
Antique Victorian Furniture: A Style for the Future
While there is plenty of Victorian-bashing out there, we have found that American Victorian Furniture is a very diverse and truly coveted genre of antiques. People drool over our rare collection of Victorian pieces. We feel we are not alone in our passion for Victorian furniture. One of our dear clients was even committed enough to a tall Victorian Dresser that she cut a hole in the drywall to accommodate the finial! Now that is antique passion!
While more modern 20th century furniture is supposedly having its moment in the design world, Victorian Furniture has remained a rock of continuity. I believe Victorian antiques will always have a place in some form in modern interiors.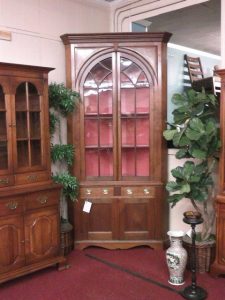 Thank you for inviting us into your home!
Rachel La Bohème
www.eBohemians.com
Bohemian's "The Art of Living"