Antique Bookcases
Antique bookcases and bookshelves fulfill a book lovers romantic soul. Certainly, a collection of old volumes deserves a handsome display case and only an antique bookshelf can do the trick. Of course, antique old bookcases range in style and size. So where do you begin in your search for the perfect antique bookcases for your home?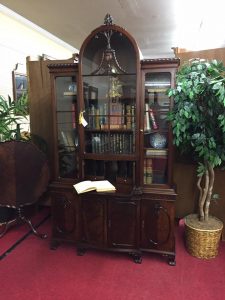 Barrister Bookcases – Lawyer Bookcase
Barrister bookcases, often sometimes called a lawyer bookcase, are a great versatile option.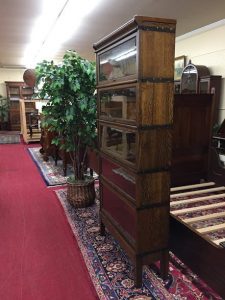 These barrister bookcases are modular and stackable, and often have metal banding around the side to link them together. Each section of the lawyer bookcase has a unique mechanism that lifts the glass door and tucks it back over the books. Of course, this keeps your books and collectibles dust-free.




Antique barrister bookcases often have solid oak or mahogany construction. Certain companies, such as Globe Wernicke Bookcase, made thousands of these stacking barrister bookcases.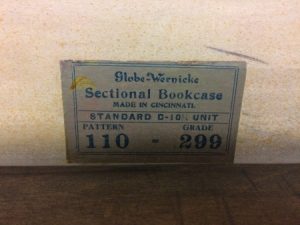 So, collectors often look for the original labels and matching dates inside the back of the antique bookcase. An antique oak barrister bookcase arrives at Bohemians with some regularity. We usually see one pop up every four to six weeks.
Rare barrister bookcases may have leaded glass doors.
Barrister bookcases look especially beautiful in a hallway. Obviously, people like them because of their uniform depth. If a narrow bookcase is on your agenda, consider an antique barrister bookcase. Most have less than 12 inches of depth!
Antique Cabinets
Antique cabinets bring another great option for those looking for lots of storage for their libraries. Breakfront antique cabinets simply look stately when decorated with old tomes and china.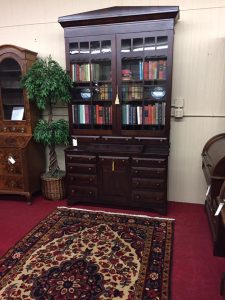 Of course, any carved or elaborate European cabinet can also add drama and sophistication to your room.
For instance, this Spanish hutch looks great as a bookshelf.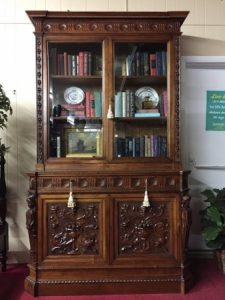 This beautiful highly carved two piece antique cabinet has been fitted with beveled glass doors. So, this allows the piece to be a useful and grand display for china, glassware, silver or books. There are a total of three shelves (two are pictured) which are easily adjustable with wooden tooled shelf supports in the cabinet.
I can envision this antique cabinet in any home with connection to the sea, or Mediterranean! If you have books and seashells to decorate with, this antique cabinet could be perfect. It brings a very romantic and artistic feel to the room.
On that note, why not consider antique cabinets from France to line your walls? These very striking and elaborate antique cabinets can look incredible when decorated with old books. Indeed, they add an air of sophistication to any home.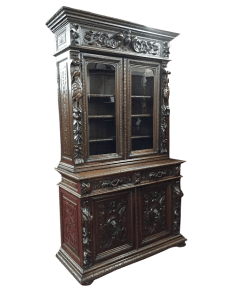 This antique French cabinet has high relief carvings and has aged beautifully! The oak has an almost black finish, which would help show off the leather bindings and gold lettering of any antique books.
Bookcase with Doors
Of course, a simple bookcase with doors could end your bookcase search. An antique bookshelf with doors typically has some bit of embellishment you will not find on a modern bookcase. For instance, many of our 19th century bookcases with doors have carved feet, columns on the side and glazed glass doors.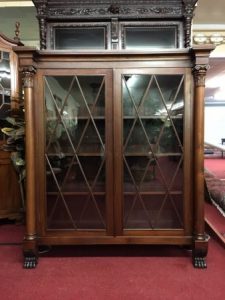 These extra details make an unique bookcase with doors extremely beautiful. Additionally, the glass on an antique bookshelf with doors can be particularly beautiful. Because glass required a different process, it often has dimples, waves and imperfections. These beauty marks in the glass have become very popular in recent years. Thus, people have come to embrace the imperfection of hand blown glass in a bookcase with doors, a cabinet or an antique display case. Flat glass just can't compare to antique glass!
Obviously, the doors typically open by key in this type of bookcase, so if you would like us to add a knob to one door for your convenience, simply ask. This type of simple adjustment can add convenience to your old bookcase with doors.
Solid Wood Bookcase
Perhaps the reason you seek an antique bookshelf has less to do with style and more to do with quality. If this is the case, you simply can't go wrong with a solid wood bookcase. More often than not, modern bookcases have flimsy materials like particle board inside.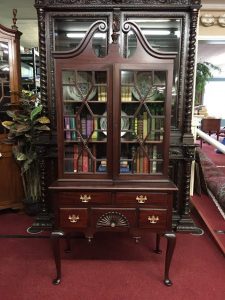 Some even require your own assembly! On the other hand, you will most likely find a solid wood bookcase if it dates to 1915 or before. You will not face the problem of bowing shelves or worse, splitting from a quality solid wood bookcase. In effect, an antique solid wood bookcase can last for decades, even hundreds of years longer!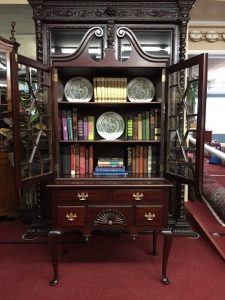 Victorian Bookcase
A Victorian bookcase can add so much drama and beauty to a room. Typically, people search for a Victorian bookcase because they love the hand carved elements. Of course, Victorians loved ornament, so you can see hand carved flowers, faces, vines or abstract geometric designs on a Victorian bookcase. Fancy walnut, mahogany and rosewood veneers also often decorate these antique bookcases.
Sometimes, a Victorian bookcase will have three glass doors in the front.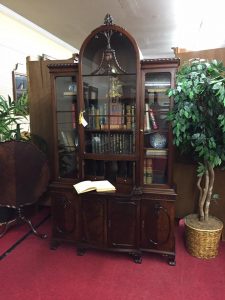 Indeed, because of the influence of Gothic styles, a Victorian bookcase will have an arched middle and lower sides. This contributes to the drama of the awesome bookcase. Also, many of these Victorian bookcases have drawers on the bottom. Not only does this help to stabilize the piece, but it adds a bit of storage to the piece as well.
Small Antique Bookcase
However, not all bookcases have to steal the show and dominate a room! Sometimes you simply need a small antique bookshelf. Of course, a small antique shelf can have glass doors or be an open shelf.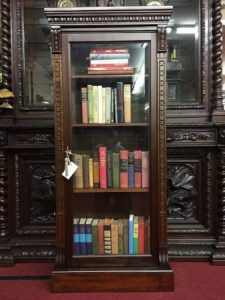 Indeed, people tend to love to pick up a small antique bookcase for their homes. Because they are less obtrusive, a small bookshelf can easily tuck into your decor scheme. They instantly add a touch of class to any space that requires a bit of organization.
Decorating with Bookcases
Now that we have discussed some different types of antique bookcases, it comes time to discuss decorating with bookcases. One large statement bookcase can do the job of many small cheap bookcases.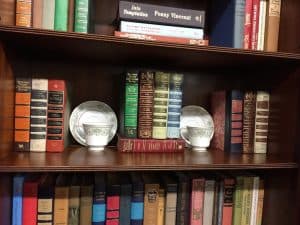 Obviously, in a library or living room, a lived-in and sophisticated cabinet can outshine any mass produced piece of furniture.
In an office, a lovely lived-in bookcase does more than provide function. It can communicate wealth, prestige and sophistication. When decorating with bookcases, you already infer that you read and take time to learn and better yourself. It sounds trite, but others really do judge people for their office space in a business atmosphere. It makes sense to impress with a well placed antique.
While it could prove difficult to find a matched pair of antique bookcases, it certainly looks great when multiple older bookcases or antique cabinets sit in the same room. On opposite walls, antique cabinets of a similar theme or color can unify a large room and help it feel more cozy.
Surprisingly, decorating with bookcases can even save a bit of money too. If you consider trying to fill up your walls with nice original art might cost well over ten thousand dollars, an original artistic antique cabinet could help fill that void for less expense. Indeed, in many ways, the right antique cabinet is a piece of art! I quote Francis of Assisi to conclude this article,
"He who works with his hands and his head and his heart is an artist."
Thank you for reading our design blog.
Rachel LaBoheme
Do you need a great corner cabinet to fit in your library? Check out this Piece by Biggs Furniture.
Spread the love, Save for Later