Antique China Cabinets
Antique china cabinets can really wake up a room and transform it. Of course, antique china cabinets can come in many different sizes and styles. The way you style the inside, as well as the way you decide to use your cabinet can be the first step in determining what style of antique cabinet is right for you. From grand, carved masterpieces to more humble farmhouse style antique hutches, antique cabinets can really define your room and take it in a strong design direction.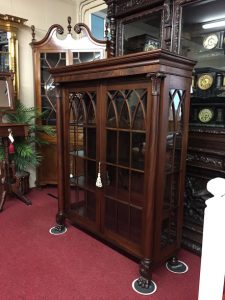 Antique Cabinets
The history of antique cabinets in the home dates back to the Renaissance. However, glass front cabinets really didn't come into great use until the early part of the 18th century. The wealthiest people used these cabinets to store porcelain, fine china and books. Obviously, these fine cabinets necessitated very skilled craftsmen. Glass, metal and wood all feature in the production of a large cabinet.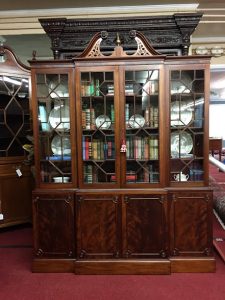 When the great stylists, Chippendale, Sheraton and Hepplewhite, came on the scene in the 18th century, antique cabinets became important centerpieces in the home. Of course, these designers suggested elegant, grand and finely detailed cabinets. Often early 18th century furniture had fine inlay and other decorative elements. Glazed glass doors in elaborate, often Asian inspired designs, were common in these antique breakfront cabinets.
Moreover, revivals of these styles remain as classics. Many of these similar designs figure on modern cabinets today. Certainly, these elegant breakfronts have a timelessness to them. Indeed, vintage Chippendale style breakfronts can enhance a grand and gracious home.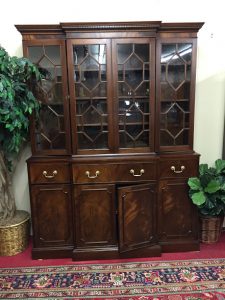 Antique French Cabinets
Meanwhile, France, developed very strong design elements in their furniture. Antique French cabinets from the 18th century demonstrate Rococo elements. Obviously, the monarchs of France demanded finely carved wood with gilded elements in their hutch cabinets. Mirror, bowed glass and fine painted decorations often featured on these antique French cabinets. These lovely pieces look great full of precious china.
Later, in the middle of the 19th century, many antique French cabinets and other French furniture recalled the Gothic and Renaissance style.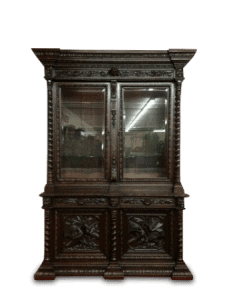 Large, imposing antique hunt cabinets showed off deep and ornate carvings. Thrilling scenes of birds, plants and beasts often decorate these carved cabinets. Indeed, many antique French cabinets displayed china, crystal glassware and silver.
However, there sometimes appears a softer, more feminine side in antique French cabinets. During the late 19th century into the early 20th century, many large display cabinets had dainty flowers, baskets, ribbons and vines carved into the doors and cabinet faces.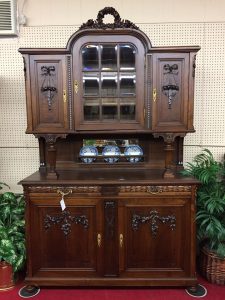 Beveled glass and mirrored backsplashes help to reflect the light of chandeliers in the dining room. These feminine antique French cabinets often had bonnet tops. Certainly, these grand and beautiful cabinets can add height and drama to a dining room!
Antique Hutches
For those with simpler tastes, antique hutches and vintage hutches can certainly beautify the home. Of course, antique hutches typically designate simpler style cabinets. Often, Shaker furniture elements, like paneled doors and plain rectangular designs appear in antique hutches of this sort. Of course, functionality came before any extra decoration.
Vintage hutches often follow this same lead.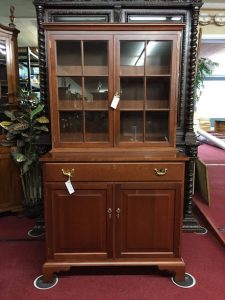 Of course, fine heirloom furniture often has a very refined deep finish, dense old growth wood, and handmade construction methods. This elevates the simple farmhouse hutch to a truly fine crafted piece.
Brands like E.A. Clore, Craftique, Raymond Smith and Sutters heirloom furniture brands created spectacular cherry, walnut and maple vintage hutches.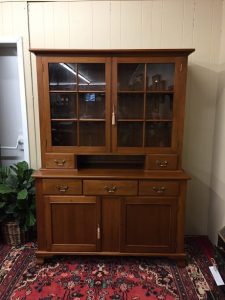 These vintage cabinets look perfect in modern and historic homes. When coupled with a simple farm table, or Queen Anne style table, these antique hutches add height and simple beauty to the room. Fill with a vintage set of china to add a homey look.
Antique Cabinets Decorating
Antique and vintage cabinets can help add form and function to any type of home. Indeed, they are one of the most useful and desirable antique furniture pieces to invest in. However, because of their size and often hefty price, how do you confidently select the right antique cabinet to purchase? Certainly, style, quality and history must guide your decision.
Antique Home Style
Take stock of your home's architectural style and history. While many people are starting to feel comfortable breaking the design rules, it still helps to have awareness of the style that defines and dominates your home. Afterall, someone took lots of time and great consideration in building and designing your home at the start. Respect of your home's architecture and period can help you achieve great success in your decorating pursuits.
For instance, a Federal Period home certainly looks most at home with Federal pieces. Thus, let tradition be your guide and embrace the beauty of antique hutch cabinets from the 18th century.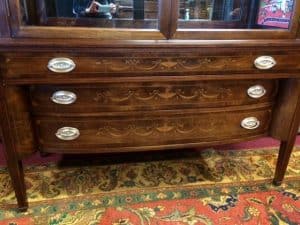 You will find delicate banding, inlay and pretty brass hardware on such cabinets. Vintage reproduction breakfronts can also be your best friend in this situation. Fill the vintage breakfront with books, china and glassware and admire the handsome wood details. Flank either side with an elegant antique chair.
Alternatively, if you live in a Victorian period home, you have several style Victorian cabinets from which to choose. Perhaps a delicate carved rococo cabinet would suit your dining room or hallway. Alternatively, a bowed glass 19th century cabinet always presents a great stand-by.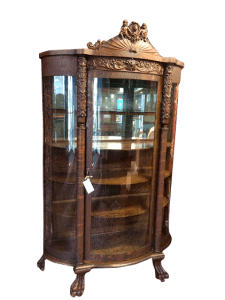 Antique bow front glass cabinets typically abound in antique stores and antique malls.
If French country styles originally played into your home's construction, why not adopt an antique French cabinet with softer feminine lines. If your home has strong Tudor or Renaissance elements, a carved hunt cabinet could do the trick.
Quality Vintage Furniture
With any large purchase, quality figures in you decision. Obviously, with antique prices often reaching thousands or tens of thousands of dollars, you want to make sure that the antique or vintage cabinet will last. While most antiques are going to demonstrate better quality than any modern furniture, it will pay to take your time in dealing with a reputable dealer.
There are several signs of quality and condition to check for in antique china cabinets. Firstly, check for fine woods like cherry, mahogany, walnut and maple. Indeed, make sure that if veneers figure on the piece that most if not all is still in tact. Secondly, glazed glass demonstrates work done by hand. In older 18th and 19th century cabinets, wavy, hand-blown glass will have a more period look.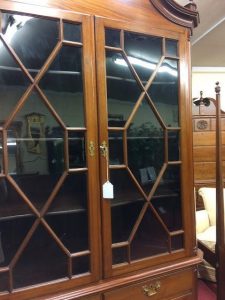 Thirdly, and sometimes unfortunately, fine furniture is heavy! Large breakfronts crafted of old growth wood will require two strong men to move.
Styling an Antique Cabinet
Once you have made your antique china cabinet selection, it comes the time for styling an antique cabinet. Traditionalists will love to decorate with their hand painted china or transferware. Of course, bookworms will love to stack their shelves with books. Still others will find alternative uses for their antique cabinet. They might stock it with shells from the beach, glass figurines or vintage stemware.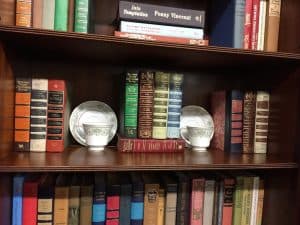 Indeed, styling your antique cabinet will help it to come alive with your personal possessions, like vintage crystal, on display.
Antique china Cabinets can provide the focal point of your home. Take your time in selecting a piece of quality and style. Invest in great furniture, you and your family can be proud to own. Fine furniture will reward you with not only great functionality but with beauty you can admire everyday. Hopefully, antique china cabinets will soon decorate your dining room or living room and hold your cherished possessions.
Thank you for inviting us into your Bohemian home!
Written by Rachel LaBoheme
If you would like to see a great wardrobe, please click this page about an Antique Wardrobe