Antique Side Tables
Antique side tables present a great opportunity in your antiquing journey. For one, antique side tables are easy to handle and most will fit in the back of any car. Secondly, they can add tons of charm to any room, and make a statement that isn't too overbearing. Thirdly, they are useful! Antique side tables can sit beside a chair, in a hallway or by the bed. Antique side tables can be used in nearly every single room of your house!
Of course, as an antique furniture store, we have dealt in an amazing selection of side tables from different periods and styles. We have seen small antique side tables used in so many different ways. Here are some of our tips and ideas for antique occasional tables.
Antique End Tables
Obviously, antique end tables come in a variety of sizes and styles. However, antique end tables really didn't come into popular usage until the 19th century. While washstands and lowboys were placed in bedrooms often, antique end tables on either side of the bed really were of no use to the 18th century family. Obviously, there weren't too many alarm clocks or lamps to place in the bedroom during that time!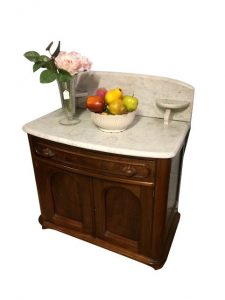 Bedside Tables
Victorian bedside tables are very desirable! Of course, often they have have marble tops. Marble, while porus, allows people to place a water glass or lamp on top of the antique bedside tables without great worry. As far as I can remember, we have sold only a few pairs of antique bedside tables. Indeed, they can be rare to find!
On the other hand, vintage bedside tables abound in antique stores! Since about the 1930's, vintage bedside tables produced by furniture companies have given people lots of options when it comes to vintage bedside tables.
Of course, French Provincial style end tables come immediately to mind! These stylish bedside tables have feminine curves and ornate hardware. Even vintage French Provincial bachelor chests give great style and practicality to modern bedrooms.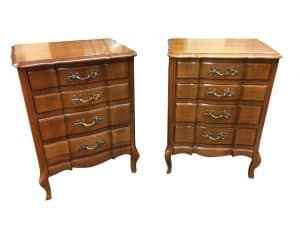 Likewise, several colonial reproduction companies made beautiful nightstands and bachelor chest adaptations. Kittinger made several hefty bedside tables, as did Kling, Ethan Allen, Statton and Stickley. I would say the only thing people need to consider with vintage bedside tables are their heights. At times, 1940's to 1960's age vintage bedside tables are too low next to the thick mattresses and tall beds of today.
Tilt Top Tables
Tilt top tables have great style and utility. Of course, some people have not familiarized themselves with tilt top tables. Similar to a pedestal table, tilt top tables usually have a round top and tripod base. However, the underside of the table has a mechanism that allows the round top to tilt vertically. In the Colonial period, tilt top tables helped with serving but could easily be stored away. In fact, many tilt top tables swivel so that they can be stored with the legs tucked in a corner or splayed along the wall.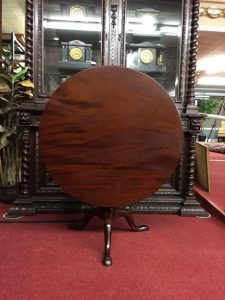 Today, many people find large tilt top tables very useful in the dining room. Of course, if extra people show up for dinner, in a pinch, a tilt top can work as a dining table.
Carved Table
Of course one of the strongest reasons for seeking an antique side table over a modern one are the hand crafted details.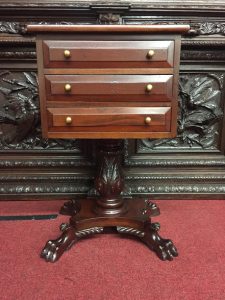 An antique carved table can be such an artistic accent in the home. In fact, 19th century carved tables always catch my eye. A carved table can elevate any spot in the room. Indeed, the carved base of an antique table can even become a focal point.
Tea Tables
Vintage tea tables have been reproduced for years! Of course, vintage tea tables offer an elegant alternative to bulky modern coffee table. Often, they have long Queen Anne legs and a scalloped apron. Additionally, tea tables tend to have slide out trays that can be used for candles or books. Vintage tea tables always look elegant alongside a camel back sofa.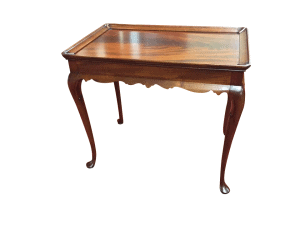 Games Table
An antique games table makes a statement in any living room or hallway. A games table typically folds open to provide a great space for a card game or game of checkers. Sometimes, an extra leg can swing out to support the table top. Other times, the table top can rotate so that it has support from the pedestal. Also, there tends to be a drawer or secret compartment in an antique games table. Of course, originally game pieces and cards could have been stored within the table.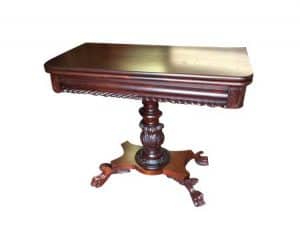 Pembroke Table
The Pembroke Table was named for the Earl and Countess of Pembroke. Of course, the pembroke table presents another fabulous antique side table design. In general, the Pembroke table has one or two small drawers and drop side leaves. Indeed, because the leaves fold down, this narrow occasional table can provide a tiny surface area when not in use, or allow for greater serving (or even a game of cards) when opened. Often, the Pembroke table has very simple straight legs.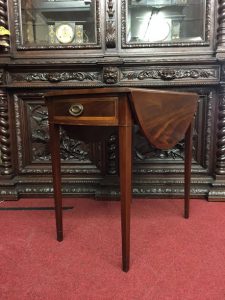 Embellishments like banding or inlay can take the simple side table and elevate its design. Indeed, during certain periods, bellefleur inlay and flame mahogany banding can make for a very fancy Pembroke table.
Antique library table
The antique library table can give historic homes a great look. We have sold several library tables from the 19th century. Of course, these small desk-like tables typically have a small shelf or drawer underneath. This adds to the utility of antique library tables. Often people store books and vases on antique library tables. Of course, they can be used in offices, hallways or entryways. Layered with books, art and flowers, these antique tables can often look very chic!
A Victorian antique library table can really spruce up a room! Generally, antique library tables have ornate pedestal bases. Indeed, we can see fretwork, carvings, or paint decorations on Victorian library tables. Occasionally, antique library tables have leather tops. While leather can fade with time, it certainly gives an antique a beautiful patina and look!
Antique Sewing Tables
While many women have given up the needle and thread, antique sewing tables were a staple of the historic home. These adorable and petite small tables can come in a variety of forms and designs. Some antique sewing tables have a few narrow drawers with thread organizers within. Others, such as Martha Washington style sewing tables, have built-in cubbies on either side of the drawers for fabric or knitting. Still others have attached wood or cloth bellies that help keep the fabric scraps organized.
Fancy antique sewing tables can be beautiful in any room. We have seen several of our customers use them simply as a keepsake, even if they don't even know how to stitch! Indeed, their size and ornate look can make antique sewing tables perfect as bedside tables as well.
Decorating with Antique Side Tables
Hopefully, this brief overview gives you some simple decorating ideas when it comes to adding antique side tables to your home. Of course, this article simply gives an overview of the many options and styles to search for. Please feel free to look at some of our client pages for other ideas about decorating with antiques!
Thank you for inviting us into your bohemian home!
Rachel LaBoheme
Vintage Side Tables