Antique Bed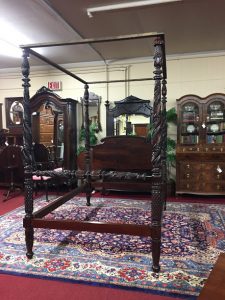 This is a beautiful antique poster bed with canopy offered by Bohemians.
We are proud to present an incredibly rare antique bed with carved posters. Hand carved in solid mahogany, Bohemians restored this antique bed which features carved leaves and carved pineapples.
Here are some of the antique bed features:
Carved posters, elaborately hand carved (4)
Mahogany veneer and Solid Mahogany Posts
Age: circa 1825
Flame mahogany headboard
Beautifully refinished
Full size antique bed
Antique Poster Bed
This antique poster bed dates to circa 1825. It has beautiful carved posts and canopy.
Of course, the four posters are incredibly carved with acanthus leaves and topped with carved pineapples. Furthermore, the antique poster bed reaches nearly eight feet in height and is topped like a traditional canopy system.
The acanthus leaves on this antique bed harken to Greco-Roman times.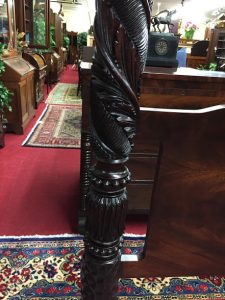 This early antique poster bed was made just after the Colonial Period. Of course, fine woodworkers often incorporated Greco-Roman symbols into their furniture. Both fine dining room and bedroom furniture often showcased laurel leaves, lions' paws and acanthus leaves carved in the wood.
Colonists reproduced the beautiful acanthus leaves in furniture during this period. Of course, the carved leaves come from the Corinthian columns of ancient Greece and Rome. Not only are they beautiful, this Greco-Roman symbol was important for American colonists. Obviously, as they set up the republic in the Americas, ancient democracies served as a powerful model.
Indeed, many pieces of art and furniture showcased symbols of Rome. Certainly, these reminders spoke of the political inventions of democracy and the Republic.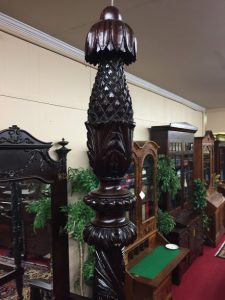 The antique poster bed has another beautiful carved symbol: the pineapple.
Of course, the pineapple represents both hospitality and generosity. So, on the top of the antique poster bed, these carved pineapples add a beautiful symbol.
The pineapple carvings are present at the top of the antique poster bed on each post. Symbolic of hospitality and generosity, the pineapples on each poster are intricately carved.
Common in both southern and mid-Atlantic furniture, the image of the pineapple also spoke of Caribbean trade. Of course, the exotic fruit often made its way into décor of the period.
Likely, this elaborate bed came from either the fine workshops in Philadelphia, Baltimore or Charleston.
Antique Bed Value
This antique bed is rare, beautiful and very valuable.
Furthermore, a bed with this amount of hand carved detail would have been commissioned by a very affluent person in the 19th century.
Indeed, simple versions of other beds of the period highlight this fact. Surprisingly, some antique poster beds feature only carved posts on the footboard. Or, they may have very simple turned posts.
Instead, this bed features an incredible amount of detail on all four posts.
Obviously, this detail had to be hand-carved. Talented artisans likely took months if not years to carve the three dimensional posters of this antique bed.
Its symmetry and precision are all the more impressive when one considers the hand tools available in the 19th century.
Additionally, the species of wood adds to the value. This bed features fine mahogany wood. Prized for its durability and exquisite grain patterns, mahogany adds to the expense of this bed.
In the early 1800s, most likely the mahogany was imported from the Caribbean. So, obviously, this adds to the rarity and value.
Finally, our team did a sensitive restoration to this antique bed.
Firstly, we striped an old and damaged finish from the headboard. Then, we carefully color matched the headboard, and posts. Then, a satin finish final coat protects the bed for years to come.
This antique four poster bed from the early 19th century accommodates a modern full size mattress and boxspring.
Also, the antique bed rails bolt to the frame of the poster bed in a very secure fashion. Indeed, the structure of this bed makes it a useful piece of furniture for years to come.
For more information about this antique bed, watch the video clip.
Antique Statement Pieces
Often, its fine antique statement pieces that make a room.
Most high end decorators and designers seek out these types of memorable pieces for their projects. Of course, the bed is an obvious focal point to the bedroom.
Certainly, this bed commands attention. It found a beautiful home for collectors in Ohio. However, it was one of our favorite pieces of gallery furniture.
But let us know in the comments below, have you ever owned a carved poster bed of this type? We would love to know your thoughts.
Thank you for reading!
Rachel La Bohème
www.eBohemians.com
Spread the love, Save for Later