Victorian Bed
Grand headboard is the highlight of this Victorian bed in solid walnut.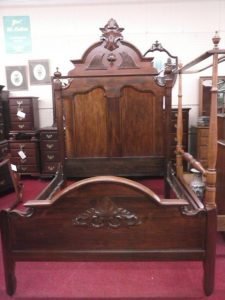 Late 19th Century Antique Bed generally attests to Gothic-Revival Style and Rococco-Revival Style
Over 7 feet Tall
Accomodates a Modern Full Size Mattress
Solid Walnut Headboard, Footboard and Rails all original to the late 1870s.
Solid Oak center slats have been added
Hand Turned Finials
Applied Carvings on the headboard and footboard
Fitted Panels on the Headboard. Headboard can be dissassembled in two parts
Gently Curved Footboard
Folliage, Leaf and Fruit Motif
Ornamental scrolls and Fleur de lis Carvings
Fully Restored and Refinished
Antique Bed
This beautiful solid walnut full size antique bed was built in circa 1870 and was owned by a single owner family in Maryland until recently. Indeed the grand stature and prominent applied carvings exemplify both the Gothic-revival style and Rococo-revival style, popular nostalgic artistic and decorative styles of the Victorian era.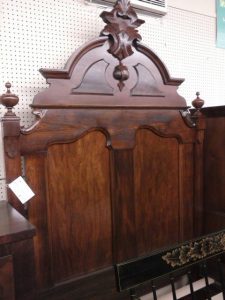 The magnificent seven foot high headboard is constructed of several reset panels of solid walnut, applied carvings and overlay pieces of either Rosewood or Mahogany. American black walnut of this variety most likely came out of the East Central United States, and is highly prized for its weight, strength and color. In the late 1800s, native woods like walnut and South American woods like rosewood were used extensively for woodwork and fine furniture.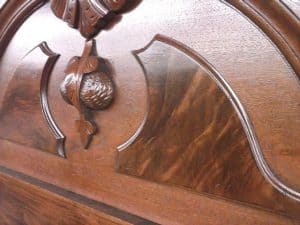 Such a grand piece most likely would have been commissioned as a marriage gift for a wealthy Victorian couple. We see the Rococo Style full carved Crest-like sculpture at the pinnacle of the headboard, and the fruit and leaf motif possibly symbolizing future children and fertility. Victorian families at this time were large. Five or more children was not uncommon during the Victorian period.
Two turned finials are fit with dowels on either side of the headboard, which although original to the bed, could have possibly been removed to fit a half tester canopy. While not serving many practical purposes, the half canopy fit the Victorians love of excess and pure romance. Yards of damask, silk or needlework fabric draping from the ceiling would be a pure luxury for any Victorian household. The gently cocooning curve of the footboard was also a common detail on Victorian beds.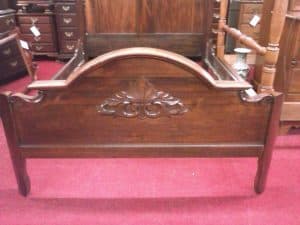 This true Victorian antique beauty will sure to be the focal point of any bedroom. Its height and drama are testamant to its era, but it will no doubt be treasured for years to come. This piece is a truly stylish, romantic piece of history that can hold any room, no matter the style. Bohemians is proud to present this bed and is offering it for sale for Bohemians is proud to present this bed and is offering it for sale for $1899899.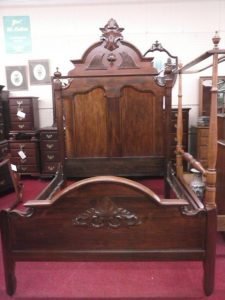 Thank you for inviting our Victorian Bed into your antique home!
Greg Haute Bohème
www.eBohemians.com
Spread the love, Save for Later