Antique Beds
Antique beds offer something that modern beds seem to miss. Antique beds give us romance and beauty in the bedroom! Certainly, beds from different periods offer different styles, shapes and sizes. Of course, these features can change the mood and look of the room completely. As the focal point of our bedrooms, and really our lives, antique beds can offer an escape from our dull and hectic waking life.
Antique Bed
While vintage bed choices remain deeply personal, the idea of purchasing an antique bed often overwhelms people at the start. Obviously, it is a choice that the consumer must live with for some time. This article is devoted to helping consumers understand their options, as well as to the history of antique beds.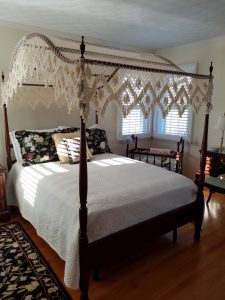 Antique Bed History
One of the most common remarks about period beds we hear is how small they look! Before standard sizes and commercial mattresses, beds were often modest in size. Even our founding fathers seemed to have beds that were shorter than five feet in length. Historical records and artifacts show that most people slept in rather tiny beds. Indeed, many people in the family often shared the same bed for warmth!
In fact, it wasn't really until the 14th Century in Europe that people understood the benefit of sleeping above the ground at all. During the Medieval period, basic bed frames consisted of wooden slats and rope slats that held hay and straw. Hence, the origin of the old time expression, "hit the hay".
Antique Rope Beds
Rope beds became a staple until the 19th century in America. In a rope bed, ropes created a criss-cross support system for these hay and straw mattresses. Thus, they spawned the phrase "sleep tight," because rope beds always needed tightening. A period rope bed will have pegs on both the side rails, as well as on the footboard and headboard.
Rope beds can still offer a beautiful bed for the modern home. Many people will decide to flip the thick side rails upside down or to cut off the pegs that once held the mattress support ropes. Then, they can add either metal brackets or wooden boards to support a modern boxspring and mattress. The appeal of an antique rope bed lies in the simple posts and often warm patina of the bed. We also like the simple shaped headboards. Frequently, these beds bolt together with long metal bolts and nuts. Even though they can be almost 200 years old, rope beds can be a sturdy and quality piece of furniture for your home.
Antique Poster Beds
Along the same line as antique rope beds, antique poster beds offer an elegant option for today's bedrooms. Poster beds range from the very simple, to the very carved.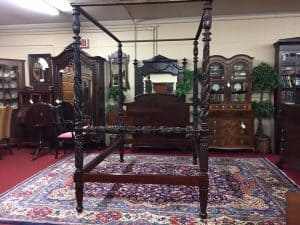 Obviously, while still charming, simple turned beds were less expensive than the highly carved poster bed.
Often carved posts featured family insignia or regional symbols. For instance, the antique rice bed often has a depiction of rice paddies on the posts. These were common in the south where rice plantations were a source of wealth. Likewise, pineapple poster beds became common for guest rooms in the south. The pineapple poster bed was a symbol of hospitality and luxury for southerners. Yet another symbol is the acorn poster bed. The acorns represented new ideas during the Colonial period.
Antique poster beds offer a beautiful option. The tall posts add height and drama to the bedroom. Their tall posts can help a room feel taller and more spacious.
Antique Canopy Beds
Antique canopy beds offer a luxurious and feminine option for the bedroom. Canopy beds of the 16th through 18th century served practical and aesthetic purposes. A canopy bed is an extension of a four poster bed. The four tall posts connect with a frame along the top of the bed near the ceiling. Thus, this wooden frame holds draperies that often open and close around the bed. Indeed, the draperies of canopy beds provided warmth from the drafts, privacy from others, and even protection from insects during these historical periods.
In royal Europe, canopy beds often featured beautifully decorated silks, tapestries and fringes. The wealthy aristocrats of these periods sought to decorate their canopy beds with sumptuous and often imported fabrics.
In Colonial times in America, canopy beds often featured crocheted canopies. These simple handwoven treasures were not as expensive as Chinese silks or French tapestries, and allowed Colonial women to decorate in a homey and sweet fashion.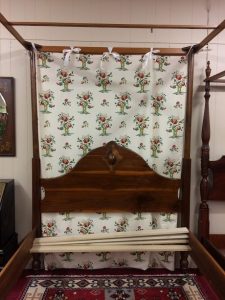 Always resourceful, colonists could crochet these lovely covers with their own two hands.
Today, antique canopy beds are just as desirable as they have ever been. People chose between heavy drapes, crocheted reproductions, or nothing at all! Canopy beds provide a cozy and romantic cocoon for couples and particularly for young girls. It seems, the dreaminess of antique canopy beds lives on.
Antique Sleigh Beds
While many people have seen vintage and modern sleigh beds, few realize that the antique sleigh bed dates to the 19th century! Of course, reproduction sleigh beds by different furniture companies, including Statton, Kling, Thomasville and Stickley are available on the market today, there really is something special about period antique sleigh beds.
The antique sleigh bed is an Empire Period invention. They seemed to appear first in France, and then elsewhere in Europe and America. The term for the sleigh bed in French is "lit en bateau" or literally, bed in a boat. I suppose the "s"-shaped scrolls and equally tall headboard and footboard gave the bed its name. Often, these "lit en bateau" were small and used as day beds. They often feature velvet upholstered cushions and bolsters.
Very elegant indeed, antique sleigh beds offer grandeur and elegance. Most of the time, they are made of beautiful polished mahogany. At times, they feature brass ormolus (decorations) along the sides and rails. Their beautiful sinuous shapes and profile offer an excellent choice for a large bedroom.
Antique Brass Beds
In the early to mid 1800s, brass beds were popular. Brass beds often had simple fence like tubes on both the headboard and footboard. Later, in the Victorian period, brass beds featured more curls and scrolls. However, antique brass beds allude dealers at time. Antique brass beds were difficult to make and very expensive even during the Victorian era.
Although expensive, brass beds can still be quite stylish. However, we often warn that brass beds might need a lot of polishing to bring them back to life. Often, antique brass beds lacked a coating, so this tarnish can put off some customers.
Antique Wrought Iron Beds
During the mid to late 19th century, cast iron and wrought iron developed as a versatile material. It was used in building bridges, frames for buildings, garden urns and even furniture! Thus, it is no surprise that wrought iron beds became popular. Tough and durable, wrought iron also allowed artisans to experiment with welding different shapes and forms into their beds. The artistry of antique wrought iron beds shows. Bohemian shapes and feminine curves are often woven into these strong antique beds. Sometimes, they feature brass as a finial or scroll within a wrought iron bed.
During the Art Deco period, wrought iron beds often had interesting geometric forms. Perennially stylish, the wrought iron bed offers an impeccable look for the master bedroom.
Antique Victorian Beds
Other styles of antique Victorian beds include Gothic beds and Rococo Beds. These two styles of antique Victorian beds remain popular amongst people today.
Gothic antique Victorian beds often have tall arched headboards.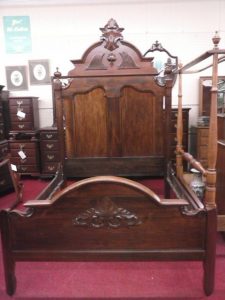 In fact, these tall headboards sometimes have to be cut in half in order to get them up the stairs! Usually in solid walnut, Gothic beds can have finials or one simple arch. They often have paneled veneers and raised carvings. Elaborate and dramatic, gothic beds demand tall ceilings and owners who love a bit of gaudiness! If you like large pillows, the tall back boards of Gothic beds will never disappear.
Rococo antique Victorian beds offer a different look altogether. Inspired by 17th and 18th century French furniture, Rococo style beds have a lot of curves, inlay and carvings. Indeed, they tend to have cabriole legs and even curved footboards! Although they have a shorter headboard than Gothic beds, these pretty beds have no shortage of style. Elegant and refined, rococo beds are a fast seller and always in good taste.
Antique Beds – Historic Homes
Historic homes often demand a certain number of period pieces. An antique bed can offer an incredible focal point for a guest room or master bedroom. Reproduction beds offer a close facsimile, but in truth, a true antique bed can make a world of difference!
While one nearly always has to consider the size of their mattress and bed, an antique bed offers a beautiful and irreplicable choice for your home. If you find an antique bed at Bohemians online antique store, but need alterations to extend the size for a modern mattress, don't hesitate to ask us. Our restoration team has done a few conversions of antique beds. We always have to consider the integrity and design of the bed. However, if done correctly, conversions and adaptations can blend seamlessly with the antique bed.
This allows our client to enjoy the best of both worlds! The comfort of modern mattresses can collide with the beauty and craftsmanship of an old world bed. Indeed, can you think of anything more dreamy?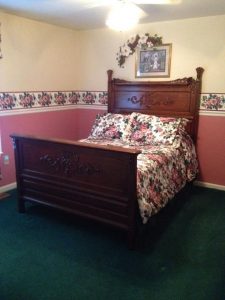 Antique Bed Value
Antique beds can range drastically in value. Of course, largely, the value is determined by the beauty, quality, and usefulness of the bed.
We love to discuss the values of antique furniture, and think these pages may be helpful for you! Below is a list of a few write-ups on specific beds we sold, and their true value:
Thank you for inviting us into your antique home!
Written by Rachel LaBoheme
Antique Twin Beds