How Much is an Antique Poster Bed Worth?
An antique poster bed can sell for a few hundred dollars, or even less. However, a really nice, special, fine antique poster bed can be worth thousands of dollars.
Bohemians sold this antique carved poster bed in 2016 for $2400.
There were several factors that made this antique poster bed that expensive, so let's look at the specifications and description:
Item: Antique Highly Carved Acanthus and Pineapple Poster Bed.
Age & Condition: Circa 1825. Refinished and Restored.
Size: Accommodates a Full Size Boxspring and Mattress. 58″ wide (outer post to outer post) x 82″ long (outer post to outer post) x 88″ tall.
Interior measurements: 53.5″ wide x 74″ long.
Antique Poster Bed created in circa 1825. This antique poster bed is one of few known available examples of a magnificently carved poster bed from the first quarter of the 19th century.
It marks a great time in American history of the post-colonial period. Indeed, the bed displays features of both the Neoclassical Federal period and Empire period in style. Thus, it is an incredible antique bed for sale to fit any historic home.
The majestic posts of the carved poster bed reach heights of nearly eight feet. The craftsmen carved these posts with delicate acanthus leaves and beautifully carved pineapples.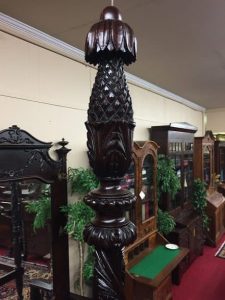 Antique Bed Style
There are several design features that categorize this as an Antique Empire Bed. Particularly, the thickness of the posters, the rich mahogany grain and the heavy ornamentation speak to Empire Style tastes. The Napoleonic style popular in France made its way to the Americas in the 1820's. Americans loved the strong and imposing look of French Empire Style. They mimicked the strong and block-y look of French Empire Furniture in Empire Dressers, Empire Sofas and in this Antique Empire bed.
Additionally, Empire style antique furniture centered around rich woods and flame mahogany veneers. Here, we see this antique empire bed has incredible mahogany veneers featured on its headboard. The fine wood denotes wealth and class. It has a sumptuous and elegant look.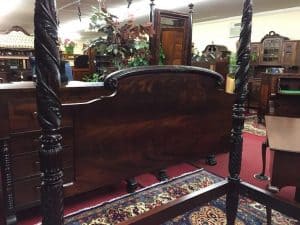 However, Americans adapted and transformed the Empire style to something all of their own. For instance, the "rams ear headboard" on this bed curls around and culminates in carved rosettes. This rams ear style design was incredibly popular in Philadelphia and Massachusetts. This lead us to believe that the antique Empire bed was commissioned by a wealthy merchant in either Boston or the Philadelphia area. Certainly, it has a very New England flavor.
Antique Bed Refinishing
This antique bed unfortunately required some repairs and restoration. Of course, a bed of this age had suffered the effects of time. Our team was able to make very subtle and sensitive repairs to the top crown on the foot board. Also, they were able to approximate the dark finish color of the bed. Finally, they recreated a canopy top for the poster bed. These changes allow us to truly appreciate the beauty of this bed as it might've been in circa 1825.
This bed, in its quality and design, marks a period of wealth and artistic taste in the post colonial age truly unique to American history. The incredibly imaginative design, beautiful mahogany materials, and incredible restored condition, make this bed a truly precious heirloom that should be cherished for years to come.
What is an Antique Carved Poster Bed Worth today?
As you can see from our lengthy description, this antique bed was truly something special. Obviously, this type of craftsmanship doesn't come around often.
Today, an antique bed in this restored condition may be worth even more. Lately (since the 2020 Pandemic), we have seen antique prices on specialty carved pieces reach even higher. Indeed, even at auction, a carved antique bed of this nature might cost $3000 or more to the right buyer.
Antique Beds Value
Our discussion on antique bed value is ongoing.
You may also be interested in seeing another carved antique bed's value.