Carved Antique Bed Value
This carved antique bed sold for between $600-$700 in November of 2019. Of course, the beautiful high headboard, lovely carvings, and condition all were a factor in the selling price of this bed.
Here are some of the specifications and description on this particular bed:
Item: Antique Bed with rope spindles.
Age & Condition: Circa 1850. Very good antique condition with some roughness on the inside quilt rail and on the headboard. Please see photos.
Dimensions: 62″ tall. Mattress size is 48″ wide x 72″ long.
Carved Antique Rope Bed with beautiful carved headboard and spindle footboard. This lovely antique bed has so much charm!
Firstly, the bed has an ornate paneled headboard with shell carving and ornate leaves and fruit. Also, it has a nice foot-board with spindle quilt rail and posts.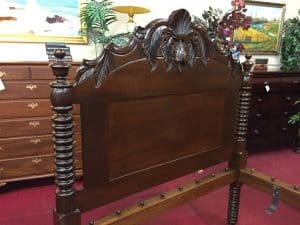 Of course, the bed bolts together nice and tightly and would have originally been strung with a rope foundation. Presently, metal brackets have been added to lay a foundation or wooden platform.
The antique bed is what is often called a "three quarter's size," which means it is slightly smaller than a full or double sized bed. A special mattress that is 48″ x 72″ long will fit in the established frame. These are available for purchase online.
Carved Antique Rope Bed
This was a beautiful carved antique rope bed that we sold in November of 2019. So, an antique rope bed is a specific design that was used before the days of box springs and commercial mattresses.
Obviously, in the old days, mattresses were made of very different materials. Sometimes, straw, horse hair or even old clothes were stuffed inside a cotton form.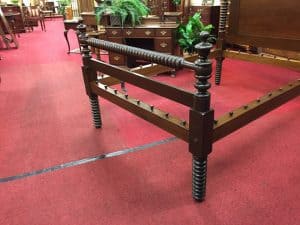 Therefore, old rope beds have several wooden pegs facing up on the rails. These pegs were used to tie a foundation on which to put the mattress.
As you can see from the photos, this bed still had the original wooden rope knobs.
Antique Three Quarters Bed
As you may have noticed, this antique bed had an unusual size. Unlike a Full or Double size bed, this one allowed only a 48″ by 72″ mattress. Indeed, this is quite common for antique beds. Many antique dealers call these unusually sized beds, "Three Quarters Beds."
Fortunately, this antique spindle bed could accommodate a standard R.V. mattress. So, the customer could order a more narrow mattress quite easily from a manufacturer.
If you have an antique three quarters bed that will not fit an R.V. mattress, you may have to extend the side rails (or build new ones), or do other custom work to the bed. Of course, you could call on a friend, handyman, or carpenter to do this work for you!
Carved Antique Bed
A carved antique bed can be a beautiful addition to any historic home. While they often take a little adjustment, a carved antique bed is certainly worth the trouble! Learn more about other antique beds, and see their true values.