Antique Furniture Stores Near Me
Antique furniture is unlike other commodities in that most of it is still mostly bought and sold in regional areas. In other words, every region of the country offers different types of furniture.
So, for instance, if you live in the southern region of the United States, you may find lots of southern style antiques. Pine wood furniture with simplistic shapes often appears in greater quantities in the deep south. Of course, fancy Plantation style antiques may be more plentiful as well.
Likewise, coastal cities on the East Coast tend to have sophisticated Federal style antiques. With lots of commerce during the pre-Civil War era, these port cities often have unique and stately antiques.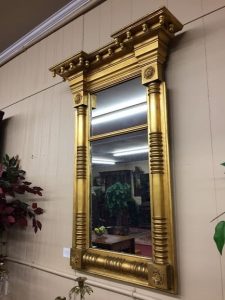 New England has its own regional style, often featuring hard-rock maple woods and veneers. Additionally, there are some really beautiful early 19th century antiques that can be found in old New England towns.
Finally, in remote areas or in the country, you may find some primitive style antique furniture. Additionally, country oak furniture held up for decades for people who lived far from towns.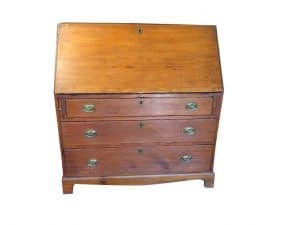 Thus, when searching for antique furniture stores near you, you may find that the style of antique furniture is not quite what you are looking for. It is not uncommon for people to be attracted to a particular style that doesn't really fit their region.




Regional Antique Stores
Or, on the other hand, you may fall in love with the antique furniture near you! Sometimes, you just need to get out and experience the region. In fact, shopping for antique furniture near you can also reveal a history lesson about your area.
Antique dealers tend to open up if you express interest in a piece of antique furniture that appears to be regional. Often, they can point to the provenance or style of a particular piece. Hopefully, the attributes that make it special can be identified as something unique to your region.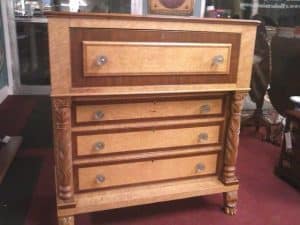 It really makes it special when you can furnish a new or historic home with pieces with a bit of connection to your particular region. Also, it makes it a nice statement piece or conversation starter when you give a tour of your home.
Certainly, the right statement piece can be very memorable if it has a special story attached to it.




Antique Furniture Store Near Me
When it is time to furnish your home, you may ask, is there an antique furniture store near me?
Sadly, antique furniture stores are becoming more and more rare. Of course, there are still some stores that specialize in antique furniture. However, many stores offer vintage furniture, used furniture and specialty antiques, with antique furniture often taking a backseat.
Likely, vintage furniture brands and replica furniture offers a broader appeal. Many more people may be interested in brands like Pennsylvania House Furniture, Ethan Allen or Harden Furniture, than really expensive antiques.
That said, very fine antique furniture stores often appear near fine, historic neighborhoods. Towns like Charleston, South Carolina; Savannah, Georgia; Washington, DC; Boston, Massachusetts and Newport, Rhode Island feature beautiful well-curated antique furniture.
Sometimes, you can find more affordable antique furniture stores in up and coming places. Frederick, Maryland; Harrisburg, Pennsylvania and Toledo, Ohio are seeing a revival of multiple antique furniture stores.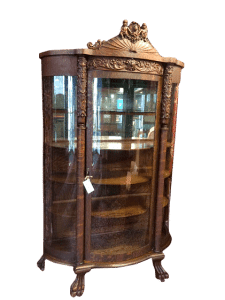 Additionally, you may find that these stores specialize in a specific regional or period style of antique furniture. For instance, Charleston has a beautiful selection of Empire and Federal period antiques, often celebrating Low Country style and culture.




Antique Stores
Outside of these antique meccas, you may find a variety of stores, like antique malls, flea markets and second hand stores with different styles of antique furniture.
Often, these types of stores feature multiple vendors. So, you get to see many different aesthetics and specialties all under one roof. Some may specialize in French Country décor, while others may go for American Colonial antiques. Likewise, some dealers specialize in one type of antique. No doubt you will find one or two booths filled with antique glassware, one filled with prints and artwork, and then you may also find a dealer who loves antique lighting. So, these antique malls are a great source for accessories as well.
Also, it is worth noting that you can sometimes find antique furniture in charity shops, like Goodwill, the Salvation Army and other church-run thrift stores. Of course, you no doubt will have to visit often to really find a diamond in the rough in one of these stores.
Sourcing Antique Furniture
Luckily, the internet has made sourcing antique furniture much easier. Everyone from high end interior designers and average users can find the exact piece of antique furniture they may be looking for.
Additionally, you can compare prices, condition and quality of antique furniture online, and find a piece that suits your budget and needs.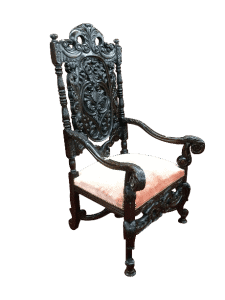 Online Antique Store
Online antique stores can offer a great virtual shopping experience. Unlike large selling marketplaces, like eBay or Chairish, individual online antique stores can curate an entire collection, offer multiple pieces and sometimes even get you greater discounts.
Additionally, online antique stores can often arrange shipping for you and many still have an in-house delivery team. So, if you have an online antique store near you, even better! You can browse their inventory from home, then make a trip to their store or warehouse to see the merchandise in person.
Obviously, this combination of shopping from home, and then going to touch and see the furniture offers the best experience for shoppers. It helps you to refine your needs before making your way to the antique shop near you. Then, you can really inspect the entire piece of antique furniture before making the final purchase.
Or, some people even prefer to pay online for an item after seeing it in person. Of course, if you like to securely purchase using a particular payment method, buying directly with the online antique store may be the way for you.
Bohemians offers this combination of regular store hours and an updated, fast secure website. So, you can choose to visit the store in person. Or you can never leave your home and have the furniture come to you.




How to Find the Best Antiques
Despite the convenience of online shopping, there is still one consideration when shopping for antiques. You have to devote time and energy to your search.
Of course, if you like antiques, you most likely will be willing to spend some time either online or in person searching for something of quality, style and substance. No doubt, you have a vision for your home. Or you are working with an interior designer who has spent years studying the history of furniture. So, while it does take time and thought, most people start to enjoy the process of furnishing their home with antiques.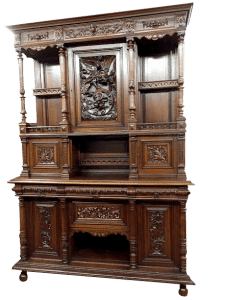 Not only does this journey become one of historical discovery, it often leads to greater self awareness. As your level of taste develops, you develop a more sophisticated eye and appreciation for the artisans of the past. Many of our clients who purchase antique furniture tend to develop a passion for period furniture and accessories.
So, while not always easy, finding quality antique furniture is certainly fruitful and incredibly gratifying!