Of course, Pennsylvania House Furniture used to be a household name in the fine furniture business. Fine furniture mostly of solid cherry.
Their fine cherry, oak, and maple solid wood furniture graced homes across the country.

Indeed, many people furnished their living rooms, dining rooms and bedrooms with fine furniture all bought over time from Pennsylvania House Furniture company..
Today, no new Furniture Retailer in the country carries their lines. In the years since 2005, the name brand was bought and sold a few times by larger corporations, including La-Z-Boy and Universal Furniture.
Essentially, in this day and age, the only way to purchase Pennsylvania House furniture is through:
Vintage stores
Used furniture stores
Thrift stores
Fine consignment shops
Craigslist Furniture Section
eBay Stores
Is Pennsylvania House Furniture still being made?
No, unfortunately, Pennsylvania House Furniture is not being made today, either abroad or at home in the United States. Sadly, no new manufacturer currently makes the lines of Pennsylvania House Furniture that were popular in the 1990s, 1980s or before.
Pennsylvania House Furniture History
Many people are surprised to learn of the age of the company and the Pennsylvania House Furniture history. Surprisingly, this company started many many years ago.
When did Pennsylvania House start Making Furniture?
Pennsylvania House started making furniture back in 1887.
In 1887, the company formed a small workshop-style factory in Lewisburg, Pennsylvania. Lewisburg is about 60 miles north of the capital of Pennsylvania (Harrisburg, PA). Of course, Pennsylvania, as translated as "Penn's woods" had many dense and old growth forests.
Thus, the early Pennsylvania House company took advantage of this natural resource. Nearly 90% of all their wood came from within 100 miles of their workshops. Indeed, Lewisburg has earned the nickname of the "Cherry Capital of the World."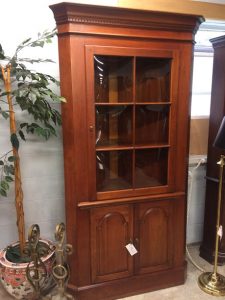 These old growth woods served as a huge asset to Pennsylvania House. Their case furniture, including bookcases, dressers, and dining room tables utilized these old growth cherry trees as their base. From the 1930's through the 1970's, their cherry furniture gained huge popularity from the middle and upper classes. Certainly, their maple wood furniture, walnut furniture and even pine furniture found homes across the country as well.
People recognized the quality and density of their lines and they admired the classic and traditional styles. However, Pennsylvania House offered many styles of furniture. Eventually, they expanded their offerings from the Classic Colonial styles to reproduction Victorian pieces, and even a line of streamlined "Modern" furniture in order to remain current in all parts of the country.
At this point in history, American workers and craftsman proudly made each piece domestically within the Lewisburg factories.
As one of their early Furniture Catalogs states,
"In a world committed to shortcuts, Pennsylvania House still takes the time.
Because we've got some very strong ideas about quality and value.
We're old fashioned enough to believe that the things people make should be made to last.
And our things do."
Certainly, this sums up the Pennsylvania House ethos.
Globalism Causes US Domestic Furniture Companies to Struggle… and Collapse
Like many American companies, a new global marketplace challenged domestic furniture companies.
By the 1990's and 2000's, Pennsylvania House struggled dismally to compete with the low prices of furniture imports. Of course, as China and Mexico grew their manufacturing systems and developed their economies, American companies struggled to compete on price.
As workers from the bottom-up felt the pinch, sales and profits decreased across the board. Middle Class America faced a deep decline. The Post War economy that had boomed and flourished now fizzled and people lost their jobs and pay.
Once an affordable staple, now solid wood furniture found itself a dead genre or an absurd luxury for most middle class Americans.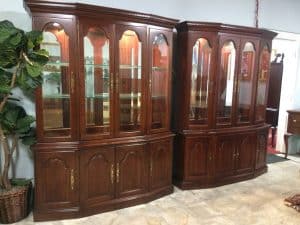 By 2005, La-Z-Boy purchased the remains of Pennsylvania House. By the end of that year, they moved the entire production of PA House furniture overseas. La-Z-Boy treasurer, Mark Stegman, did not take this move lightly. He realized full well that this move would mean the loss of 450 jobs in the Lewisburg area.
At that time, even he and his staff signed a US petition to impose duties on furniture imports from China. However, he said the duties approved by the U.S. government were too low to make a difference anyway, according to this article in The Morning Call by Kurt Blumenau. Mark Stegman stated, "We were one of the few companies that stood up and went to bat for our employees."
When did Pennsylvania House stop making furniture?
Essentially, Pennsylvania House stopped making furniture in the year 2005, or right around then. Or, more accurately, the company stopped making furniture in the United States.
Pennsylvania House and Universal Furniture
Although La-Z-Boy attempted to salvage the popular designs and brand name of Pennsylvania House, apparently their move to produce overseas did not appease old customers and fans.




Likely, the poor quality of this "new" Pennsylvania House furniture did not satisfy their former clients. Indeed, high quality solid wood furniture attracted people to the brand originally. New customers likely saw no difference between the "new" Pennsylvania House and cheaper alternatives made in factories across China.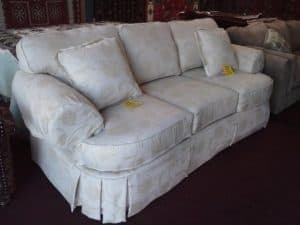 In other words, "Pennsylvania" was taken out of Pennsylvania House Furniture.
By 2007, just a few years later, La-Z-boy sold the rights to the name to another company, Universal Furniture.
Sadly, Universal too struggled with the Pennsylvania House name and brand.
Today, the Universal Furniture website makes no mention of the Pennsylvania House brand. Nor, do they use any logos, stamps or insignia. A search on their site produces a selection of dressers, beds and nightstands, yet they seem to bear little resemblance to vintage Pennsylvania House furniture.
For all intents and purposes, true Pennsylvania House Furniture only exists on eBay, in an occasional Craigslist furniture for sale ad or at an antique store.
PA House Styles, Finishes and Woods
As mentioned earlier, Pennsylvania House has a great reputation for classic, Colonial styles. Indeed, these timeless styles included Queen Anne Dining room sets, classic highboy dressers with solid brass hardware, and beautiful poster beds. Typically, Queen Anne and Chippendale styles dominated the production lines.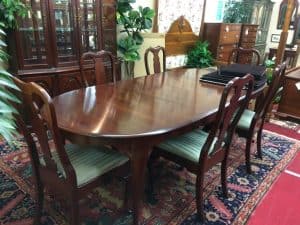 We have sold numerous vintage dining room sets and occasional pieces by PA House. The appeal of Early American Furniture remains strong for many buyers today. Pennsylvania House made most of these vintage dining room sets in solid cherry. And they offered elegant dark glossy finishes, satiny red finishes, or a more muted brown finish in cherry.
Additionally, the company offered Country Colonial styles. You might see the name Pennsylvania House on step back hutches, Windsor style chairs and drop leaf tables. From time to time, you will see a simple rush seat chair set made by the company.
Many times, we sold dining room hutches with reproduction "bubble glass." The curved glass on these vintage cabinets gives the impression of an antique cabinet. These more informal styles by Pennsylvania House still used traditional design cues and high quality woods in their creation.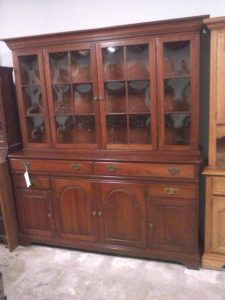 Of course, maple and oak gained some popularity in the 1960's as a durable and lighter alternative to cherry. A charming knotty pine line by Pennsylvania House also gained a foothold in certain regions, as lighter finishes gathered a following in the 1970's and 1980's. Although not as popular as cherry PA House furniture, these collections do pop up from time to time.
Alternative Furniture Styles
Another unexpected style of Victorian influenced furniture by Pennsylvania House occasionally find their way into antique shops as well. Of course, Victorian Pennsylvania House likely features carved floral and leaf hardware and some teardrop carvings along the sides. In many respects, this Pennsylvania House Victorian variety was more of an adaptation of Victorian styles, rather than an exact reproduction. Indeed, the Victorian bedroom sets from Pennsylvania House look decidedly 1970 rather than 1870.
Finally, in an attempt to add a bit of contemporary edge to their furniture, Pennsylvania House made a short-lived line of Danish-inspired designs in the 1960's. This rare style often features bookcase headboards and more streamlined case pieces. Mid Century Modern furniture by Pennsylvania house has less of a following, but occasionally you can find this line at vintage shops and online stores.
PA House Furniture Values
Pennsylvania House furniture values can fluctuate like any other market. Obviously, trends can have a lot to do with the value of any given vintage furniture piece at any given time.
Currently, we see a slow but steady return to traditional styles (take a look at our article on Bohemian style for an introduction) as a trend. Of course, this could mean that Pennsylvania House will find increasing demand on the resale market.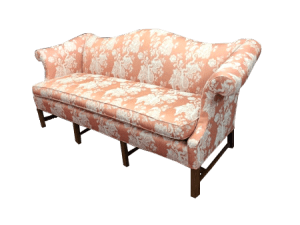 Personally, I see Pennsylvania House Furniture as a great investment for any family home. Their bedroom sets and dining room sets typically have durable finishes that have lasted for decades. Similarly, the formal sofas and wing chairs by Pennsylvania House have great frames and durable foam that seems to hold up to years of living room use.
Certainly, finding the right buyer in the furniture industry takes a bit of work and research (Check out The Ultimate Guide to Selling Antiques and Used Furniture for a start). However, because Pennsylvania House had a great following, many people have familiarity with the brand.
What to Look for in Pennsylvania House furniture?
As always when shopping for used furniture, you may have questions about what to look for in Pennsylvania House furniture for sale.
Certainly, seeing the brand mark on the inside of the drawer, back of the headboard or underneath the seat cushion can provide reassurance of quality. Pennsylvania House typically did not use brass or paper tags. Instead, they burned their mark inside the drawers. Thus, you can be sure that it was truly manufactured by the Lewisburg Company.
However, foremost when purchasing any used furniture, condition matters. While most Pennsylvania House furniture will come from fine homes and last generations, it is important to check for major flaws and defects.
If old wood furniture is not cared for, it can warp, split or rot. For instance, furniture kept in storage units without climate control can suffer splitting sides and cupping. Keep your eyes open for this type of damage on dining room tables and tall chest of drawers.
Secondly, mold and mildew might appear on furniture kept in closed storage. If you can, take a close look at the feet and legs. These areas can suffer the most if kept on cold concrete floors in basements or storage units.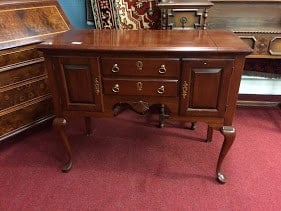 In dealing with Queen Anne dressers or Queen Anne servers, long elegant legs can get loose over time. Especially if people drag or push their furniture around while vacuuming, these tall-legged pieces can suffer. Although fixable, this flaw in vintage furniture can make it worth less on the market. You will need some long clamps and some time to fix a loose Queen Anne leg.
Finally, finish issues and blemishes on vintage furniture can be an eyesore. Check to see if any deep scratches or heat rings cloud the tops of Pennsylvania House tables, china cabinets and vintage end tables.
Pennsylvania House Company
Although sadly not in business anymore, many people still have the chance to enjoy the incredible craftsmanship and beauty of vintage Pennsylvania House furniture. These high quality, solid wood pieces from the "Golden Years" of the company's history will remain an excellent choice for modern homes.
We honor the Pennsylvania House company, as residents of the state and as resellers only a couple hours away from Lewisburg, PA.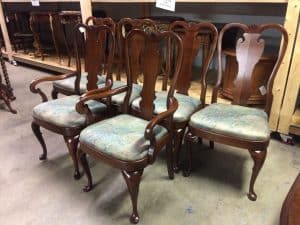 Certainly, our clients who have purchased furniture made by Pennsylvania House Company have great satisfaction with their choices.
We hope that you consider purchasing a piece of Pennsylvania House for your home when decorating in the future, perhaps to add to your collection, or to start a new journey with fine furniture.
With the beautiful timber, traditional styles and incredible craftsmanship, vintage Pennsylvania House will defy the fast and wasteful "throw-away" culture of today. Certainly, American made furniture from Pennsylvania House remains valuable and stylish today.
Thank you for inviting us into your interior decorating world!
Rachel LaBoheme – Bohemian Furniture
Spread the love, Save for Later