Antique Church Pews
In the early summer of 2020, the world was shut down. Of course, auctions and estate sales were closed. So, Bohemians too came to a standstill without any antique furniture to buy.
However, as most antique dealers who are addicted to hunting, collecting and buying, we could not sit idly by.
In that time, we turned to Facebook Marketplace to source inventory, desperate to keep our online antique store stocked.
By a stroke of luck (or Divine intervention), we found a listing for an entire church full of Antique Church Pews for sale in Reading, Pennsylvania.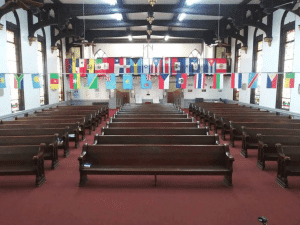 Reading Pennsylvania Antique Church
Reading, Pennsylvania is a city full of rich and interesting history. While many people recognize Reading from the "Reading Railroad" and the corresponding spot on the Monopoly board, many do not realize how much beautiful architecture is still in the city.
Indeed, Reading has fallen on tough times. Like many cities in Pennsylvania, once certain industries died off, there has been a struggle to revitalize.
However, during the 1800s, Reading had a booming economy. During the mid to late 19th century, the city grew in population, reaching 120,000 people by 1930. Of course, the prime location between Harrisburg and Philadelphia, and the coal and railroad industries made it a great American city, ripe with opportunity.
As you may have guessed, building and development boomed during the 19th century in Reading, Pennsylvania.
Many fine buildings serve as great examples of 19th century architectural history in Reading, Pennsylvania. Indeed, you can find Beaux Arts style buildings, Italianate buildings, Queen Anne, Romanesque and Gothic Revival style buildings in Reading.
Antique Gothic Church Pews
The church was an old brick church called the Iglesia Pentecostal Hispana and was built in circa 1848. And it was filled with 36 Antique Gothic Church Pews. Pastor Jorge wanted to bring in newer church pews for his congregation. He wanted to replace these old church pews with newer, more comfortable ones with upholstered backs and seats.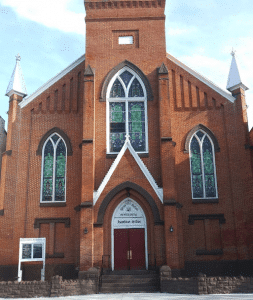 The church, while certainly showing its age, had an incredible Gothic Revival style. Obviously built in the Victorian period, it had large wooden beams in the vaulted ceiling, incredible stained glass windows and beautiful newel posts and staircase.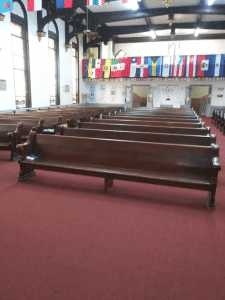 However, the antique church pews were heavy, 12 feet in length and sat on the third floor.
Additionally, most of the antique church pews were in rough condition. The pews had a thick brown stain, damaged pedestal bases and many were scratched with kids scribbles, peoples' initials carved into the seats and wads of chewing gum under the seats. (I know. Blasphemous, but true!)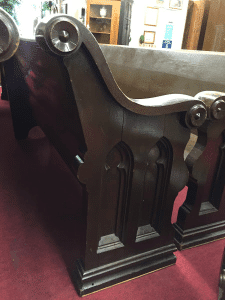 At this point, we wondered if this investment in time, money, sweat and muscle would be worth it.
What are Old Antique Church Pews worth?
In rough, untouched condition, antique church pews probably are not worth too much. For instance, even though most antique church pews are solid wood (commonly, church pews are oak or walnut), their condition and design greatly affects their value.
So, if antique church pews look very worn, many people opt to place them on porches or in rooms where they can take a beating. So, obviously, they are still useful benches, but really probably sell for a couple hundred dollars at the most.
(As a side note, curved antique church pews can be much harder to sell than straight church pews. Simply put, curved antique church pews don't fit many homes. So, despite them being unique and more rare, they ultimately are not as valuable as straight church pews.)
However, if you are willing to restore an antique church pew, and possibly shorten it, you could see a higher economic return. After fully restored and resized, most of our antique walnut church pews sold for between $600 and $1200. So, yes, antique church pews can be valuable antiques on the market today.
Although, we should also mention that our antique church pews were pretty special in design.
After stripping the old 1920s ugly dark floor stain from the pews. We realized these antique church pews had an amazing surprise. On the ends of each pew, were two carved gothic arches inset with beautiful burl walnut!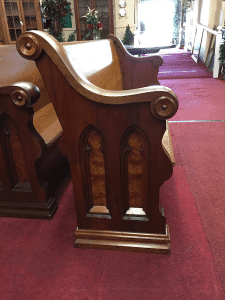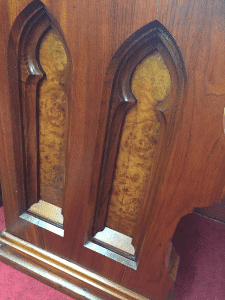 Restoring Antique Church Pews
Restoring the antique church pews took lots of time, space and energy. Seeing that most of our clients would not have room for a full 12 foot pew, we had the foresight to cut almost all the pews in half when picking them up. (This also made it easier for us to carry and load. Remember: third floor, people.)
So, after three trips with a box truck, hand trucks, and Sawzall, we ended up with 60+ church pew halves.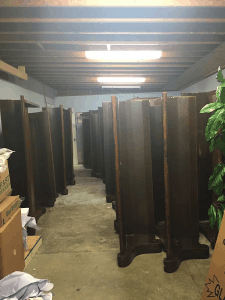 After deciding to store them in the store, we then proceeded to take about 4-6 pews (or 8 to 12 half pews) to our workshop at a time.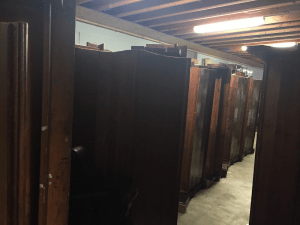 Then, we carefully pried the end off of one pew. Using lots of sandpaper and a chemical stripper, we were able to remove the thick brown stain from the pews. Also, most of the graffiti and deep initial-carving sanded out as well. The gum, surprisingly, took more muscle. We had to use a metal scraper to remove that.
At this point, we realized that the seats and backs of our church pews were solid ash wood. The sides were beautiful walnut wood. As mentioned before, they also had a really lovely burl walnut insert in each one, completely hidden by the deep dark stain.
In highlighting these burl walnut inserts, these antique church pews really came back to life! The movement and pattern in the burl walnut reminded me of the wavy antique stained glass in the church. When stained and finished with lacquer (we prefer Mohawk Brand lacquer), these little burl walnut inserts looked like beautiful stained glass windows.
How to Shorten a Church Pew
Because our pews had a chunky scrolled arm with base, we were able to pretty easily make different length pews. We simply cut the back and seat (which was ash wood) to the correct size. After some experimentation, we found people like the 4 foot, 5 foot and 6 foot lengths the best.
Then, we carefully pried off the other arm from the opposing side. We sometimes had to clean up the end with a router to make the newly cut seat and back fit perfectly. Then it was just a matter of wood glue (use Elmer's Wood Glue), long clamps and some new wood blocks and supports underneath.
Refinishing the Church Pews
Because of the variety of wood in our antique church pews, we really wanted these different colors and grains to shine. Obviously, it took some experimentation with different stains.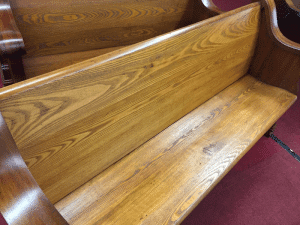 In the end, we went with a golden oak color for the seat and back, and a richer brown for the sides. This seemed to really enhance the character of the pews. Also, the colors really seemed to meld nicely and give the church pews a rich antique look.
Refinishing the church pews was a labor of love. (Believe me, we were sick of working on church pews after a few months!) However, refinishing the church pews brought them back to life and really made them lovely again!
About 90 percent of the church pews we took from the church in Reading could be saved. A few from the load were totally unsalvageable, due to the fact that they were fixed or cobbled together over the years. And, we did end up painting a few that were too badly stained to stain.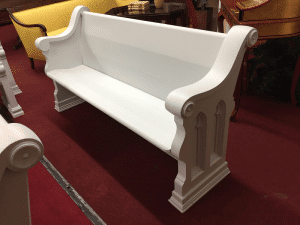 However, we were incredibly happy and proud to restore such gorgeous pieces of history! Otherwise, these gems would have been lost and no doubt destroyed.
What do you do with an Antique Church Pew?
Obviously, with this much work and time, these antique church pews were not something you simply throw on a porch.
(While the spray lacquer can really hold up to some abuse, it probably would deteriorate with the weather. So, if you plan to put an antique church pew outside in the elements, consider weatherproofing it with some heavy duty outdoor grade stains and finishes.)
Instead, most of our clients ended up using the antique pews in entryways, living rooms and even as banquet seating in the kitchen. Indeed, they really became focal points in our clients' homes.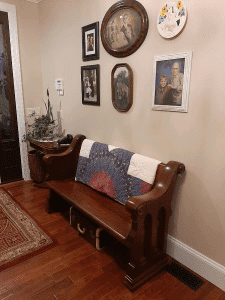 Because of our online antique store, we are happy to say that the pews found great homes all across the country.
Indeed, we sold antique church pews to homes in Virginia, Florida, South Carolina, Alabama and even to California. It was a joy to see how excited people were to receive these special pews.
One of our clients in California had lost her home in the fires and had been looking for a church pew for years. Another wanted a special piece for his Maryland farmhouse. One family took their holiday photos on the church pew and are hoping to continue that tradition. Finally, one client was happy to order two antique pews for their eat-in kitchen in their vacation home in North Carolina.
Many of these new and returning clients told us they loved the Gothic style of these particular pews. Some also really loved that they were saved from such an old church. Indeed, the unique look and incredible quality of these pews caught the eye of a very distinguished client.
Antique Church Pews in the Museum of Modern Art
It was quite a surprise when some gallery directors at the Museum of Modern Art called us one day after seeing our antique church pews online.
MOMA had been searching for a pew for one of their installations by a contemporary video artist.
Within a few weeks, we took a trip to their warehouse to drop off not one, but two of our pews in Manhattan. Obviously, we couldn't be more thrilled to have our pews as part of a now permanent installation at the Museum of Modern Art. As art lovers, we were extremely honored to be part of such a prestigious institution!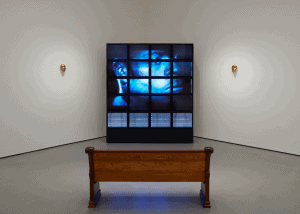 Additionally, it was such a treat to see how something from a hundred and fifty year old church can now be part of such a modern art mecca.
At our antique shop, we always advise our clients to mix a little old with new. Layering some unique pieces with soul and history always leads to a more interesting and conversational interior design. Indeed, this love of an eclectic mix inspired the name of our shop, Bohemians.
So, if the Museum of Modern Art gives a stamp of approval to this ethos, we feel we are on the right track!
Antique Church Pew Decorating
Antique Church Pews can play a beautiful role in all types of decorating schemes. Obviously, these Gothic Revival pews served as a lovely statement in both historic and modern homes.
While once a relic of the past, their religious meaning and aesthetic beauty make them wonderful pieces to conserve and enjoy.
Thank you to all who purchased church pews from us! Special thanks to Pastor Jorge at the Iglesia Pentecostal Hispana Church in Reading. And thank you to the Museum of Modern Art in New York, especially Erica, Dana and Sarah. We cannot wait to visit soon!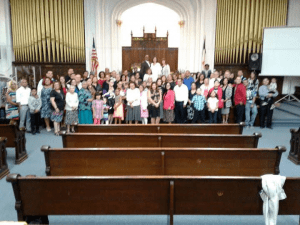 Church Pews
Antique Church Pews can really add so much beauty and history to your home. Do you own an antique church pew? Did you restore it yourself? Let us know in the comments below!
Spread the love, Save for Later