About Statton Furniture
For years, Statton Furniture was a staple in Fine Furniture stores across the country.
Their elegant, Made in America cherry pieces stood for quality and craftsmanship.
Many families choose the Statton name and beautiful cherry traditional furniture to decorate their bedrooms, dining rooms and living rooms.

Today, the only places you can find Statton Furniture are:
Antique Stores
Vintage Stores
Estate Sales
Unfortunately, the Statton workshops in Hagerstown, Maryland have closed up for good.
Despite efforts in recent years to rebuild and re-position the brand, Statton furniture no longer manufacturers fine furniture.
Statton Furniture History
Statton Furniture started in 1926 in Hagerstown, Maryland, which is just below the Pennsylvania border. The company (for most of its lifespan), was a family venture, headed most recently by Philip J. Statton.
Philip is quoted for saying, "Since my grandparents founded Statton Furniture in 1926, our family has believed that it takes many man-hours from highly skilled craftsmen to produce true heirloom quality."
Indeed, while reaching national distribution in the 1960's, Statton Furniture aimed to keep their workshops simple in operation. In other words, each chair, nightstand, desk or bed was bench built by hand and finished with multiple hand-rubbed coats of stain.
Philo and Helen Statton started their company in the 1920's with a simple line of bedroom furniture. Nearby woods of Appalachian cherry formed the basis of most of Statton's furniture, although mahogany did make an appearance in some of the company's later special collections.
Eventually, the company's offerings expanded into dining room, office and occasional furniture.




Mostly, Statton Furniture designers reproduced 17th and 18th century designs: Colonial classics like Statton poster beds, chest on chests and Statton Hepplewhite sideboards were staples. Queen Anne legs and bracket feet were common as well.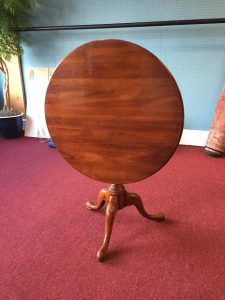 In the 1950's and 1960's, Statton dabbled with modern furniture styles that deviated from their 18th century designs. For a brief period, stick legs, flat drawer fronts and bookcase headboards made an appearance in Statton Furniture's offerings.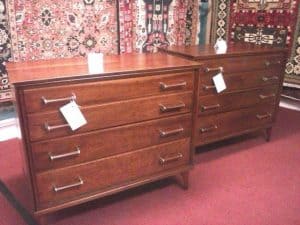 By the 1980's and 1990's, however, Statton returned to their classic roots. Statton became known primarily as a "reproduction" company, focusing on the Statton Trutype Americana and other similar lines.
Statton Furniture's Decline
In the 1990's through the early 2000's, changes in international trade deals brought challenges to many American companies.
As NAFTA and other trade deals opened up manufacturing in other countries, many furniture companies were forced to compete on price in a way they had never done in the past.
In short, imported furniture hit the American markets.
These new offerings did not compare in quality to Statton's collections, but the new "price points" drove many American's to purchase foreign-made goods.
Fine, solid wood, handmade furniture became a luxury that many chose to go without. (It may even come as a shock to our younger readers to consider that a Statton bedroom set would have retailed around $14,000 back in the 1990's.)
Additionally, e commerce put a dent in traditional retail in a new way. Many furniture retailers, often "Mom and Pop" stores, were getting squeezed by shrinking margins and lessening foot traffic.
In 2008, the Statton family faced the dilemma of so many other furniture companies. Sadly, with dropping sales and difficult price raises on raw materials, they decided to close their doors after more than 80 years of business.
Is Statton Furniture Still in Business?
For a time, we constantly heard customers asking, Is Statton Furniture out of Business? And for a few years we seemed to have an uplifting answer.
After the Statton family decided to close their factory doors, a new chapter for Statton began.
From 2008 until roughly 2018, another Hagerstown, MD Company, The Master's Woodshop, took over the Statton Brand and purchased the rights to manufacture around 70 of the designs of Statton furniture pieces.
The Master's Woodshop primarily made fine architectural millwork and cabinetry for homes. (Their website is quite impressive by the way!) They decided to hire several of the former Statton woodworkers and finishers (many of whom had been with Statton for decades) to help build some of the Statton pieces.
We even met the new owner, Hunt Hardinge, who aimed to reignite the fine furniture brand! (Our store is just 12 miles from the old Hagerstown location.)
Hunt's plan seemed solid: he was offering Statton pieces direct to consumer via the Statton website (statton.com). In this way, The Master's Woodshop was able to offer a much reduced price to consumers and loyal followers of the brand.
For several years, The Master's Woodshop was able to do very well on a small scale offering Statton furniture to their local clients through word-of-mouth and their dot com. Many of our customers went to The Master's Woodshop to commission nightstands, bookcases and cabinets for their homes.
However, at the time of this article, the Statton website is no longer live. The Master's Woodshop website does not make mention of their connection to the Statton brand. For all intents and purposes, new Statton Furniture is no longer available on the market today.
Statton Furniture Styles
Colonial names, such as "Virginia Arm Chair" by Statton, "Salem High Chest" and "Hartford Arm Chair," echoed the company's patriotism and adherence to classic styles inspired by Colonial American cities.
Certain motifs were common in Statton furniture pieces: inverted shell carvings reminiscent of cabinetmaker, Samuel Goddard carvings, tobacco leaf carvings on bed posts and dining table pedestals, and scroll work aprons on Statton servers were all telltale signs of the Statton name.
However, Statton Trutype Americana lines continue to be the most loved and well known lines by Statton.
The Eagle stamp with the "Trutype Americana" signatures make identifying this particular line by Statton pretty simple. (Sometimes this mark is burned in the wood and sometimes you will see a brass tag with the mark.)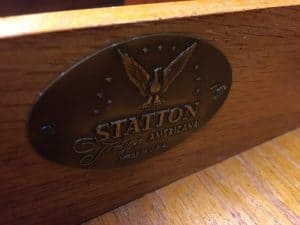 Most Statton Trutype pieces feature simple lines, bracket or Queen Anne feet and very clean drawer faces. The Statton Trutype American hutch, for instance, features simple beveled doors and drawers that highlight the simple beauty of wood grain.
This no-frills collection by Statton was a major hit amongst Americans who love fine furniture, but perhaps do not want an overly inlaid or overly carved bedroom or dining room set.
Indeed, Statton Trutype really boils down the elements of great design: simplicity and enduring quality.
The clean simplicity of a Statton Trutype drop leaf table, for instance, is in the simple bevel, thick table profile and nice turned legs.
Befitting of this true American brand, Trutype also featured brass hardware, typically in Chippendale "batwing style." The Statton Truype lines helped bring simple Colonial elegance to homes all across the country.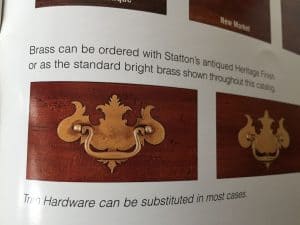 Statton Furniture Finishes
As mentioned earlier, most of Statton's furniture was crafted of solid Appalachian cherry harvested from the Mid Atlantic region.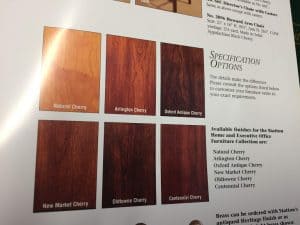 However, this cherry could be finished in several different ways. Statton's finishes demonstrate their incredible adherence to quality and craftsmanship. The finishing process at Statton is said to have taken hours over the course of days and could include up to 27 layers of hand rubbed finish.
The result: a deep and very handsome look not easily replicated!
The most popular finishes include "Old Towne" Finish, "New Market Finish," and "Centennial Finish." We often see the marks of these finishes on the back of the pieces in white stamped lettering.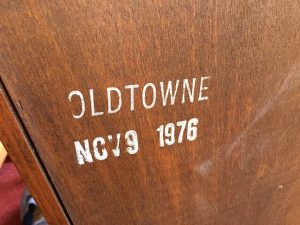 Each color had a richness and attitude all its own. "Old Towne" was one of the darkest finishes, to my knowledge, and made the cherry look almost like a deep mahogany in the right rooms. Certainly, this rich color helped many achieve a dignified look.
Statton Centennial Finish had a warmer look, perhaps better for casual settings or for rooms that lack a lot of natural light. We recently sold a Centennial Finish tilt top that looked beautiful in the new owner's Colonial style home!
Statton Furniture Catalog
Over the years, we have collected several Statton Furniture catalogs. Not only do these catalogs help us with identifying Statton Furniture, but they show the true professionalism and artistry of Statton's design team.
The room setups in the photos speak of timelessness. The bedroom sets look so inviting and rich, and besides for a few details, could certainly be used in any fine magazines today!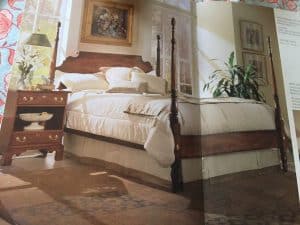 The traditional ideas of balance, scale, and proportion are very well achieved with Statton Catalog photos. It makes one of the company slogans even more appropriate: "Made by hand- and by history."
Two other Statton collections come to mind: The Statton "Private Collection" and The Statton "Eastern Shore Collection."
Statton Furniture Private Collection
Statton Furniture Private Collection included special adaptations and reproductions of important antiques and cabinetmakers.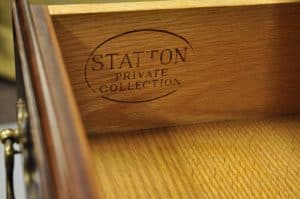 These pieces often had important historical significance to the history of furniture making.
Additionally, fancier forms and techniques found their way into the design… Inlaid designs, carved legs and bedposts often became the focal points of the "Private Collection." On rare occasions, we see solid mahogany as the component of the "Private Collection."
Likewise the "Eastern Shore Collection" had historical and regional significance.
The Eastern Shore Collection by Statton focused on early examples of Maryland, Virginia and the Chesapeake Bay Watershed regional furniture.
The Eastern Shore Collection aimed to "recreate the style and feeling of rural life." Windsor chairs, simple moldings and straight legs often decorate Statton's Eastern Shore Collection.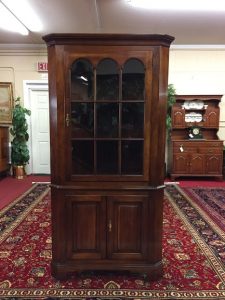 While simple, this furniture collection, like Trutype, showed incredible quality and sophistication. The result: fine, yet understated pieces perfect for country homes.
Statton Furniture Value
Statton Furniture value can fluctuate like any market. As a high end custom cabinet shop, Statton priced their retail goods in the middle of the high end market in the 1980's through the early 2000's.
A bedroom set by Statton, for instance, most likely would have cost less than a similar set by Kittinger, Harden, Baker or Stickley.
A Statton bedroom set might have retailed in furniture stores for between $10,000 and $20,000 during this period.
A Statton Dining room set might have been within $10,000 to $30,000 as well, but could have been higher, depending on the customization, fabric choices and number of pieces.
Indeed, fine furniture requires a high initial investment. However, the promise of heirloom furniture, furniture that can be passed down through generations and kept rather than tossed on the curb, made Statton an excellent choice.
On the used market today, used furniture by Statton, like many fine furniture brands, has dropped significantly. Most used furniture sellers can expect to recoup around 10-20% of the original retail price on used Statton Furniture.
Statton Furniture Prices
For instance, a solid cherry Statton Tilt Top may have retailed for around $1500-$2000. We sold a Statton tilt top table in Centennial Finish for around $200-$300 in 2019.
Likewise, a Statton Corner Cabinet with arched door may have cost the original owner around $4000- $6000 dollars. We sold one in early 2019 in the $800-$1000 range.
On the used market, so much of Statton furniture values are dependent on the condition. Statton collectors are looking for the original finish in "mint" or near mint condition. Often, customers are looking for the original Statton Finishes to match existing pieces in their homes.
Water rings, scratches, mars to the finish can bring down the value of used Statton furniture significantly.
Furthermore, structural problems, like chips, broken drawers, repaired or reglued joints, splits on dresser tops, can make any Statton piece virtually unsalable on the used furniture market.
That said, Statton furniture, because of its solid wood construction, can be repaired and refinished. So, many furniture dealers or auction buyers consider refinishing Statton dressers or Statton dining tables in order to revive a fine piece of furniture for another lifetime of use.
What to Look for in Statton Furniture?
What to look for in Statton Furniture, primarily, is authenticity.
Finding the "Statton mark" can sometimes prove difficult. Many times, the brass tag that identifies Statton has been lost.
However, if you see one of Statton's signature finishes ("Old Towne", "Centennial") marked on the underside of the item, most likely it is a true Statton piece.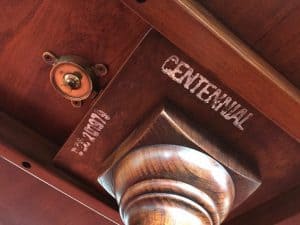 Of course, used Statton furniture is a great choice for any fine home today.
The designs offered by Statton really do stand the test of time, and their quality and construction were top-notch.
When shopping for Statton online, pay attention to small details. Close-ups of any finish or structural damage often tell a story of the item's past life.
One of the worst enemies of fine vintage furniture is moisture, and with that extreme temperature changes. Badly stored Statton pieces can fall prey to warping, swelling or mildew and mold. So be careful when purchasing items that may have not been kept in a climate controlled environment.
Additionally, another lesser known but still sinister enemy to fine furniture is cheap furniture polish. Some cheap furniture polishes can cause a waxy build-up that is difficult to remove. Often, dirt and grime compound on the surface and cause more damage to Statton finish.
Statton Furniture Company
While sadly not in business anymore, Statton Furniture remains an excellent choice for today. Whether you inherited fine pieces by Statton, or actively seek it today in used furniture stores, Statton is a name you can trust.
We have seen some gorgeous Statton pieces come and go through our shop doors in the past. Most of the time, it becomes the focal point of a room!
The Statton Furniture Company is missed but certainly not forgotten. I can only guess that the value of fine furniture from yesteryear will rise in the coming decade, as more people start to recognize the enduring quality of fine reproduction furniture.
As far as the mass market alternatives available today, Vintage Statton stands way above the rest!
We would love to hear your thoughts in the comments below! Does Statton Furniture have a place in your home? Is the price of Statton Furniture rising or falling? What were your memories of the Statton Furniture Company?
Thank you for reading and inviting us into your home!
Written by Rachel LaBoheme. August 2019