Why I Love Mid Century Modern Furniture : A Rebuttal by Greg LaBoheme
Mid Century Modern Controversy? One of our most controversial blogs is one written by lovely wife, Rachel LaBoheme. In the rant, she describes her distaste for Mid Century Modern Furniture in a somewhat sarcastic tone.
So many enjoyed her work, felt a sense of camaraderie with the author and left comments about why they, too, were "over" the MCM obsession.
Afterall, MCM furniture designs and reproductions seem to be everywhere these days.
In modern furniture stores, the sleek low slung sofas, minimalist accent tables and clean lines reminiscent of the 1950s and 1960s seem to have taken over!
However, many readers did not feel so happy reading Rachel's snarky article (sorry, Rach!).
And I was one of them!
How could my wife, a creative person who loves color and art, be so close-minded when it comes to MCM? Does she not see the joyfulness and groundbreaking beauty in the Mid Century Design movement?
So, after months of stewing, I decided to take up my keyboard and write a proper rebuttal and discuss why I love Mid Century Modern Furniture.
This love letter to Mid Century Modern design is for all of you that unabashedly love the funky shapes, bright colors and fun aesthetic of MCM furniture.
MCM Roots
Artists typically have two approaches when in the creative zone: They can look backwards at tradition. Typically, as an aspiring artist or designer, you take lessons, study the masters and practice techniques under the tutelage of professionals.
In furniture design, things tend to get recycled quite a bit. That is why we have the word "revival"… Federal Revival, Colonial Revival, Empire Revival, Renaissance Revival…
All of these terms describe periods where craftsmen and artisans copied another period. Sure, they might put a subtle twist on it… Enough of a change that we furniture nerds can point and say, "yes, this is a later revival piece."
Or artisans can break with tradition. During the Mid Century period, designers and artists broke with the "masters" and opted to create something totally different. And probably for the first time. Some even argue, it was the last time.
For that, we should be totally in awe.
This spirit really developed after WWII. After one of the most brutal and chaotic times in world history, artists didn't want to look backwards. Rather, they sought something uplifting, unique and totally new.
Hip and Cool
I am no English major, but I would have to guess that the word, "cool" was invented in the 1950's.
And so I would probably guess that we invented the idea of cool back then, too. And it no doubt described what furniture makers were doing during those days.
MCM furniture has an "it factor" that if you have to explain it, you just don't see it. In other words, it has a really sleek and sexy look. Done correctly, the MCM style home looks like it has a class. It looks expensive, without being stuffy or pretentious.
You know when someone is wearing a high dollar perfume. And you can tell when someone has invested a lot of bank in fine MCM furniture.
The types of people that purchase real designer MCM furniture don't need to tell you they have money or that they are smarter than you. We all just know.
The cool factor just wafts in the air like fine perfume.
The Comfort Factor
My wife mentioned in her article that she thought MCM furniture was boring, bland and uninspiring.
However, she missed the mark! In MCM design, form follows function. There is nothing superfluous… no extra carvings, weird tufts, extra ornamentation… It boils down to a beautiful grain of wood, a really simple silhouette on a chair, and a simple edge on a table top.
Call me simple, but honestly, these types of details make me slow down and appreciate things.
If you can really study the look of something, get into it and notice the subtle details of it, you start to realize the art in nature and the beauty in the craftsperson's work. For instance, if you look at a fine Charles and Ray Eames chair, you see the thought and attention that went into the angles of the curves, and ergonomic design.
I am not saying that the Victorians didn't think about what they were making, but they definitely didn't "edit." The phrase "gilding the lily" comes to mind…
And have you sat in a Victorian parlor chair? I'm six foot four and I can tell you, it's not really a fun activity. For me or for the chair.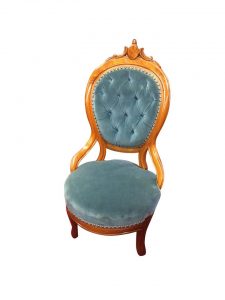 Eames boiled down design to the essence, working off the proportions of the human body. They took the cue from nature, and opted to say, yeah let's go with that.
The result is something universal. (Which is probably why modern furniture stores can sell so much of it.)
After all, we all want a chair we can sink into. Our legs naturally float upwards when we sit in one of these chairs and we can say, "ahhh" at the end of the day.
MCM Furniture and Nostalgia
But for me, the MCM probably is even more appealing to me than Rachel because I lived through the end of the era and she did not.
People love MCM because it reminds them of their youth. Of course, for me, it reminds me of my aunt and uncle's finished basement.
I am sure you know what I am talking about when I say, paneled walls, shag carpet, low slung upholstered sofas with wings and of course a built-in bar. A huge fish tank with a treasure chest inside and scuba diver. Gold Leaf Rocks glasses and tumblers and swizzle sticks. Teak lamps with huge shades. Tacky oversized paintings with velvet inlay.
Basically, the coolest room ever. And fun!
Maybe you enjoy dressing up and going to a swanky hotel bar where you can hobnob with ritzy people in expensive suits. But I rank that scene up there with getting a root canal.
Give me the dark, musty, basement bar kind of party. Tom Jones and Neil Diamond on the record player. People can, and will, stay all night. Not only because they are in a basement, but because they are comfortable and relaxed and not pretending to be a housewife from New Jersey. (Hey, I lived there. I can say that!)
The MCM movement is popular with people who want a return to the simple time. A time where you could ride your bike down the street without worrying. A time where families wanted to hang out at home. And a time where furniture stopped being so fancy for a while and actually allowed you to live.
MCM Furniture for the Future
I am not saying you shouldn't have fancy furniture in your home. I sell beautiful fancy furniture everyday and I love it too. Heck, you can really fall in love with a finely carved dresser or superb antique buffet. I equally love the reproduction furniture by all around great American brands: Stickley, Pennsylvania House…
But I would stress that we also need at least one, yes one, MCM room! Low sofas with flared arms and peg legs.
And I bet, at the end of the day, we will find even the fanciest people relaxing down there, with their swizzle sticks and in their socks. No doubt, their legs are strewn over the Mid Century Modern chair and they look like they never want to leave.