Art Deco Furniture
Art Deco Furniture has gotten a somewhat bad rap from antique dealers recently. Indeed, compared to true Civil War Antiques or Colonial Period antiques, art deco seems rather new.
However, beautiful art deco antiques represent a great and often affordable era of furniture to start collecting. In many ways, this style offers ornate details, fine woods like mahogany and walnut and uniquely shaped furniture.
But when exactly is the Art Deco Period?
What year is Art Deco Furniture?
Art Deco Period is roughly designated to the 1920s and 1930s. Some people often use the term "Depression Era" to describe furniture from this period. Additionally, art nouveau, a slightly different style cousin to art deco, comes from the same period.
Art Deco Period
The term "art deco" originates from a French phrase, "arts decoratifs" and the style and movement really had its roots in Paris. The "Exposition Internationale des Arts Decoratifs et Industriels Moderne" took place in Paris in 1925.
During this time, artists and designers sought to create new shapes, combine new colors and infuse architecture, art, fashion and furniture with novel designs.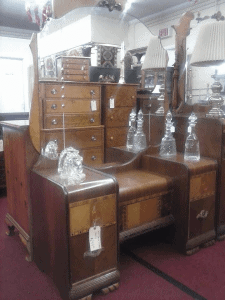 What are the Main Characteristics of Art Deco Furniture?
Vintage art deco furniture usually is pretty recognizable, once you understand the basic characteristics.
Original Art Deco Furniture typically has:
A strong sense of geometry.
Inlays and Patterns on the wood surfaces, like drawer fronts and dresser tops.
May have "Waterfall" or soft curved edges.
Bakelite (Often orangish or white plastic material) and Metal Hardware.
Fans, Stripes and Diamond Motifs.
Can feature Carvings, but often are subtle and small.
Walnut and Mahogany Burl Woods.
Large Circular Mirrors on Dressers and Art Deco Vanities.
High sheen lacquer finish.
The style gained popularity and had a reputation for luxury and glamour. In America, many modern homeowners sought to infuse their homes with this modern and exotic European style.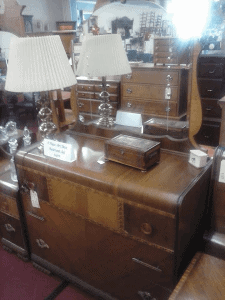 Today, art deco furniture can impart a swanky vibe to your living room, bedroom or dining room. Finding true art deco antiques of good quality and condition can really transform a home into a unique and fun atmosphere.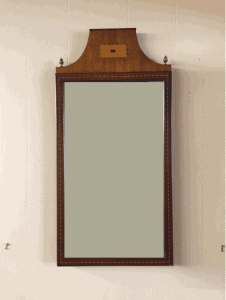 Art Deco Antiques
Sadly, art deco went out of favor for a period, so many people discarded, painted or completely neglected their art deco antiques.
Because of the veneer work often found on these beauties, badly stored art deco furniture takes a beating. Of course, with humidity, wood veneers tend to pop, crackle and flake from the primary wood. Indeed, as art deco bedroom furniture found its way to America's basements, it often suffered an ill fate.
Additionally, repairing art deco antique furniture veneers is quite difficult. Few have the time or patience to carefully reattach old veneers and clamp them to drawer fronts. Making matters worse, people rarely can match new veneers and stains with the originals. So, if the veneer has disappeared all together, you may have to live with the flaw. Though, certain people take on the challenge of refinishing art deco furniture.
Finally, during many decades, many people smoked in their homes. So, you may need to check for smoke smells within furniture. Of course, a new varnish or lacquer can help dissipate the smell, if you are able to refinish it.
Despite these issues, original pieces from the 1920s and 1930s can still be loved and used for years to come. Certainly, if you find an original art deco dresser in near perfect condition, it can serve you for years to come.
Selling Art Deco Furniture
If you have a pristine and attractive piece of art deco furniture you should not have too many issues finding it a new home.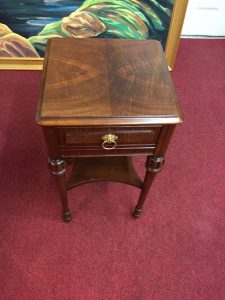 That said, Selling Art Deco Furniture really can be a challenge to sell unless you are or know an art deco furniture dealer. Because the style tends to be somewhat specific, you really need to find the right buyer for your special piece.
Unlike Colonial style antiques, which have a very large appeal, art deco tends to find its niche in urban and ritzy atmospheres. Decorators tend to like furnishing glamorous lofts and fine city apartments with the style.
Art deco furniture for sale pops up on all sorts of websites. Certainly, eBay, Etsy, Chairish, Letgo and Craigslist all over a large audience in which to market your furniture.
The Value of Art Deco Furniture
Pricing your antique deco piece will be the start of a successful sales venture. Of course, finding the maker's mark of your art deco chair or table provides the first clues to the value of Art Deco.
Since the movement really originated in Paris, French designers tend to be the most expensive and collectible.
These names include:
Pierre Chareau
Pierre Legrain
Jacques Emile Ruhlmann
Paul Follet
And a Few non-French designers like, Eileen Gray
Of course, these names tend to bring thousands of dollars on the auction block and are not commonly found.
What's the Value of my Art Deco Furniture?
Below this top tier, other art deco brands tend to get a little hard to distinguish. For that reason, art deco bedroom sets can range from $500 to $2500, and art deco dining room sets tend to hit that same range. Singular pieces can range from $100 to $800, depending on condition.
Reproduction Art Deco Furniture
If you love the art deco look but can't stand antiques, consider finding a reproduction of art deco furniture. Several American brands took on designing Art Deco Inspired Furniture in the late 20th century.
So, for instance, Henredon Furniture had a complete line of bedroom, living room, dining room and accent furniture inspired by Deco style. Likewise, Century Furniture recreated many successful replicas and adaptations. In it, you will find the same shapes and soft edges of the period pieces, but with a few adaptations. Finally, high end furniture company Maitland Smith also dabbles in the style.
No doubt, beautiful vintage pieces by these high end companies bring the glamor and mystique of art deco to your home, with updated fabric and fresh appeal.
Art Deco for Today's Homes
So, what do you think about Art Deco Furniture? Do you love the style? Let us know your stories regarding Art Deco Furniture below. We'd love to hear from you!