Garden Urns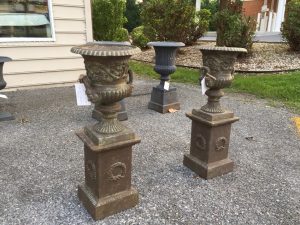 With spring on its way, many people have their minds on freshening up their gardens and yards with classic garden urns. While formal gardens take lots of planning, garden urns are a flexible and easy way to add interest to the yard. Garden urns can range in material, but we have found that cast iron garden urns are the most elegant and durable way to dress up your landscaping. Bohemians sells cast iron garden urns because of their beauty, quality and resistance to the elements.
History of Garden Urns
The 19th Century brought the ornamental cast iron industry to America. In the 1840's, cast iron was used mostly for architectural and industrial uses, however, it extended to more decorative elements by the mid to late 19th century. Cast iron is iron ore processed with carbon. Cast iron is the least malleable form of processed iron ore. It is nearly indestructible as far as strength, and this feature makes it particularly useful for outdoor planters.
Garden Urn Designs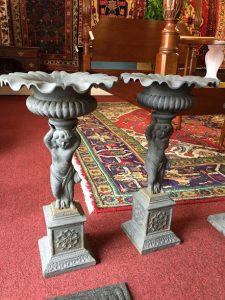 During the 19th century, Victorians invented many decorative cast iron urn designs. Many cast iron urns have floral, vine and figures molded into the planters. Other garden urns have ornate pedestal bases. Still others have carved handles on the sides. Finally, many garden urns have carved faces and animals figured in the designs. We often see lion heads on antique garden urns.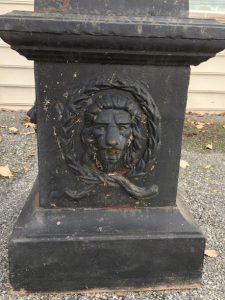 Cast Iron Garden urns are often painted, coated with zinc or bronzed. Endless design options exist with cast iron garden furniture and urns. We like the patina often seen on antique garden urns. They look particularly beautiful in front of historic houses.




Decorating with Garden Urns
Tall garden urns are perfect for framing a walkway, driveway or entryway. Because of their tall statue, garden urns with pedestal bases look regal and imposing. They look best in pairs, but if a garden urn is grand enough, it can be placed alone as a focal point of a brick or stone patio.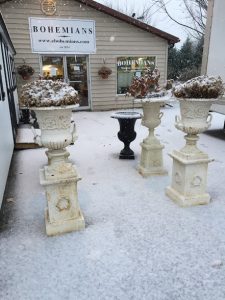 Cast Iron Urns always look elegant around a pool or water feature.
Small garden planters look at home on porches or on top of brick walls. Small cast iron urns cap stone and brick walls and give them a finished look. If you like the look of small cast iron urns, consider decorating with a group of them for greater impact.
If you are so lucky to own a sunroom or greenhouse, garden urns can be placed inside the home for year round enjoyment. It is becoming a trend to see these heavy cast iron garden urns in a sitting room or sunroom. Indoor house plants contribute to stylish interiors as well as good indoor air quality. And cast iron planters can house herbs for the kitchen too!
Planting inside Cast Iron Urns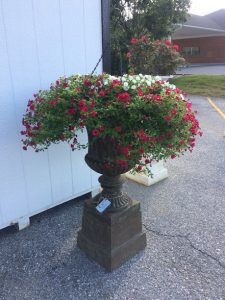 When planting in cast iron urns, there are a few plants to consider. Cascading and flowering vines are an obvious choice for tall pedestal garden urns. Many people like to plant a mix of plant species in an urn for greater impact. Tall vertical plants should be placed in the middle, and then drooping flowers along the outside. In doing so, your garden fixture will look flush with life and color.
If you happen to live in a warm climate, tropical ferns look stunning in garden urns. Small fruit trees are a great option as well. Consider the dwarf versions of these trees to allow enough root space. Arborvitaes and other perennially green small trees can look very elegant inside of garden urns.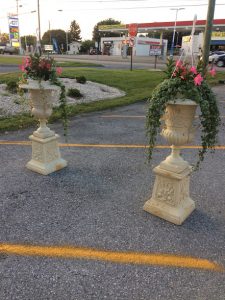 If you don't have a green thumb, an even simpler way to plant cast iron planters is to let the experts handle the details. Shop for a hanging basket of flowers and simply remove the basket, break up the dirt and roots and plop it inside the garden urn! Stylish and Easy!
Where to Find Cast Iron Garden Pots
Because they are such a long lasting design element, cast iron planter urns are hard to find! Many people pass these heavy garden features on to their children, or even sell them with their homes as permanent fixtures. Cheaper aluminum counterparts are sold in many modern stores. However, these aluminum planters often blow away, crack or simply don't hold up to years of use the way the real deal does.
Because cast iron is such a lengthy and difficult process to make, most modern garden companies shy away from offering real cast iron urns to their customers. They are also extremely heavy, so they are hard and expensive to ship. Bohemians online store has a nice selection of vintage and antique cast iron garden urns for sale. We often sell them in pairs, and have the added bonus of offering delivery. Your back muscles will thank you for purchasing from Bohemian's. In-home delivery makes receiving your outdoor urns even more convenient.
Thank you for reading!
Rachel LaBoheme
Garden Urns