Kittinger Furniture company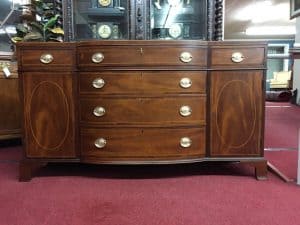 Kittinger Furniture excels at the artistry of furniture making. If you, like us, have ever dabbled in refinishing vintage furniture, or painting a piece, prepare to feel really inadequate about your work.
You know that moment, after you have sanded and stained and waxed. Maybe after a weekend in your garage or so you stand back to admire your work. Here comes the hard cold smack of truth.:
You are a kindergartner to these guys.
Kittinger Furniture History
First let me say, Kittinger furnishes the White House, and the Senate, and lots of foreign embassies. And lots of heads of states private homes and offices.
This is serious office dining and reception room furniture.
If you thought apprenticeship died with dental work in the middle ages, you are mistaken. People that work in the Kittinger factory in Buffalo New York are people with years of experience under their belt. One single family has produced five generations of craftsman. Their experience totals over 175 years of craftsmanship.
That is some furniture-making resume.
Kittinger
Reading Kittinger's website really made me recognize what hand made artistry furniture is all about. Think about the chair you are sitting in right now. Most likely it is something with legs.
If it is a Kittinger chair, each leg was cut into a solid column from the finest Brazilian Mahogany (known sometimes as Prime Mahogany) and turned on a lathe. But then it goes to two hands. The claw foot design was meticulously sketched onto a blue print (using of course tons of research of 18th century design) and followed by a craftsman with a spindle carver. Then this leg goes into the hand of a master carver who adds the finishing touches.
It may take two days for this leg to be completed… and we are just talking about ONE leg on ONE piece of furniture.
Craftsmanship
You can imagine, the rest of any piece of furniture, goes through many hands and days of work before final inspection at Kittinger. The finish alone (remember that old dresser you stripped and restained in a weekend) can include 50 hours of hand work and WAIT for it, three weeks to finish.
This is not box store furniture you put together with an allen wrench people, this is Craftsmanship with a capital "C."
Did we mention the President sits at it everyday?
American Furniture
There are tons of exceptional details one can appreciate about Kittinger Furniture. When we are lucky enough to find a piece by Kittinger, we ooh and aww at it for usually about an hour (And I don't think we are alone). The veneers that this company has used are simply breath-taking. Dramatic cathedral grains of mahogany and swirls in the wood make us believe in a higher power, this simply can not be true nature!
Most tables have a complicated and multi-level of banding on the edge. Most cabinets and hutches have fitted glass in each pane. It simply has a great weight and feel to it. The drawers slide perfectly and everything functions as if it just came out of the cabinetmakers shop. This is not simply vintage furniture, this is art, this is craft, this is American furniture at it's best.
And America chooses Kittinger. We think you should too. 🙂
Check out Kittinger Furniture to view our Kittinger furniture for sale.
Thank you for inviting us into your vintage style home!
Rachel La Bohème
Kittinger Dresser