What's A Stickley Highboy Dresser Worth? What is a fair price? Any value? In the fall of 2018, Bohemians sold a Stickley Highboy Dresser for $1600-$1700. This beautiful highboy sold quite quickly at this price.
I remember it being in the antique store showroom for only a few days before finding its new home. The chest of drawers by Stickley was a showstopper. Indeed, this model by Stickley is pretty rare to find and has an unusual history. In rough condition the value is quite different as Stickley furniture is prized for their great finishes.
Here are the specs on this chest of drawers:
Item: Vintage Stickley Cherry Highboy Chest (One piece.)
Age & Condition: Circa 1950-1960. Very good vintage condition. Very light scratches to the top and a few imperfections around the top molding.
Dimensions: 40″ wide x 20″ deep x 63.5″ tall.
Stickley Cherry Highboy
Stickley cherry highboy with Queen Anne legs and a flat top. This beautiful hand crafted highboy was made by Leopold Stickley Company in circa 1950- 1960. The same model chest is located in the Stickley Museum in New York State.
Leopold Stickley was inspired by a period English piece Stickley acquired in the 1920's. Much of his Cherry Valley collection was inspired by 18th century British style, infused with a classic American twist.
This highboy has a total of 8 drawers, each with brass Chippendale hardware. The drawers are dovetailed on all sides, and all but two also have side hung grooves. Side hung drawers are a telltale sign of Stickley's commitment to craftsmanship. This chest also has a beautiful mellow cherry finish with warm undertones. The Stickley cherry highboy also has a scalloped bottom and Queen Anne feet.
The chest is in very good condition and in original finish. It has a few light scratches on the top, and a small imperfection here and there on the top molding. However, these small imperfections do not detract from the beauty of this true American vintage piece.
It would be beautiful in any colonial style home.
Stickley Cherry Highboy Chest
The Stickley Cherry Highboy chest was one of my favorite pieces. I even snuck a photo as it was leaving the store, when it looked even more beautiful on the early fall day.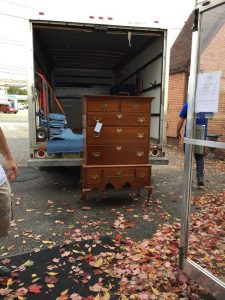 (Sometimes I get a tad bit emotional when really pretty furniture leaves the antique store!)
Stickley Furniture has been and will always be one of my favorite vintage brands of furniture. It somehow manages to be handsome, classic and unpretentious all at once. And really, the quality is amazing!
I feel Stickley Furniture's value will likely go up in the coming years, especially beautiful vintage pieces such as this one.
Of course, it is hard to predict what will one day be worth money in the future! However, I would bet on solid wood, high quality furniture like this one.
Do you collect vintage Stickley pieces? Are they a good bargain to purchase nowadays? Let us know in the comments below!