Early American Furniture
Bohemian's proudly presents antique furniture from all over the world, but we also have a fine collection of Early American Furniture. In particular, we have two incredible antique chest of drawers from Pennsylvania that represent Early American furniture style.
Typically, antiques from Early America have a rustic beauty to them that is truly irresistible to collectors and interior designers. Of course, antique Pennsylvania Furniture can represent the Colonial, late Colonial period or Federal Period. Sometimes, Pennsylvania furniture is influenced by the German and Dutch settlers.
In this article, we discuss two beautiful Antique Chests of Drawers from the early American furniture periods that deserve recognition. One belonged to a prominent Civil War Era Representative and comes from Gettysburg, PA. The other antique tall chest comes from York, Pennsylvania, another very important historic town in Pennsylvania.
Antique Chest of Drawers
Antique chest of drawers represent an important part of late 18th century furniture. Of course, a handsome and statuesque chest of drawers stands out as a statement piece in the home. In the late 1700's we see many Chippendale style elements on early American furniture. For instance, you may see fan motifs or Queen Anne legs on chests of this era.
These Chippendale and Queen Anne elements were very popular in English furniture. (Typically, design trends spread to America a few years after they hit England.)
Gettysburg Chest
However, our example of this Gettysburg Chest from circa 1790 has few motifs of Chippendale style.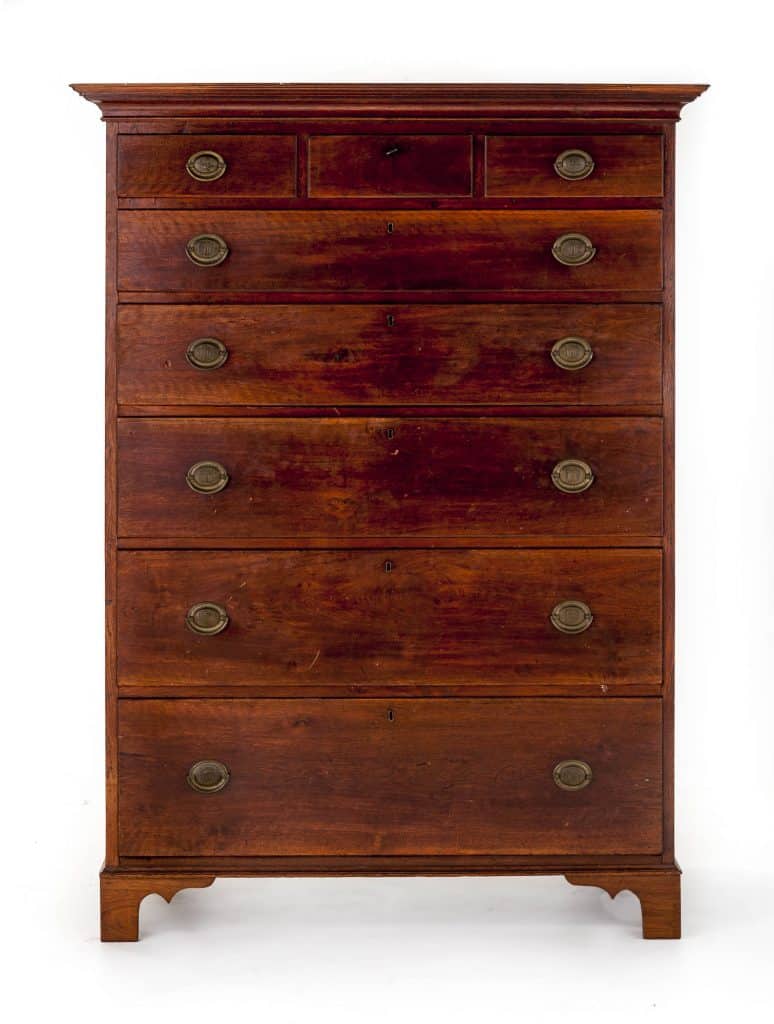 Instead the tall chest, on first glance, seems somewhat plain. Only a large top overhang molding frames the top of the Gettysburg chest. Secondly, it does not have any side fluting or shell or fan carvings.
Instead, this Gettysburg chest has a ruggedness to it. Three small drawers run along the top. Five graduated drawers run down. Very little decoration or flourish exists on this tall chest.
However, this simple character represents the period and place.
The late Colonial Period in Pennsylvania reminds us that much of the colony was geared towards the tough and simple agricultural life.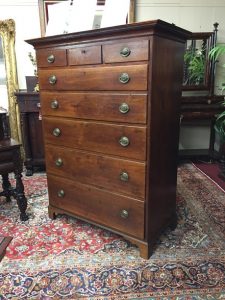 Indeed, Pennsylvania furniture, including the folk art of Pennsylvania Dutch furniture, tended to be very humble in design.




Reflective of the farm life, most early Pennsylvania furniture is very utilitarian.
Federal Chest of Drawers
Despite this, the Gettysburg Chest has unique Early Federal Period detail.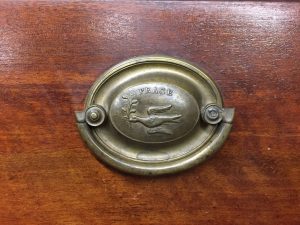 The brass hardware shows beautiful flourish after all. In the brass hardware, we see that the metalworker has stamped two different patterns in the plates. Firstly, on the top three drawers, a dove and the word "Peace" has been inscribed. Secondly, the hardware on the last five drawers shows a Greek temple.
Of course, during the Early American furniture Period, symbols of Peace and Democracy were common.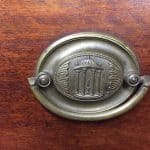 This new nation was trying to align itself with Greece as a symbol of its democratic values. The Greek Temples make sense as an appropriated symbol of these democratic values in this context. Of course, this makes this early Pennsylvania High Chest all the more special.
Because the chest came from a Congressman's Estate (Edward McPherson Estate), it shows a few sophisticated touches. The fine brass hardware separates it from other simpler chests of the period. Also, the top two outer drawers have a secret locking mechanism! Of course, we can guess that the Congressman had valuable items to conceal inside.
York Chest of Drawers
Our second Pennsylvania Furniture tall chest is from York, Pennsylvania and dates to within 10-15 years of the Gettysburg Chest (1790-1810).
Just 30 miles East of Gettysburg, York was settled in 1741 by settlers of German and Scots-Irish descent. York also served as a temporary capital of the Continental Congress during the Revolutionary War. Indeed, York is a very historic city of Pennsylvania. This York Chest of Drawers shows beautiful period detail.
The York chest of drawers is crafted of cherry and walnut and stands over a staggering 80 inches tall! In total, there are eleven drawers. Indeed, all the drawers have dovetailed joints.
The antique tall chest has some fluting in the corners, a wide top molding, bracket feet and swan neck style hardware.
Again, we see simplicity rules the day in antique Pennsylvania furniture. The tall chest of drawers has beautiful proportions and an impressive stature. Yet, there are no feminine decorations or extra carvings.
Instead, the chest's fine character rests in the quality and simplicity. Each drawer on this chest has weight and density. The simple beveled edges of each drawer are enough to give it presence.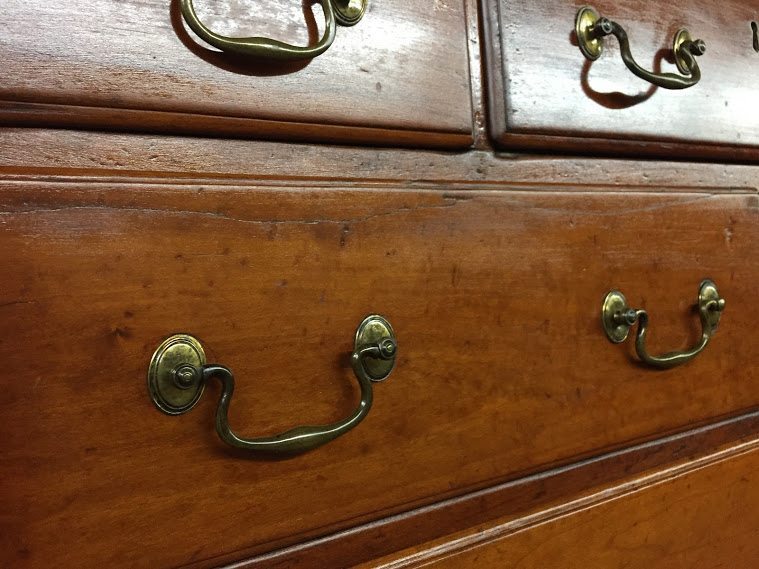 Like the Gettysburg Chest, the York Chest has quite a stunning patina. There are some small chips and cracks to the finish, as well as a very warm aged color. Again, the staggering height really separates this chest from others of the era.
If you have many things to store, this antique chest could really serve you well.
Of course, we imagine this chest of drawers served an entire family during the Early American period.
Decorating with Tall Chests
With these two exquisite examples of 18th century furniture, one might have questions about how to best appreciate them in a home.
Decorating with tall chests is fairly simple. Certainly, either tall chest could be stunning in a bedroom. Of course, in a historic home, these stately chests will be the jewel in the master bedroom. Certainly it is easy to envision them placed between two tall windows in an historic home.
Notice the Tall Antique Chest of Drawers in the Living Room. However, you may want to consider placing such historic and stunning period furniture in a more public place in the home. A tall chest can be terrific in a hallway or living room. Especially if you enjoy decorating with antique paintings, place one above the chest. Likewise, an interesting antique collection could crown the top of the chest. If you have tall ceilings, these prominent Pennsylvania tall chests can look spectacular in the right space.
If you have a large landing, these large impressive chests could even beckon your guests upstairs.
These chests, while obviously old, draw attention but do not overwhelm a room. Rather, their simple designs have a quiet elegance to them. Their beautiful patina speaks of their two hundred years of history!
Thus, antique tall chests could provide warmth to a modern interior as well. A well placed antique in a minimalist home can be like a piece of fine art in a gallery!
Antique Chests Value
Many antique chest of drawers simply did not survive as these two hundred year old pieces did. In fact, many tall chests get destroyed or modified over the years. Thus, many tall chests from the original colonies or from Early America command a very high price tag at auctions and retail antique stores!
Simple and beautiful, this period's style transitioned quickly into slightly fancier forms in the early 1800's through the 1850's with Empire Dressers. Period Early American Furniture has a unique and important place in our collective history.
As far as price goes, this may be an excellent time to purchase a Colonial Period or Early American antique. In the last ten years, much of the antique furniture market has been suppressed in price.
Funny as it may sound, many long-time antique dealers echo the statement, "brown is down." Of course, they imply antique furniture, globally, seems to be suppressed in value.
That said, we sincerely feel that the antique market has started to show signs of change. At the time of this article, we feel a noticeable shift in the market. There are times when we cannot replace the pieces we sold just the week before at our typical wholesale auctions!
Antique Furniture Prices
Prices on antique furniture seem to be inching back upwards. Trends in interior design seem to be welcoming early antiques back. The warm patina and handsome traditional forms are a refreshing break from the starkness of mid-century furniture that has dominated for years of design.
Obviously, too, these early antique chest of drawers have influenced countless other vintage makers in the 20th century. In fact, we see some elements in this chest from the 1930's through the 2000's as well! Take a look at this video of a Wanamaker High Chest and notice the similar elements!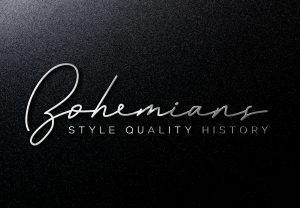 As beautiful antique furniture often gets painted or refinished, important pieces in original finish continue to become rarer. Thus, these two antique chest of drawers could be a good investment in the coming years.
At any rate, they will certainly be beautiful to behold in any home. Indeed, they hold such importance as preserved relics of Early American history.
If you enjoy the simplicity of Pennsylvania antiques and Early American furniture, these antique tall chests could be perfect for your home.
Take a further look at the Gettysburg Chest and the York High Chest.
Thank you for inviting us into your antique home.
Rachel La Boheme
Spread the love, Save for Later