Farmhouse Furniture
Farmhouse Furniture and Farmhouse decor seems to have taken over Country Living, HGTV and every modern furniture store on the planet.
But, finding high quality solid wood farmhouse furniture can present a challenge.
Mass produced farmhouse style may look good with the help of photography lighting and good angles, but much of it is made of low-quality materials.

Indeed, much of the farmhouse furniture available in new stores is a poor imitation of "farmhouse." That's probably because it was produced far from the farm. Instead, most modern farmhouse furniture is produced in crowded urban factories in China.
So, if quality is something you value in your farmhouse home, turn to two of our favorite trusted American Vintage Furniture Companies : Stickley Furniture and Hitchcock Furniture.
These two mega quality brands were doing farmhouse fifty years before Chip and Joanna! They mastered real solid wood furniture that will bring you back to an authentic farm style home.
Plus, these awesome brands require no power tools, chalk paint or DIY Mason Jar tutorials. That's right. You can put your Pinterest to-do list away and simply enjoy the authentic farmhouse style these brands have to offer!
Certainly these two brands offer different styles that play off the farmhouse aesthetic. They each offer incredible high end furniture choices for your new rural retreat!
Stickley Furniture (A Brief History)
Stickley Furniture is a furniture company that most people have heard of before and likely recognize the name. However, we won't be talking about Stickley's signature mission style furniture or arts and crafts furniture in this article.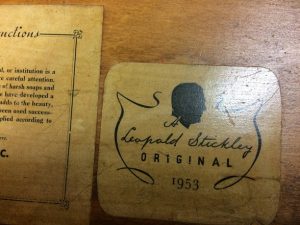 Instead, we turn away from Gustav Stickley to a lesser known style that Leopold and John George, his younger brothers, championed in the 1920's through 1950's. The "Cherry Valley Furniture" line successfully continued into the late 1960's.
John George and Leopold developed Cherry Valley Stickley Furniture as a grouping of traditional cherry furniture influenced by Early American and European designs. Finding less of a market for the mission style oak furniture of their elder brother, they turned to classic design, with a simple American Colonial flavor.
Additionally, they took advantage of the old growth cherry forests in the Adirondacks of New York, where they lived and worked.
These popular adaptations of Colonial design took off for the company, and by 1957, L. & J.G. Stickley was one of the most well respected furniture makers in the country.
Stickley Furniture Style
The beautiful styles of Cherry Valley Stickley Furniture meld perfectly in today's casual farmhouse style homes.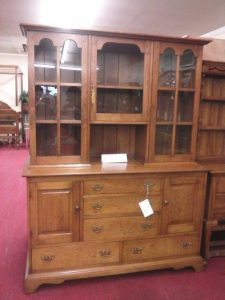 First, there is the beauty of the wood.
Stickley used a very deep and mellow finish on their cherry furniture.
Unlike the somewhat reddish or even artificial look of other vintage furniture companies, Stickley Furniture from the Cherry Valley years has a depth and luster.
This "mellow" cherry feels and looks natural. It lends itself very well to a provincial country or farmhouse home.
Of course, the Stickley factories are said to have a lengthy and labor-intense finish process! They add multiple coats of finish in between hand polishing and buffing to achieve this finish. As a consequence, the wood grain has almost a watery look unlike anything I have seen from other companies.
The lighter shade also contributes to a casual country look.
But what you will really adore when looking at these vintage pieces is the incredible farmhouse style. Take a look at that incredible hutch (pictured above)! The Cherry Valley Line takes on elements of classic style, yet still retains a decidedly casual and comfortable look. These designs really blend in beautifully in the historic farmhouse.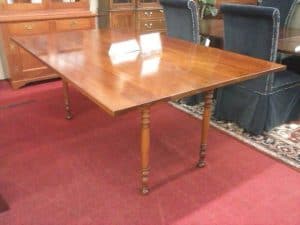 The simple lines of the Stickley Harvest table for instance, combines classic farmhouse style with Colonial practicality.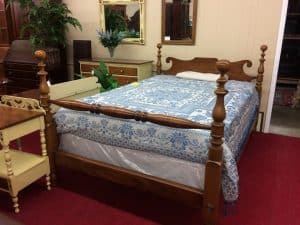 Likewise, the simple cannonball bed by Stickley Furniture elicits the feeling of an old homey guest room in a farmhouse.
Stickley Furniture Quality
However, this furniture is anything but light in weight!
In the past, we couldn't believe how heavy and well-built these case pieces were! If you take out any drawers of a Stickley Furniture sideboard, you will see that each case is extremely well made.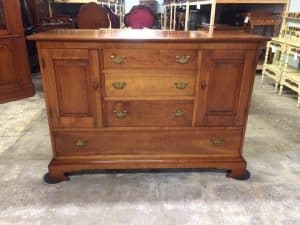 Solid wood drawer liners, backs and pin and mortise joinery contribute to this amazing quality furniture! Additionally, the drawers have dovetailed joinery at all four corners.
While most farmhouse furniture comes in pine or light oak, this old growth cherry stands as a cut above in both quality and beauty. Experts consider cherry a hardwood, and old growth cherry in New England can be one of the densest and highest quality wood available.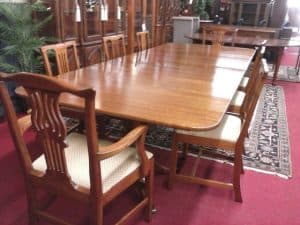 (These marks of quality are what you should show to your significant other! Or bookmark the page and let them read this article at their leisure! )
Finding Vintage Stickley Furniture
Because all vintage shops are not the same, it might be tough to track down Stickley Cherry Valley Furniture.
For some odd reason, many antique dealers ignore this fabulous vintage furniture line. Possibly, this is due in part to the fact that it has not quite reached 100 years of age to be considered a true antique. Or maybe it simply doesn't pop up that often. (This stuff lasts forever after all. So, many generations pass it down through the family.)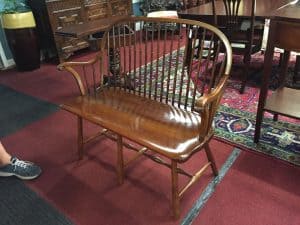 Thirdly, Leopold and John George are slightly overshadowed by Gustav Stickley and his valuable mission furniture. Of course, signed Gustav Stickley Furniture have reached some pretty high auction records!
Whatever the reason, you may have better luck scoring some vintage Stickley Furniture from Ebay or online antique stores.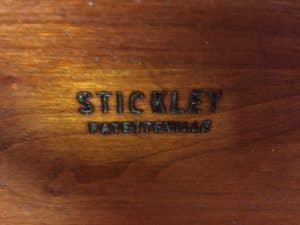 You can definitely invest in quality vintage Stickley Furniture from online marketplaces. Most online sellers can provide shipping suggestions if you live quite far away. Just be sure to look for the Cherry Valley labels and no doubt you will love your purchase!
Hitchcock Furniture
Now let's turn to our other fine furniture suggestion, Hitchcock Furniture.
Hitchcock Furniture Company has acquired a great reputation nationwide for their fine Connecticut furniture. The Hitchcock Furniture company has a long history (longer than Stickley's) so here's a brief introduction to their amazing signature furniture.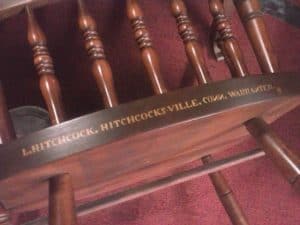 Hitchcock Furniture (A Brief History)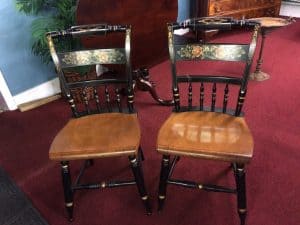 Lambert Hitchcock , the son of a Revolutionary War veteran (yes, I told you it was long ago), started making chairs in the early 1800's in Connecticut. His handmade chairs were beautifully crafted, however, because of the time and effort that it took to make them, they were also expensive for his customers.
He sought a way to reproduce and mass produce his chairs. Thus, he started experimenting with factory settings. He saw opportunity with other burgeoning industries (including the early Clock-makers like Eli Terry, you can read more about that in our clock history blog) and the water powered mills.
Hitchcock also found a way to develop the signature decoration that was so popular in Post Colonial America : painted furniture. By utilizing stencils, he was able to replicate the charming floral patterns that grace Hitchcock chairs, Hitchcock benches, and Hitchcock dressers.
Painted Furniture with Style
Painted furniture plays a large role in farmhouse furniture.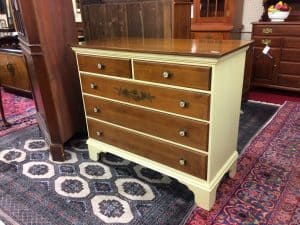 Of course, this is because agricultural households often reused and reinvented the same furniture time and time again. The necessity to save resources resulted in some beautiful creative painted pieces back in the day.
While the farmhouse look often uses chalk paint to dress up antiques or vintage furniture, Hitchcock Furniture already has factory painted accents.
Typically, Hitchcock uses black and white and cream paint colors to enhance their cherry, maple and oak furniture. The result is incredible country style furniture with panache.
Plus, the two tone look common to Hitchcock Furniture can be very durable and practical. Of course, the factory finish can last for decades.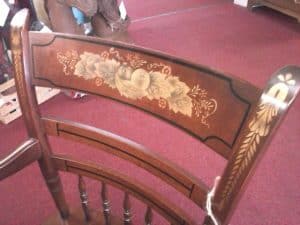 In a bedroom, dining room or living room, a charming piece of Hitchcock Furniture can bring antique farmhouse charm.
Also, the hint of gold can bring a touch of sophistication and refinement to your farmhouse.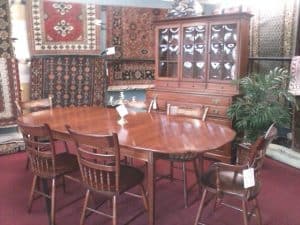 Decorating with Vintage Farmhouse Decor
Now that you have some excellent furniture to form the basis of your room, now comes another important step in the process: Vintage farmhouse decor.
Decorating around your high end vintage and used furniture can be simple. It's just a matter of how you decide to pull rugs, art and accessories into your room.
Take for instance Persian rugs to ground your dining room furniture or living room set.
Will you choose a Floral Kashan Persian rug or more of a geometric tabriz Persian rug?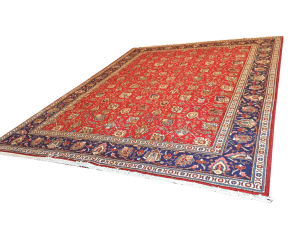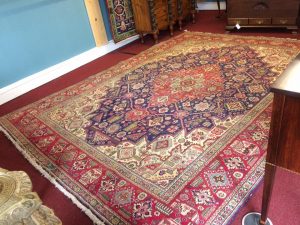 (Personally, for a farmhouse, a geometric rug simple seems to look great against wide plank floors!)
Either one will take your room in a sophisticated elegant farmhouse direction! You might want to consider a Persian rug with a bit more wear and patina, to help your farmhouse retain some rustic charm. Persian rugs (or Iranian rugs) fill a home with color, life and an exquisite high end look.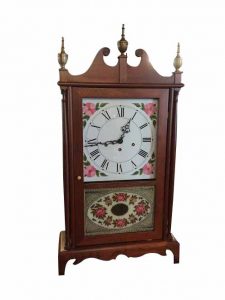 Likewise, an antique mantel clock, or even an antique Grandfather clock could enrich your space. A simple cherry clock can look so charming in a rural retreat. While an aged mahogany Grandfather Clock feels at home in any farmhouse. Certainly the farmhouse furniture will look great with these clocks near by.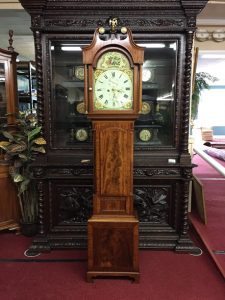 Finally, simple wooden mirrors can bring a great sense of history to your room. Chippendale mirrors are a classic. Of course, they likely found a place on many 18th century farmhouse walls! Try one in a dining room, foyer or in a powder room.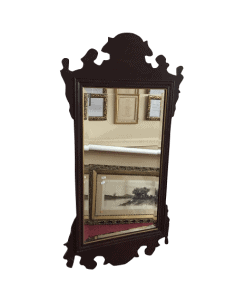 Vintage Furniture : A Fine Farmhouse
Of course, the style, quality and beauty will continually attract people in both country homes and in more urban estates. Hitchcock Furniture and Stickley furniture offer incredible quality pieces that have virtually no match to the furniture manufactured today.
Farmhouse furniture by these two vintage companies will add incredible value and beauty to your home.
If you would like to build a home of value and enduring style in the farmhouse vein, start with basic good quality vintage furniture.
You (and your spouse) will appreciate the difference immediately, and forever.
What do you think of these furniture brands? Do you think that Farmhouse style is here to stay?
Thanks for reading our style blog!
Rachel LaBoheme