William and Mary Antique Furniture
Despite the fact that this piece of William and Mary Antique Furniture has been sold the information is still listed.
At any rate the antique chest on chest dated to the late 17th century circa 1690. Visit Bohemian's often for William and Mary furniture for sale.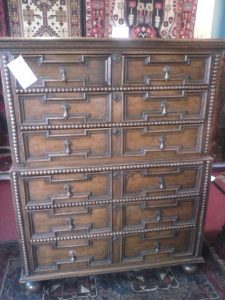 William & Mary Period Chest on Chest
Late 17th Century/Early 18th Century Period Antique Chest (Between 1640-1720)
William and Mary Style (Early Baroque) Chest
Solid Oak Construction
Applied moldings featuring heavy geometric style
Turned half bobbin designs
Side Hung Drawers
Dovetailed Drawers
Tapered Drawer Bottoms
Two Piece Antique Chest
Two over two drawers, over graduated three drawers
Bun Feet
Most Likely made in a Colonial Port City (Boston, Portsmouth, Philadelphia or Baltimore)
Most likely made for a Wealthy Colonial Merchant
Rare Museum Quality Piece
Few Surviving Examples of this era or style
Antique Chest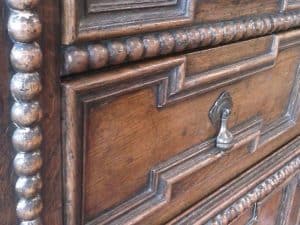 Acquired from a Philadelphia Estate, the chest is an excellent example of the very early and short-lived Colonial expression of William and Mary Antique Furniture, also known as Early Baroque Furniture. Crafted of solid oak, the antique chest also features superb surface decoration of applied moldings and half bobbin spindles. The William and Mary period antique is a chest on chest made in two separate pieces, as is often the case with early pieces made in Colonial America. Above all, the antique dresser also features one of the greatest advances in early furniture making, dovetailed and side hung drawers.
Baroque Style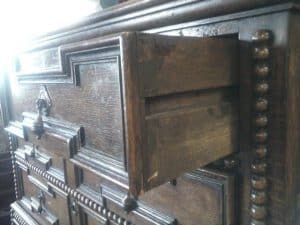 Unquestionably the earliest immigrants to America could not bring much if any furniture with them from Europe, but they did imitate Continental and British styles. Artisans and cabinetmakers studied printed pattern books from Europe and while Charles II is credited for bringing a new Louis XIV Baroque style of decorating to the English courts in the 1660's, it wasn't until the joint reign of William and Mary in 1689-1702 that this Early Baroque style reached the colonies.
Antique Craftmanship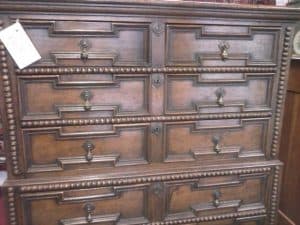 One Feature of William and Mary style is a love of strong geometry. On this antique chest, each drawer shows the layered rectilinear patterns of moldings common of the period. All in all, very architectural, the effect of these moldings is great visual depth and a strong masculine presence. Also it shows superb wood working abilities to not only craft solid oak moldings with hand tools, but to miter and arrange them in perfect symmetry. After all, this type of surface treatment was purely decorative; in other antique chests of this period we see delicate veneer work and paint as alternative surface decorations.
Markedly the bobbins demonstrate great skill and craftsmanship. A "turner," as these skilled craftsmen were called, would have crafted a full string of bobbins using a lathe. Secondly he would have meticulously chiseled it in half vertically to provide a flat surface in which to attach it to the case. Upon close inspection, the imperfections of these strings of bobbins becomes visible, attesting to the true handy-work (and hours of labor) of this piece.
Wealthy Merchants
Being that wealthy merchants making their way in America often had the luxury of furnishing large expansive homes in these new fashionable tastes of the time. However, the William and Mary Style was a taste purely for the elite and never reached mass appeal in America. Complicated forms, thin veneer work and time consuming joinery cost a pretty penny. In conclusion, we can likely determine that this piece was owned by someone of high taste and of well means.
William and Mary Style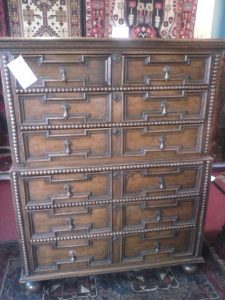 Firstly William and Mary Style combines a stunning and unique look with ultimate signs of early craftsmanship. Secondly drawers are chiseled with a track on each side and glide better than some pieces produced today. (The only company I know of that uses this technique of side hung drawers is Stickely.) Even more the moldings and bobbins create a textured and impressive look, meant to convey wealth and prestige. It truly is a fantastic surviving example of the early Colonial American William and Mary Furniture Style. By the 1720's, this style fell out of taste, being replaced almost completely with Queen Anne and Chippendale styles. The rarity and beauty of this chest certainly will live on for a collector interested in preserving this unique time period and furniture style.
William and Mary Furniture
Condition Report: Excellent Condition with most of the William and Mary Furniture piece being original. One top molding has been replaced. Hardware and escutcheons do not appear to be original. Some more modern nails have been used in drawer backs and on the back. A separation appears on the top of the case between the seams of the boards. Great patina. Overall magnificent condition with no other remarkable problems or issues.

In conclusion, thank you for reading our article about a piece of William and Mary antique furniture from our private collection.
Thank you for inviting us into your antique home!
Greg Haute Bohème
www.eBohemians.com antique chests.
Spread the love, Save for Later