Antique buffets offer tons of different uses in the home.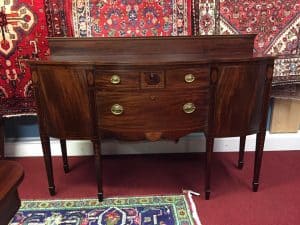 Not only are they beautiful, but antique buffets allow great storage and display. Many folks are deciding to reimagine their traditional buffets in contemporary paint colors. However, repurposing antique sideboards doesn't have to involve paint or power tools. A little imagination can go a long way in finding new uses for vintage sideboards in the home.
Antique Buffets Original Purpose
Antique buffets were one of the most important piece of a dining room in years past. Not only was it a visual focal point, but it served a very practical purpose. Large formal meals involved many courses, and plates and silverware changed with each course. Servants cleared dishes as the formal service took place. The antique sideboard became the station to place food and dishes, away from the dining table.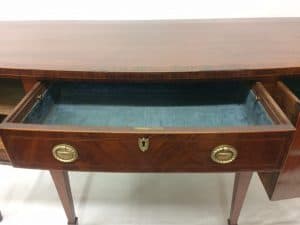 People kept things germane to the dining room inside the antique buffet. Often antique sideboards have velvet lined drawers for silver and serving utensils. In addition, people stored table linens, candlesticks and centerpieces inside the cabinet doors and drawers of antique buffets. Ultimately, dining for wealthy families was an important and formalized ritual, and the sideboard became an important accessory to these formal meals.




Aesthetic Value of Antique Sideboards
Because antique sideboards were the focal point of a dining room, they have evolved throughout history to be beautiful. Antique sideboards often have inlaid woods in fancy designs, deep bowed or serpentine fronts, marble tops and carved details.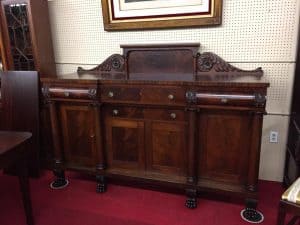 Sometimes, mirror back splashes are attached to antique buffets. Mirrors help to bring light and interest to a room. Thus, elegant dining rooms with flickering candlelight and chandeliers look very dramatic with mirrored antique buffets.
Their length and shape make antique sideboards especially impressive. In some instances, antique buffets are as wide as 8 feet! Typically antique buffets range in width of between 5 and 6 ft. They can be anywhere from 14 inches to 36 inches deep. They usually are waist high, but many antique sideboards sit much taller. Tall antique buffets looked more at home in elegant rooms with tall ceilings.
Antique Buffets as Foyer Pieces
No longer are people bound to tradition when it comes to antique dining room furniture. Many times, antique buffets make their way to entryways and foyers. The foyer presents the first peak into the home and sets the tone of the entire house. Placing an antique buffet in the foyer helps to bring formality and beauty to this important area. Many of our clients have done this beautifully, such as our clients in Gettysburg.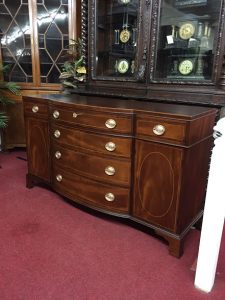 People fill the drawers and cabinet space of the antique buffet with all sorts of items. Gloves, mittens, and scarves can fill a drawer. In addition, mail and paper clutter can be stored away in the antique buffet until it is properly sorted. Tall sideboards also allow baskets or shoes to be placed in a tidy fashion underneath.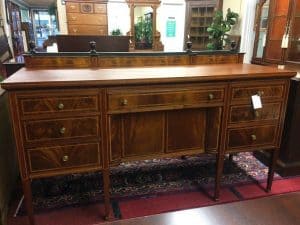 The antique sideboard in the foyer can also be decorated seasonally. Plants, lamps, vases and candlesticks can be grouped on top of the antique buffet. A small Christmas tree can be placed on top, or a festive wreath can be hung above the buffet for holiday cheer. These attention-grabbing pieces add big style within a foyer.




Antique Sideboards as Bars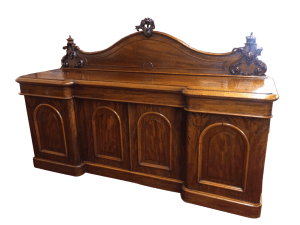 While formal dining on a regular basis has died out in the 21st century, people continue to entertain in a more casual way. Antique buffets may not hold fancy silverware or lace tablecloths anymore. Yet, they can still hold another vital group of tools. Drinkware, serving tools, ice buckets and snack trays can find an organized home within or on top of an antique buffet.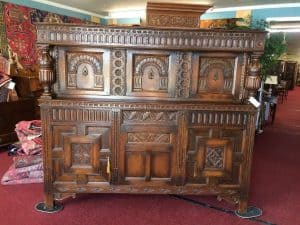 During a party, a smorgasbord of snacks and drinks are laid out on top. As a result, swanky cocktail parties often gather around an antique buffet. Rock glasses and champagne flutes equally find home atop a buffet. These freestanding furniture pieces give added function and flow to a party space.




Antique Buffets as Sink Bases
Stock cabinetry gets an upgrade in the bathroom when replaced with an antique sideboard. Carved antique buffets make a fabulous choice for a double or single sink vanity. Inserting a sink within the piece could require some work, but the results are most certainly worth it. Typically, one can find the dimensions required for the bathroom renovation are perfect in an antique buffet as a new sink base.
Antique Buffets as TV cabinets
Technology has changed TV's from bulky heavy pieces to nearly paper thin contraptions. While flat screen TV's look great hung on the wall, they also tend to look a little empty and bland. An antique buffet can provide a much needed architectural feature to the family room. In addition, it serves practical purpose by housing the cable boxes, speakers and collection of DVD's inside.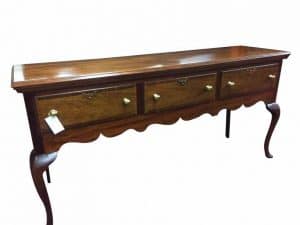 Antique Sideboards as Kitchen Islands
People consider kitchen islands to be incredibly important in the home. They provide prep space for our meals and can even serve as the main eating spot. Antique buffets make beautiful kitchen islands.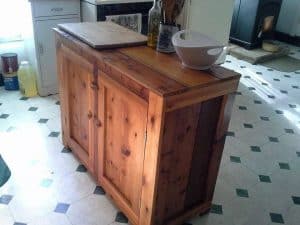 Builder grade cabinets, often made in stock pine or pressed wood, do not compare to the beauty and impressive materials found in antique sideboards. They can support heavy stone or butcher block tops and with a bit of work can make excellent center pieces for the kitchen.
Antique Buffets as Changing Tables
Believe it or not, antique buffets find their way even into the nursery! While changing tables are often unsightly, antique sideboards can be used as an alternative. Baby will grow up with incredible style if an antique buffet is used as the main storage piece in a nursery.
Timelessness of Antique Dining Room Furniture
Antique dining room buffets are finding their way into every corner of our homes, from kitchens, to bathrooms to living rooms and even to nurseries. Their incredible features, roomy storage options and pure beauty make them an obvious choice for these various rooms. While formal dining is no longer an anchor of our everyday lives, the antique buffet is here to stay with us through the 21st century.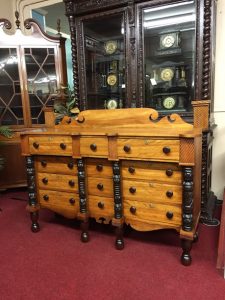 I can't wait to see how our clients repurpose their antique buffets and sideboards from Bohemians online collection. It is always a treat to see the creativity of our clients unfold with fabulous antique dining furniture. For some ideas, check out our Pinterest Board of client inspiration at Bohemian Images.
If you would like to see our current inventory of antique sideboards, please head to our Antique Buffet category page.