Baker Furniture Company
Baker Furniture has a reputation that exceeds most luxury furniture companies. The name recognition of the company reigns pretty high amongst baby boomers and even some millennials.
Many of our clients favor the brand because their parents also thought so highly of it. Baker tends to stay in families, and like Kittinger Furniture, tends to find homes with high end clients.
But just what makes Baker Furniture so special?
How can you identify Baker Furniture?
Does Vintage Baker Furniture have a good resale value?
What is the history of Baker Furniture Company?
In this article, we attempt to unravel this American Furniture Company, Baker Furniture!
How to Identify Baker Furniture?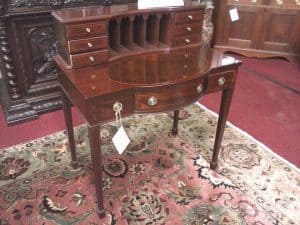 Baker Furniture might be hard to identify on first sight.
Vintage Baker Furniture has had a multitude of world wide influences since their beginnings in Michigan in the early 1900's.
Therefore, there really are a multitude of signature looks made by Baker Furniture.
Since their beginning, Baker Furniture has collaborated with numerous international cutting-edge designers.
Yet, Baker also collected a vast collection of antique furniture from the past for their design team to study.
This combination of forward-moving design and deep appreciation of the past has kept Baker current and at the top of its field for high end furniture for many years.
Indeed, Baker Furniture
Was founded by a Dutch founder
First introduced Chinese Modern furniture to Americans with their "Far East Collection"
Developed a line devoted to 18th Century Scottish and English Style Furniture
Dabbled in French Provincial Styles in the 1960s and 1970's
Had Danish Designers Finn Juhl and T.H. Robsjohn-Gibbings lead a cutting edge Mid Century Modern Line in the 1960's
Developed the Charleston Collection to celebrate the old South furniture of Charleston, South Carolina
Truly Baker Furniture is an international company! The many designs and models of Baker Furniture have allowed the company to evolve over the years. This has proven very successful for the high end furniture company.
By the 1950's, Baker Furniture reached a milestone of a $5,000,000 company. Today, Baker Furniture continues to produce incredible upholstered furniture and accent pieces for homes across the country.
Baker Furniture Markings
There have only been a few different variations of the Baker Furniture Markings over the years.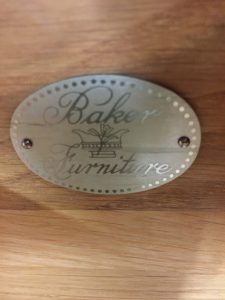 So identifying Baker Furniture with the different tags and styles can help determine the date of the furniture. However, many designs for the Baker label overlapped in years.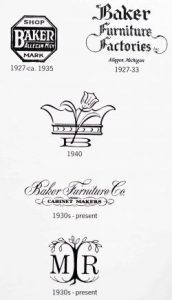 The crown and Tulip motif figures in a few different iterations of the Product tag. The crown signifies tradition, while the tulip signifies Dutch craftsmanship and is a nod to the company's founder.
Where is Baker Furniture manufactured?
Baker Furniture started outside of Grand Rapids, Michigan. For most of the company's history, they were located there or within the Grand Rapids vicinity.
Of course, Baker Furniture cannot be discussed without discussing the original setting of their company.
During the second half of the 19th century, Grand Rapids became a huge lumber processing center, fueled by the harvest of dense forests in the region. This helped other furniture companies besides Baker grow as well, including John Widdicomb Furniture Company. Grand Rapids gained the nickname "Furniture City" during this period.
However, in 2006, Baker moved all of their plants to High Point, North Carolina. Baker Furniture is one of the few remaining American-made Furniture companies.
Baker's move of all operations to High Point in 2006, North Carolina likely had to do with their greater emphasis on upholstered goods. (And probably tax and cost savings.)
Baker Furniture Company History (A Brief History)
Firstly, Baker Furniture started in the late 1890's as a door and interior trim company in a town a few miles west of Grand Rapids, Michigan.
The founder, Siebe Baker was an immigrant from the Netherlands. A hard worker who saw opportunity, Siebe transitioned just a few years later into a furniture company by making his first desk bookcase combination in 1893.
By 1910, Siebe's son Hollis, joined the company as a salesman. And by 1927, the name changed to Baker Furniture Factories, Inc.
From that point forward, Baker Furniture Company switched ownership quite a few times.
In 1929, Peck and Hills purchases the company from Hollis Baker. Yet by 1934, Hollis bought it back after Peck and Hills went bankrupt.
Baker Furniture and Their Museum of Antiques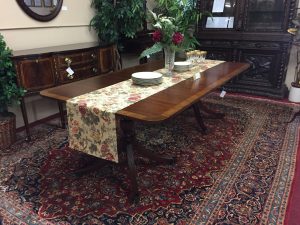 In 1941, Baker established a Museum for Furniture Research in Grand Rapids, under Hollis' direction. Hollis Baker displayed his private collection of over 1,500 unique antique furniture pieces from the 16th through the 20th centuries (More about Baker's antique furniture collection.)
At this time, it was one of the largest private collections in the world.
Of course, Baker aimed to introduce his designers to a varied pool of inspiration with this museum. (Some of this collection was later culled by an auction house.)
French, Italian, American, Oriental and English pieces were included in the collection.
Personally, I think this devotion to the classic English antiques, American Furniture and European and Asian artifacts also helped Baker's success. Certainly, you can only learn and experiment with design once you have mastered the rules of the past.
During the late 1940's through 1967, Baker also experienced a great period of expansion. They decided during this period to purchase other Grand Rapids Furniture manufacturers, including William-Kimp Furniture, Grand Rapids Chair Company, Barnard & Simonds Company and Kozak Studios.
However, the family decided to let go of the company by the end of the decade. In 1969, Baker Furniture sold to another company, Magnavox Incorporated.
A few years later, in 1972, Baker merged with two other companies to form Baker, Knapp & Tubbs to lead a showroom network. To this day, this alliance remains one of the largest wholesale distributors in the industry.
In 1986, Baker Furniture sold once again to Kohler Company. Kohler continues to operate the company today.
Baker Furniture Styles
As mentioned previously, Baker constantly adapted and introduced new lines of furniture styles to the public.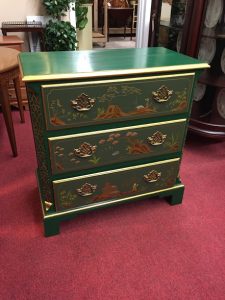 Below is a summary of some of the Baker Furniture styles you may encounter. (We will delve into the notable ones separately.)
Far East Collection by Baker Furniture
Danish Modern Baker Furniture (under Finn Juhl)
Milling Road Label (a less expensive Furniture line by Baker)
French Provincial Baker Furniture
Woburn Abbey Furniture by Baker (English style furniture)
Alessandro Collection Baker Furniture (Designed by Alessandro Gambrielli Gambalogna)
Stately Homes Collection Baker Furniture
McMillen Collection
Barbara Barry Collection
Colonial Williamsburg by Baker
Far East Collection
Adaptations of Chinese modern furniture, Baker introduces the Far East Collection in the 1949. Many of the designs were designed by Michael Taylor. Groundbreaking for the era, Baker is often credited for bringing Modern Chinese styles to this hemisphere.
Danish Modern Baker Furniture
Baker took a brave step in bringing Finn Juhl and T.H. Robesjohn-Gibbings as designers. During the 1950s through the 1960s, their Mid Century Modern designs flourished and brought new taste to the American company. The streamlined and optimistic looks were embraced by many Post War Americans. The futuristic looks broke with tradition for Baker.
Milling Road Furniture
Milling Road Furniture offers casual style furniture as an alternative to many of Baker's more formal looks. In 1957, when Baker acquired Grand Rapids Chair Co, they started producing Milling Road as a more affordable line. Indeed, Milling Road continues to this day. Still quite elegant, you may see some more simplified forms and less inlay on Milling Road Furniture.
French Provincial Furniture by Baker
French Provincial furniture by Baker made an appearance in the 1960's and 1970's. Their signature quality and style paired with adventurous adaptations of French furniture. Oak and oak style furniture often had flower carvings on the edges and a medium brown finish.
Woburn Abbey
Baker looked to inspiration of the Duke of Bedford and his grand home for this line of Woburn Abbey Baker Furniture, started in 1969. As such, elegant regency style furniture dominated this collection. Many tables and accent pieces featured beautiful burl wood and line inlay.
The Charleston Collection by Baker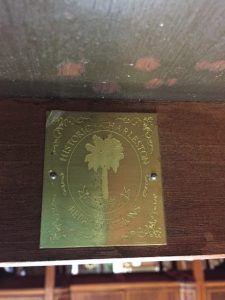 The perennially popular Charleston Collection by Baker features high end looks inspired by the Old South's and South Carolina's capital. Swanky inlaid woods and beautiful Federal inspired pieces grace these very sought after design, which started in 1979. The Palm Tree is stamped in the Charleston Collection brass tag.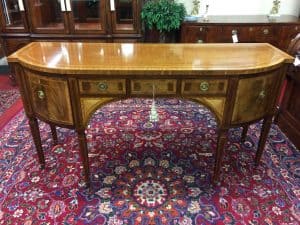 Alessandro Collection
Always on the edge of the trends, Baker introduced a partnership with designer Alessandro Gambrielli Gambalogna in 1979 through the mid 1980's. Of course, Alessandro sought to elevate approximately 25 "avant garde" furniture pieces into the furniture collection. The European Designer added interesting finishes and hand painting to his works of art.
Stately Homes Collection
Also still in production today is Baker's Stately Homes Collection. This traditional collection has its roots in the castles in Europe and Russia. Of course, an English Baronet, Sir Humprey Wakefield has consulted Baker on this collection since the inception of the Stately Homes Collection in 1980. His supervision helps to reproduce these elegant furniture staples for mass market.
McMillen Baker
McMillen is a design firm in New York City that was founded in 1924. Their collaboration with Baker helped to bring traditional furniture to a larger market. With Chippendale influences, many McMillen furniture pieces have overlay patterns and deep mahogany finishes. French and English Furniture also inspired the collection.
Barbara Barry Collection
Barbara Barry is a Southern California designer. Her laid back California style influenced her partnership with Baker. Clean lines and comfortable living inspired by nature abound in this collection. Thus, the Barbara Barry Collection continues to offer quiet neutral upholstered furniture for modern families today.
Colonial Williamsburg Collection
When Kittinger Furniture lost their license with Colonial Williamsburg (CW line) in 1990, Baker took its place. Of course, Colonial Williamsburg Collection adapted and reproduced fine antiques from Virginia's capital.
Baker Furniture – Resale Value
Vintage Baker Furniture tends to keep some of its value, as far as used furniture values go. Like many things, furniture tends to lose more than 30% of the value after any amount of use, and the market for antiques and vintage furniture has been suppressed in many ways.
However, there are devoted followers of Baker Furniture. The Charleston Collection, in particular, tends to draw many "oohs and ahs" from clients who love the formal traditional looks of Baker. The Stately Homes Collection, too, seems to have a host of devoted followers.
On the other hand, some of the other vintage collections by Baker may also have great markets in the resale situation.
Mid Century bookshelves and Regency style credenzas by Baker can really complete a hip Mid Century Home. Indeed, these pieces seem to find a frenzy of buyers… in the right market. These trendy pieces tend to find a great audience in the cities, and with younger buyers enamored of the true Mid Century Furniture.
Baker Furniture Company : An American (and International) Company
In conclusion, Baker Furniture continues to impress many people with its history and diversity. In many ways, the company demonstrates a chameleon-like ability to adjust and adapt to different styles and trends.
Of course, we can count on Baker to continue to produce exciting, fresh and up-to-date furniture of lasting quality. If it's Baker Furniture, it likely will endure. Or at least come back in style in a few decades. 😉
Thank you for inviting us into your High End Home!
Rachel LaBoheme
Fine Furniture