What's an Ethan Allen Maple Hutch Worth? Bohemians Antique Furniture sold a vintage Ethan Allen furniture Maple Hutch Cabinet in October of 2019 for around $450. This vintage Maple hutch cabinet overall was in good vintage condition.




The specs on this Ethan Allen Maple Hutch are as follows:
Ethan Allen Maple Hutch
Item: Solid Maple Vintage Hutch Cabinet by Ethan Allen.
Age & Condition: Circa 1970. Good structural condition. Some light scratches and blemishes to the top.
Dimensions: 48″ wide x 18.5″ deep x 71″ tall.
And, the longer description of the hutch was as follows:
Ethan Allen Maple Hutch
Ethan Allen maple hutch with louvre doors on the cabinet base. A great solid maple hutch made in the good old days of vintage furniture companies! This 1970's maple hutch has incredible heavy Vermont maple as its base.
This hutch is in original finish and does have some blemishes and light surface scratches. However, it still has a lot of life left in it and could also be refinished or painted."
Value of an Ethan Allen Hutch Cabinet
The value of an Ethan Allen Hutch Cabinet lies in the overall condition, style and of course, the wood. As mentioned, this hutch was crafted out of solid maple, an American hardwood.
While many young people today may not be aware, New England hardwoods helped capitalize a giant furniture industry in the Northern states in the 19th and 20th centuries. Of course, because of the cold weather, trees in the Northern climate grow slowly. A cross section of a New England tree shows tight rings and therefore dense wood.
These dense woods made very heavy and durable furniture.
Ethan Allen started in Vermont, so we can expect that the forests of maple trees likely came from that region.
Ethan Allen Baumritter Furniture
Firstly, Ethan Allen Baumritter Furniture, which was a line of furniture that this hutch also belonged to, was maple and typically followed Early American Style. Of course, Ethan Allen, like many fine furniture companies, studied the masters of antique furniture to produce a reproduction line like Baumritter in the 1960's and 1970's.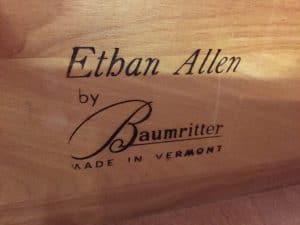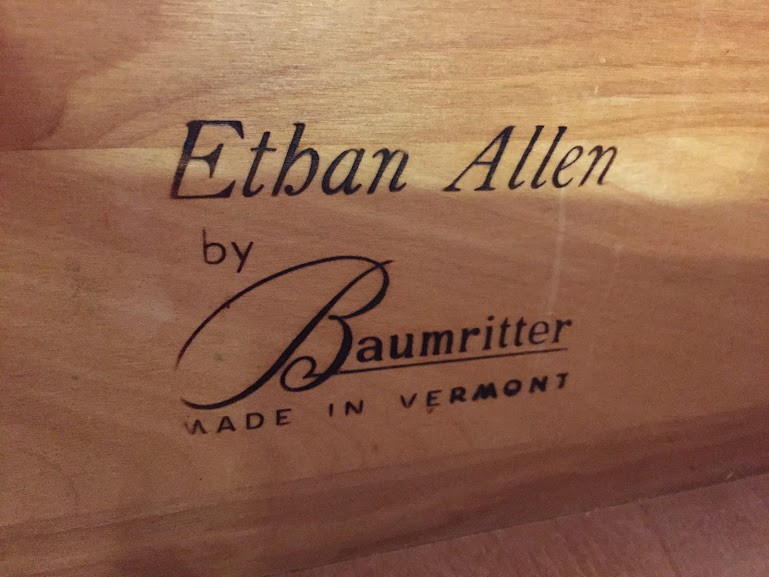 During these decades, American Colonial revival pieces became quite popular in upper middle-class America. This classic glass door hutch likely took its cues from early hutches from the early days of our country. It had some simple bracket feet and some scroll work on the side that may have borrowed from Pennsylvania Dutch or other New England Furniture design.
Do you have Ethan Allen Baumritter Furniture at home? How do you feel about Early American style furniture? Let us know in the comments below!