What's an Ethan Allen sofa worth? In the summer of 2019, Bohemians sold an Ethan Allen sofa for around $500. Of course, the sofa had a great traditional style and fun upholstery fabric. This one was a good price and a fair value
The specifications of this sofa were as follows:
Ethan Allen Vintage Sofa
Item: Ethan Allen Vintage Sofa in Coral and Blue.
Age & Condition: Circa 1980. Very good vintage condition. A touch of fading here and there but otherwise great shape.
Dimensions: 75″ wide x 37″ deep x 36″ tall.
And the Description we wrote for this sofa was:
Ethan Allen Vintage Sofa
Ethan Allen Vintage sofa in a charming coral fabric. This adorable Ethan Allen vintage sofa has removable back pillows and seat cushions. It would be quite charming in a sun room or casual living room. Nice solid wood frame and pleated skirt hides the legs.
Value of a Vintage Ethan Allen Sofa
While I didn't write a lot about this sofa, I really loved the look of it. For one, the sofa had a sort of English look to me, with traditional rolled arms and a really cute small ditsy floral upholstery fabric.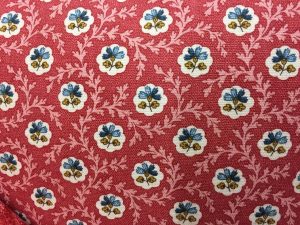 Of course, while the fabric may be considered specific (i.e. not neutral), it found a home pretty easily. It sold right around the $500 mark in a matter of a few short weekends.
So, the value of a vintage sofa by Ethan Allen obviously lies in the frame. Traditionally, in the 1980's and 1990's, Ethan Allen took great care to make sofas with hardwood frames. Today, unfortunately, many cheaper sofas feature pressed wood frames, leading to a sofa that may only last 5 or so years.
On the other hand, a vintage Ethan Allen sofa like this one, lasted for several decades, and likely will continue to be comfortable and solid.
Additionally, Ethan Allen Furniture Company used good quality foam and thick upholstery fabric on their upholstery.
While originally this sofa no doubt cost a few thousand dollars, on the used furniture market, I would expect most vintage sofas of this age to sell for around $400-$800 in the current climate.
Would you consider purchasing vintage upholstered furniture by Ethan Allen? Let us know in the comments below!