Antique Cupboard

Straightaway enjoy this video clip and explore one of Bohemian's fine French antiques: an Antique French Court Cupboard. In brief, the antique cupboard, hand carved through out, is in great antique condition and monumental in size. Indeed this antique cupboard is A truly magnificent stylish piece to compliment any style home. (SORRY THIS ANTIQUE CUPBOARD HAS BEEN SOLD. ANTIQUE IS NO LONGER AVAILABLE). In short the French Cupboard was available and displayed at Bohemian's, a fine Pennsylvania antique gallery.
French Antiques
Please enjoy a video presentation of French antiques from Bohemian's antique collection : Watch Clip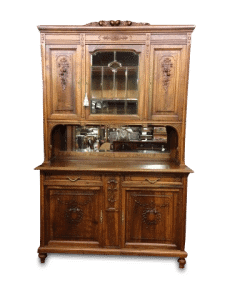 Learn more and view antique furniture photos, description and values at our online antique store.
All in all, Bohemian's offers exquisite home furnishings, French antiques and fine decor. In essence stylish home decor utilizing artistic antique flair. Furniture produced by the worlds greatest craftsman. Hand selected items from Europe and Period furniture from the original American colonies.
As always thank you for inviting our antiques into your stylish home!
Rachel La Bohème
www.eBohemians.com