Antique Cupboard
This antique cupboard was made in Europe (probably France) in circa 1915. It has great carved sunflower motifs in the doors and a charming over-sized crown. Two columns flank the sides. Beveled Glass inserts have replaced what once was broken leaded glass in the doors of this antique cupboard.
The style has a boldness to it. For that reason, this antique cupboard perfectly combines a fresh and modern look with the vintage feeling of a true antique. It truly has a Bohemian Vibe!

Why we Love it!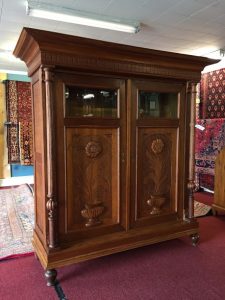 This antique cupboard has all of the charm of a early 20th Century piece, but the scale and size make it completely adaptable for modern use.
Firstly, the decorative elements of this cupboard are not overly gaudy or heavy.
Rather, two simplified humble flowers (they are, after all sunflowers, not roses) are carved onto either door. The oversized motif has movement and lightness. Instead of overly detailed foliage, large swooping intaglio style leaves decorate each door.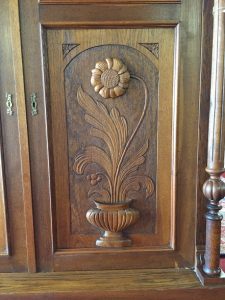 Likewise, the urn and flower head have been simply rendered in high relief carving. Instead of realism, this carver aims at stylized and simple flowers. The artist emphasizes geometry and movement rather than perfect realism of plant life.
Art Nouveau Style
The art nouveau style, popular from the turn of the century through the 1930's helped break from the heavy handedness and often overly detailed Victorian styles. Often, organic shapes and large graceful swooping lines replaced busy and heavy-feeling architecture and furniture.
Sinuous lines often dominate Art Nouveau style furniture and art. Here, the charming swooping sunflowers help break up the angular lines of the cabinet top and case.
How to Style an Antique Cupboard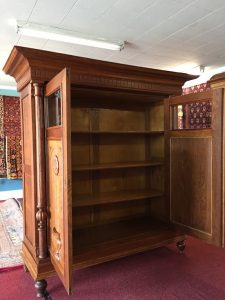 Particularly lovable about this antique cupboard is its scale and size. The height (just over 6 ft) makes it low enough to still stash books, vases or decorative plates on top. Inside, ample room for cozy blankets or linens make this cabinet particularly useful in a large hallway.
Of course, we also love the finish and color. The lighter oak compliments many different interiors, from a sunny Provencal style home, to a charming craftsman bungalow.
There is something perpetually cheerful about antique oak in a light finish. While mahogany and rosewood certainly speak of elegant interiors, light oak simply lends to a casual and comfortable interior.
This antique cupboard when placed in a family room or front hall beckons for people to come in and feel at home. Why not outfit it with your television and cable boxes to make an antique piece of furniture instantly useful!
Of course, this large piece could also suit a dining room without much difficulty. Glassware and stacks of plates will find a great (and dust free) home within the sturdy built-in shelves. Of course, a coordinating mission or craftsman style table and chairs will help pull the room together.
How to Purchase
If you are interested in this antique cupboard, please do not hesitate coming to our store to inspect it. Bohemians is open Saturday and Sunday 12-7. We can also make an appointment with you throughout the week.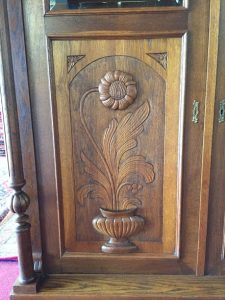 We offer delivery services to our clients as well. Large and heavy antique pieces like this antique cupboard can be cumbersome to move. Why not let us deliver this piece to you for a reasonable rate?
More Information
You can also read more information and see more photos of this antique cupboard on our website. The Antique French Cupboard listing will also include purchase information.
Thank you for reading!
And thank you for inviting us into your Bohemian home.
Rachel LaBoheme