History of Antique Vanities
Antique Vanities, sometimes called antique dressing tables, have been around for quite a while and can range in style, condition and price. In this article, we will discuss the value of an antique Empire Vanity.

Antique Empire Vanity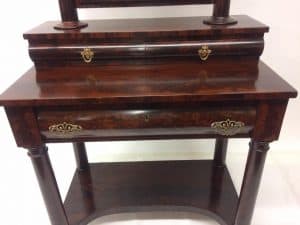 This beautiful Antique Empire Vanity was made in roughly circa 1830-1850. It is a special piece because it is a tall standing vanity and most likely was used in a hallway, foyer or public space in the home. Additionally, this particular antique vanity had several features which made it special.



Below is the description we wrote about this antique Empire Vanity:
Antique Dressing Table
This sumptuous yet bold antique furniture piece has a tilting ogee frame antique mirror and beautiful columned base, repeated as well in the mirror stand.
There is Incredible depth in the mahogany finish and grain. Two Bowed drawers on top and one larger bowed drawer in the middle, this antique dressing table has great masculine lines and is a very unique antique vanity. Handsome large paws support the table. Gilded intricate brasses complete this Neoclassical antique. A very fine antique to compliment and decor or interior design, a true statement piece!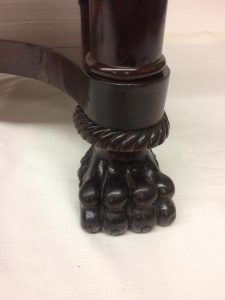 Antique Vanity
The antique vanity has a few breaks to the antique finish and a few small noticeable but not-detracting repairs. The antique mirror does show some age but the antique vanity is an exquisite item.
What is an Antique Empire Vanity Worth today?
We sold this antique Empire Vanity in 2017. At that time, the antique Empire Vanity sold in the $800 and $1200 range. The special carvings, beautiful mahogany finish no doubt captured the heart of the new buyer!
However, the small flaws, including the light splitting to the top, aging to the mirror and other small flaws may have hurt the overall value.




Similar pieces may have a higher or lower price, depending on the condition, uniqueness and desirability.
This Antique Dressing table found a home in a lovely traditional space. The new owner placed it in a dining room, and will no doubt be enjoyed for years to come!
Have you ever owned an antique dressing table? Let us know your thoughts in the comments below!