Antique Decor!
Indeed, antique decor, vintage decorating ideas, will grow with your kids and enhance the beauty of your home!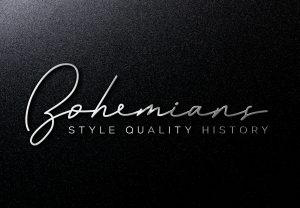 Many people often take a short term approach when using antique decor when decorating a room for their children. Designers often forsake high-quality and good design. However, when decorating a room for your children or for your grandchildren, why not choose antique decor.
Antique Home Decor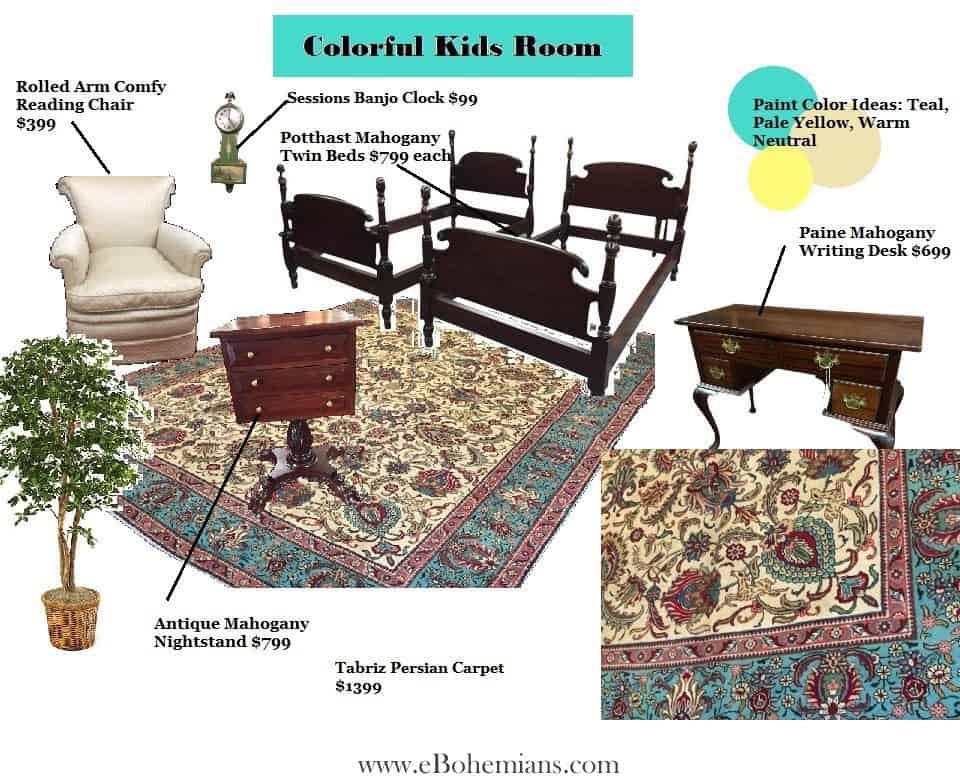 Since this idea board chooses classic and antique pieces and surrounds them with color and fun. The starting point for this room is this fabulous vintage Tabriz Persian Carpet (Tabriz Persian Rug). As a result the colors are truly inspiring and joyful: sunny pale yellow, orange, rose and teal. But the true zest of this Persian rug is in its incredible pattern that will delight children and adults alike. The vintage rug has galloping stags and deer, and colorful parrots and exotic birds scattered throughout the stylized field of flowers. Indeed the large 10 by 12 ft 9″ carpet will fill a whole room with life, and the design provides an awesome jumping off point for the wall colors and fabrics in the room. As a result the room could be a warm neutral, a sunny yellow or even, if you are feeling bold, a fun teal. Of course, those of us who choose the neutral wall can always add the accent colors in pillows and blankets in the antique inspired vintage room.
Antique Beds
The two twin beds are the main stars of the bedroom. These antique Potthast mahogany acorn poster beds (Find them HERE) are sweet, charming and incredibly well built for the rambunctious bed-jumping kids. The beds bolt together (no more chintzy metal bed frames) with bed posts that are high enough to be noticed but not too high to be overly formal. These antique beds feature a beautiful and classic American scrolled style headboard and footboard and acorn posts– the acorns are 19th century antique symbols of new ideas, perfect for inspiring the future Einsteins of the world. Between them would be an adorable three drawer antique stand, mahogany, 19th century Paw Foot Stand (Antique Mahogany Stand).
A beautiful and high quality turn of the century mahogany writing desk by Paine Furniture (Mahogany Desk) would be a perfect in a bay window or along the opposite wall, inspiring both creative projects and homework time. An adorable sessions banjo clock adds a touch of whimsy and more color to the room (Banjo Clock).
Vintage Decorating Ideas
Vintage decorating ideas? A comfy reading chair (Reading Chair) is a necessity for any children's room and this high quality upholstered rounded back vintage chair is perfect for story-time. It has a heavenly down cushion and is upholstered in a very beautiful neutral fabric with subtle pink and green flowers. Mom and dad, or grandma and grandpa, might be tempted catch a few zzz's themselves in this vintage chair, which is just the right scale and perfect style for a comfortable and elegant room.
See a quick video clip of the antique decor available at Bohemian's. Indeed, antique decor, vintage decorating ideas, will grow with your kids and enhance the beauty of your home!
Thank you for inviting us into your home!
Rachel La Bohème
www.eBohemians.com
Spread the love, Save for Later