Antique Carved Empire Chests
Antique Carved Empire Chests are both beautiful and rare! Dating to the first quarter of the 19th Century, Empire chests could be fancy or plain.

This particular carved Empire Chest demonstrates beautiful artistry and craftsmanship.
History of Carved Empire Chests
American Empire Period Furniture refers to Furniture made between roughly 1820-1850. We can identify empire furniture by several common elements:
Large Impressive Proportions
Fine Figural Woods like Mahogany
Paw or Hairy Paw Carvings
Neoclassical Elements
Indeed, this particular Empire Chest of Drawers has all of these elements!
Here is the description we used for this antique dresser…
Antique Carved Empire Chest
This is a beautiful antebellum mahogany chest of drawers from the American Empire Period, roughly 1840.
It features a beautiful mahogany veneer pattern throughout the drawer faces. Also, it has an exquisite carved half column on either side of the chest. Finally, the legs culminate in an incredibly detailed paw foot on either side.



The American Empire period is widely known as a re-invigoration of classic forms. Columns and fancy mahogany veneers were common on large case-pieces of the first half of the 19th century.
Furthermore, this type of highly carved column with acanthus leaves and paw feet demonstrate great skill. Fine cabinetmakers from large cities like Philadelphia and Boston showed off their skills with this type of carving. It certainly took more skill to complete these intricate designs then simply turning on a lathe.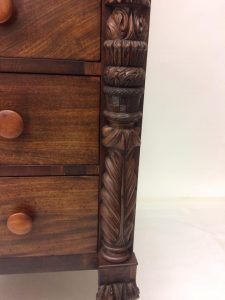 Indeed, these phenomenal columns give this piece more prominence. They suggests it might have been owned by a prominent merchant or politician.
What is a Carved Antique Empire Chest Worth?
This Carved Antique Empire Chest sold in 2017 in our shop. The new owners display it proudly in their historic home in Gettysburg, Pennsylvania.




In fact, this carved antique empire chest sold for between $1000 and $1400 at the time. Condition, intricacy of the carving, overall quality can all affect the price of antiques.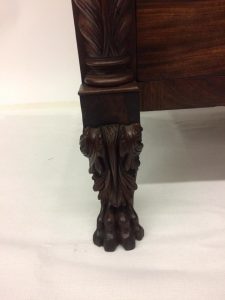 Of course, this guide is for reference as a starting point in helping others determine the value of their antique furniture, but no two antiques are exactly alike!
Do you own an antique carved empire chest? Do you agree with our valuation? Let us know in the comments below!
***
Spread the love, Save for Later