There are many reasons to shop for Used Furniture rather than new furniture. While cheap low price used furniture often comes to mind for budget shoppers, there are just as many people who prefer used furniture because of the extraordinary quality of old pieces.
These shoppers are often prepared to spend thousands on a used dresser or used dining room set.
So, when looking for the best used furniture near me, it's best to consider your needs.
If price-point comes first to mind, or maybe you are in a temporary living situation, thrift and second-hand stores could fill a great need.
In this case, you will need to find a local store, rather than an online venue. Because of their low price point, these stores don't see the need (or have the time) to extensively inventory their items on a website. They also usually don't polish, restore or reupholster their items.
In other words, things are sold "As Is." If you are willing to put some sweat equity in, you can often score an incredible deal on used items. You may even find a real diamond in the rough that can be refinished and turn out looking like a million bucks!
Cheap Used Furniture Near Me
Typically, used furniture is not the only focus of the best stores for cheap used furniture. Often, they carry clothes, household items, salvaged goods and the like.
Generally, these stores work on donations, so the inventory really changes week to week. However, we have found that the best cheap used furniture near me can be found at:
Thrift Stores like Goodwill, Salvation Army and Private or Church Run Thrift stores
Consignment Shops
Auctions and Estate Sales
Best Thrift Stores for Used Furniture
Personally, I have found that major chains like Goodwill are not necessarily the best place to thrift for used furniture. I suppose there can be some decent pieces there from time to time.
However, Goodwill, especially in recent years, seems to have very few pieces of quality furniture.
I am not sure if that is because people would prefer to sell rather than donate their pieces. Or if it is because Goodwill doesn't find furniture to be profitable compared to their smaller household and clothing items. But, in my experience, Goodwill rarely has good furniture for sale.
Instead, I would suggest other locally owned thrift shops near you.
In our beginning days of restoring vintage furniture, we found the majority of our inventory at independently owned thrift stores.
Unlike major thrift chains, these types of stores can oftentimes be great sources for used furniture. Many of these independent thrift store shop owners have a penchant for used furniture. Additionally, I think people feel good about donating to private mom and pop thrift stores. So you may just find better stuff in general.
One local Thrift store supports the Homeless Shelter in the town. Of course, you can feel good about your purchase because they generally support a good cause.
I would also note that the Restore, which is a national non-profit, tends to get very good items from time to time. This charity shop works with Habitat for Humanity. They build homes within the local area for struggling families with the profits from these Restore shops. So, I can definitely recommend this source.
Sometimes, larger furniture items can be purchased for a few hundred dollars or less in these shops. So, don't forget to stop back weekly at these thrift shops.
Consignment Furniture Shops
Cheap Used Furniture can also be found at some consignment shops as well.
Infact, most local consignment shops have a price reduction schedule written right on the tags. In other words, they often set the price in three increments. The first week a piece comes in, it is offered at a higher price. Then, it gets lowered gradually if not sold.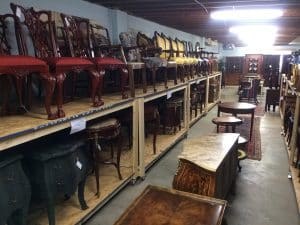 Sometimes, there are further markdowns if the item is not sold after that third timeframe! So, you can really find some cheap prices from time to time at consignment shops.
Of course, the consignment shops, like any furniture shop, needs to keep their inventory moving to preserve their square footage. So, you may be able to find some deals on items that have been sitting around too long, gathering dust.
Estate Sales and Auctions
Finally, if you have time and a good vehicle, I always suggest attending local auctions and estate sales for great used furniture.
Certainly, these types of venues require patience, some work and a competitive spirit. They also require discipline so that you do not get caught up in over-paying for items.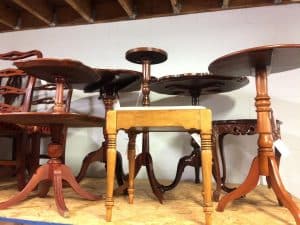 However, auctions and estate sales offer a thrilling and unique way to shop for used furniture.
In many cases, you have to be "in-the-know" to find these types of sales. Many live, in-person auction houses are opening themselves up online. Therefore, the bidding pool online has gotten more broad, in many cases driving the prices up.
I also would stress that both online and in-person auctions take more time because you should always inspect your items before bidding.
Trust me, we still make expensive mistakes when buying at online and in-person auctions. Frankly, not all auctioneers will spell out the condition of any piece of furniture. And, of course, you may not always be happy with your purchases once you find loose legs, chipped drawers or other unsightly flaws.
Typically, too, these types of sales require you to pick up all items within the day. So, keep that in mind when bidding!
What is the Best Site for Used Furniture?
If you prefer the online route, there are many great sites to keep bookmarked for used furniture. The best sites for used furniture are Chairish.com, eBay.com, Facebook Marketplace (the new craigslist), Etsy.com and of course, eBohemians.com. 🙂
If you have extremely deep pockets and exquisite taste, 1stdibs.com is also a great site for high end used furniture and antiques.
If you want to dip your toes into online auctions, HiBid.com, and liveauctioneers.com are also excellent websites.
Honestly though, the top sites for used furniture are:
Chairish.com
eBay.com
Etsy.com
eBohemians.com
Facebook Marketplace
Chairish.com has risen in the last decade as an incredible source for used furniture. Used Furniture sellers love Chairish because the platform arranges shipping of larger items for their clients. Of course, this logistical service makes it a very attractive platform for high end used furniture sellers.
Buyers love Chairish because they can easily see the shipping prices of items before they buy. So, no nasty suprises when you purchase furniture from states away.
eBay, on the other hand, does not have shipping built in to their prices. The famous eBay has both auctions and "Buy-it-Now" sales, and continues to be one of the most well known sites for used items of any kind.
Etsy originally opened as a handmade marketplace for artisans and craftspeople. However, the platform has loosened its requirements and now has become a great marketplace for vintage sellers of all types, including used furniture.
Facebook Marketplace has positioned itself as an accessible and fairly simple platform for used furniture. Many of our clients have had good luck selling their used furniture on this site.
High End Used Furniture
When you are looking for high end used furniture, ebohemians.com may have what you are looking for. Afterall, we specialize in both 20th century high end furniture and antiques of 100 years old and more.
Some brands, like Kittinger Furniture, Baker Furniture, Harden Furniture, Pennsylvania House and Ethan Allen made beautiful furniture that far exceeds today's average options.
As an Used Furniture Outlet, we keep both a website and store hours open to the public. Our inventory constantly changes week to week. So you may be able to find the perfect Statton end tables one week, and then score a nice Pennsylvania House dresser the next.
How Can I sell my furniture?
For many reasons, I recommend Facebook Marketplace for non-professional sellers looking to sell their furniture. Why? Facebook is well trafficked, very easy to use and effective.
Also, Facebook Marketplace is organized so that you will be able to buy and sell what is geographically local to you. So, whether searching or selling, Facebook Marketplace can be an excellent place for finding used furniture near you.
Used Furniture Marketplace
The most user friendly Used Furniture Marketplace is Facebook Marketplace.
That said, I can offer some tips that will make it even more successful if you need to sell your used furniture quickly.
Firstly, you should always take clear photos. And yes, multiple photos are essential. I say a frontal photo, a three-quarters view, and then a photo of any drawers or doors opened will provide an accurate view of your piece.
I also like to include a photo of the back, as well as a photo of the name brand.
Once the photos are done, you need to have a clear and keyworded title.
Here's an Example: "Queen Size Bed, Poster Bed, Ethan Allen"
In one line, the size, style, and brand are all clearly noted. The two major keyphrases,"Queen Size Bed", and "Poster Bed" help attract more views.
As you probably know, competitive pricing also can lead to a fast sale. So, make sure you carefully choose your asking price.
Also, remember that when it comes to used furniture, haggling is du rigor. So, expect you may get an offer that's lower than your asking price.
In the description box of your listing, try to be as succinct as possible. Many people are skimming, so bullet points with pertinent info, like dimensions and condition keep your listing easy to read.
One note on condition, honesty is always the best policy. So, make sure you mention any scratches, dings, or issues with the finish.
Finally, specify if you can provide delivery for a fee or if it is local pick-up only.
Used Furniture
Used Furniture is no longer a term associated exclusively with cheap junk. Instead, interior designers, wealthy homeowners and the average family often see used furniture as a superior product.
In today's world, there is no shame in purchasing used furniture for your home, or office. Indeed, if done correctly, you may impress yourself and others with what you are able to do with the right pieces.
Thanks for reading.
Please let me know in the comments below, have you always loved used furniture? Or is this something you started to enjoy recently? I'd love to know your thoughts!