What's a Vintage Hitchcock Furniture Brand Stenciled Desk Worth? Value Price?
Bohemians in South Central Pennsylvania sold a used vintage stenciled Hitchcock Desk for $685 in April of 2021. The Hitchcock desk is pictured below. The condition matters the most in pricing an vintage item of this quality.
Hitchcock made a version that is white instead of black and those sell for much less as they look yellowed over time.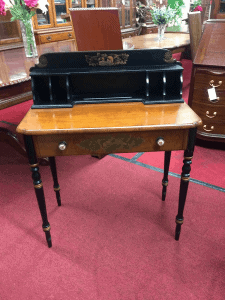 At auction you cn expect to pay between $175 and $350 plus costs usually another 10 to 25 percent. A similar desk in bad condition, one with even a few flaws would only be wroth $45 to $75.
Item: Vintage Hitchcock Cherry Desk with Black and Gold Stenciled accents.
Age & Condition: Circa 1980-1990. Good Vintage condition with minor signs of age and use.
Dimensions: 32″ wide x 18″ deep x 39″ tall.
Vintage Hitchcock Stenciled Desk
Vintage Hitchcock Stenciled Desk with beautiful stenciled accents. This solid cherry desk has a great look!
Of course, the desk features a lovely top piece with pigeon holes and cubbies. Also, it has a lovely solid cherry top.
Overall, the vintage solid cherry desk is in very good vintage condition. However, there are small signs of age and use to the desk top.