Victorian Couch
Frequently on our travels, we see old antique sofas and Victorian couches. However, we have learned from experience, few people see the value in restoring them.
Quite often, the Victorian sofa frame has so many joints that inevitably weaken over time. Additionally, we have seen punctured springs, sagging cushions and torn fabric. Even worse, some old sofas have original horsehair as the base.
Sadly, Victorian couches do not suit most people's modern lifestyle.
However, we are not "most people." HA!
After many years of dealing in both antique and reproduction furniture, one thing seems abundantly clear:
There is just something incredibly special about true antique furniture.
After all, with the Victorian period dating to 1830 to 1900, these pieces have survived generations. In our "here today, throw away tomorrow" culture, I think we need to give these sofas a little more credit.
Additionally, Victorian furniture usually has incredible luxurious details that we just don't see except in high end custom furniture shops. Most Victorian furniture has:
Fine Walnut, Rosewood and Mahogany Woods.
Incredible Hand carved detail.
Impressive scale.
A Patina and Warmth that you typically don't get from modern furniture.
An artistic, one of a kind feel.
So, with these obvious benefits, we were so happy when some of our clients decided to take the leap on investing in an old Victorian couch project.
But, before we proceed with the story of this sofa's transformation, let's get to the elephant in the room.
Is this antique sofa comfortable?
Are Victorian sofas comfortable?
In general, most people do not find the majority of Victorian sofas to be comfortable.
Truthfully, Victorian sofas originally sat in formal parlor rooms. So, in many cases, they were used only as a perch as visitors came by. If you expect to lounge and recline in a Victorian sofa and watch a movie, you may be disappointed.
After all, most of the curved seats on a Victorian couch sit low. Also, they generally do not have nearly the same depth as modern sofas.
That said, in a sitting room, or as an accent piece, Victorian sofas do just fine as comfortable occasional seating.
Additionally, if you can commit the time and money, reupholstering the Victorian sofa will really enhance the comfort.
Is it worth it to redo a Victorian sofa?
Even though it can be quite an expensive undertaking, redoing a Victorian sofa can be so worth it.
Take this beauty from the late 1800s.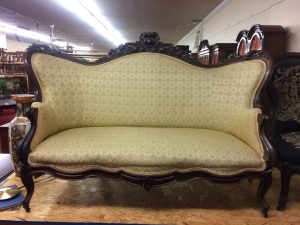 This 1800s sofa has incredible carved detail on the top, sides and legs. Additionally, the frame features solid walnut wood, a true luxury even today.
Additionally, it has a sumptuous curved front. These lovely design details made it a great candidate for our clients to take on.
After all, the history, beauty and special fine features of this sofa make it quite an impressive piece!
That said, the sofa had many issues and signs of age.
A careful restoration took months of time and effort.
Let's take a look at the sofa and its transformation!
How to Restore an Old Sofa
While the carving and details of the sofa frame showed much promise, the damaged finish meant a total refinish job.
Unfortunately though, it wasn't just the finish that needed work.
Inevitably, a curved sofa can really get loose over time. The complex design on the wings can mean the sofa joints get a lot of strain, especially after 140 years of use.
So, to assess the damage, we striped all of the upholstery and padding from the sofa.
From here, we could see that the frame needed to be reinforced.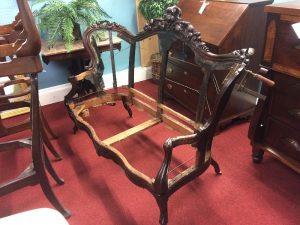 To do so, we added wood reinforcement to the wings. Additionally, we repaired and tightened the wire that helped hold the original padding. Finally, new oak boards were placed in the seat frame to add a great deal of strength.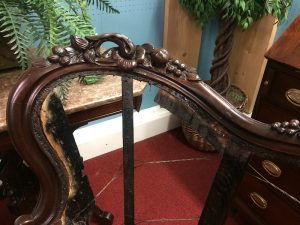 With this structural work done, we could focus on the pretty.
A new rich dark walnut stain really gave the sofa a fresh look. It also added quite a bit of richness to the tired frame.
Should you replace the foam and batting (or horsehair) on an old sofa?
Largely, whether you should totally strip your sofa, or leave some of the foam and batting is a matter of budget and personal preference.
In many cases, if the inner foam and batting is in good shape, you may not have to strip the sofa to the frame. If, say, your auntie redid the sofa in the 1960s or 1980s, you may consider keeping the foam and batting.
Certainly, building back the sofa with new foam, batting and webbing costs considerably more.
But, it will enhance the comfort and durability of the antique sofa.
Also, it is just cleaner and more sanitary! We have striped a lot of antique chairs in our day. Sometimes, you just do not want the old materials in your home.
In our case, the only interior pieces we could save were the springs. Our upholstery shop re-tied these springs, rewebbed the seat, and replaced everything else.
Choosing an Upholstery Fabric
Working with our clients and our upholstery shop, we came home with several samples of appropriate fabrics.
When considering a new upholstery fabric, you have tons of options.
Traditionally, velvet fabric covered antique sofas from this era.
However, today, you can choose so many different options as far as blends, fabrics with stain repellents and more durability.
Typically, upholstery fabric is measured by the rubs. So, for instance, a fabric rated 60,000 rubs will hold up to heavier use then a fabric of 20,000 rubs.
You should also consider the texture of the fabric. If you are not crazy about wild patterns, consider doing a subtle tone on tone texture.
Our clients decided to go with a very high quality fabric made by Greenhouse Fabric. It is in the colorway "Sandstorm" F3068. Finally, it also has a very high durability rating of 150,000 rubs.
This beautiful neutral has a very subtle texture (or grain) that runs with the length of the fabric. They decided to have that texture run horizontally across the back of the sofa.
Is there a Cheaper Way to Get Upholstery Fabric for a Victorian Sofa?
Ordering this fabric added to the expense.
This sofa, which measures 63″ wide x 24″ deep x 44.5″ tall, required a minimum of 9 yards of fabric. (Keep in mind, a bold fabric with a pattern calls for much more fabric, to match the seams.)
Also, because we decided to do double-welting (also called piping) around the edges (instead of a commercially made gimp, we needed a bit more fabric.
In our case, the fabric cost came in around $75 a yard.
Truly, seeing the finished project, I cannot see going this far to use an inferior fabric.
However, if you are on a tight budget, I truly understand. After all, there are some remnant shops that sell high quality fabric on a budget.
In fact, this is often the route I take when upholstering dining seats for the store. I have paid as little as $5 a yard for some beautiful designer fabrics.
As mentioned though, make sure you have enough yardage to finish the job!
You could also consider doing more than one fabric on a sofa to stretch the budget. In fact, it is becoming trendy to use a stronger pattern on the back of a chair or sofa, and use a less expensive fabric on the interior.
With a great vision, and a good upholstery shop, anything is possible!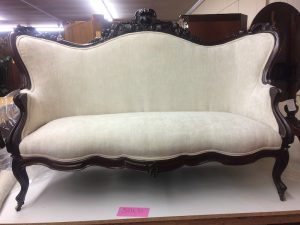 Upholstering an Antique Sofa
Thankfully, our clients have been so patient and fabulous to work with on this project. It has been so fun to restore this antique sofa.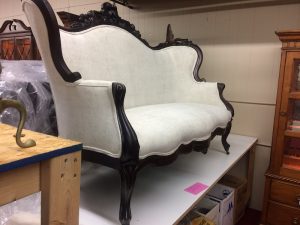 In fact, they loved it so much, they decided to upholster a Victorian chair in the same fabric for the room.
I hope this article inspires you to move forward with upholstering an antique sofa. It may take some work, money and patience, but the results are definitely worth it, in my opinion!
Thank you for reading.
Let us know in the comments below, have you ever reupholstered an antique sofa?