Antique Grandfather Clock
When it comes to antique grandfather clocks, many people perceive them to be valuable treasures from the past. Indeed, grandfather clocks often grace fine manor homes, museums and antique shops.




For many reasons, these timepieces can hold their value for years to come.
However, like most antique furniture, simply being old does not convert to value automatically.
So, let's explore one of our recent antique Grandfather clocks. We will discuss the value of the clock, what makes it valuable and the history.
What Makes a Grandfather Clock valuable?
Certainly, nuanced details like condition, maker, history and provenance contribute to an antique clock's value. Moreover, subjective details like beauty and artistry play a large role.
This antique Grandfather Clock has a restored case. Certainly, almost 200 years of use can do damage to the tall case clock.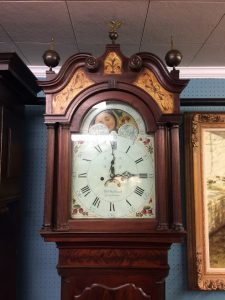 In this case, finish issues were sensitively restored. We delicately enhanced the original finish. Also, we added more coats of wax to protect the original finish of the mahogany clock.
Secondly, we repaired the original door of the clock. Unfortunately, when we first acquired it, the clock had a warped door that added undue strain to the original hinges. With some delicate work, we were able to repair the warping and issues with the door.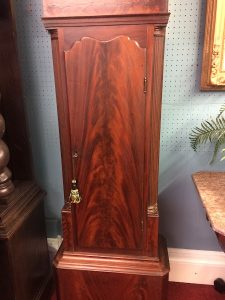 Using the original materials, and preserving the door, we enhance not only the look but the functionality of the clock.
As you may have noticed, we also opted to forgo adding any new parts to the case. Unfortunately, many times antique Grandfather Clocks and tall chests are missing their original feet.
Of course, this is due to transport. Many train cars, containers, and even wagons offered only a certain height. So, many antique clocks, antique tall chests were modified for transport over the years.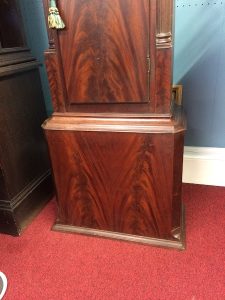 In this case, our antique Grandfather Clock suffered this modification. Likely, this clock had antique bracket feet or an ogee shaped foot. Sadly, this modification hurts the value.
However, we decided not to replicate any new feet. While a talented woodworker can mimic the look of original clock feet, often it is one of the sticking points for collectors. If the feet are not original, it may be better to have them removed.
Faced with the choice of whether to recreate the feet or not, we opted to not add anything modern to the clock that may be a grievance for a future collector.
Antique Grandfather Clock Identification
Identifying the maker of the clock surely helps in establishing the value of a clock. In most cases, you will find the clockmaker name on the clock face.
However, sometimes, you will have to look inside the works of the clock to identify the antique Grandfather clock.
In the case of this clock, the clock maker's name appears in script on the face. It reads "Thos. Halliwell Liverpool." Thomas Liverpool was a British clockmaker who had his own jeweler and clock shop.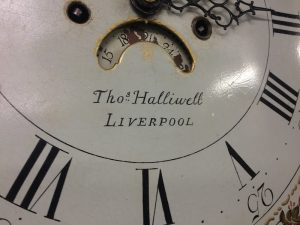 Obviously, we have the clockmaker's name. So, with a little bit of sleuthing we were able to learn more about the age of the clock and the original maker.
These details help link the particular clock to a place, time and moment in history. Obviously, this enriches the story behind the clock and adds to the perceived value.
Grandfather Clock Repair Near Me
As far as the clock works (interior), you will receive the most value for a running clock. Therefore, I highly recommend having the clock professionally restored and oiled.
Luckily, I have an incredible Grandfather Clock Repair near me (Northside Clock Shop, Hagerstown, Maryland). This clock repair shop does a fantastic job repairing and adjusting antique and vintage grandfather clocks.
Both highly professional and skilled, this family-run clock shop will monitor the clock for weeks to see if it maintains good time. Additionally, they can replace small parts and even recreate clock parts if your clock requires a more extensive renovation.
Antique grandfather clocks typically have two weights. These weights slowly work the gears and mechanisms inside to move the clock hands. Additionally, a well calibrated pendulum will help run the second hand of the clock.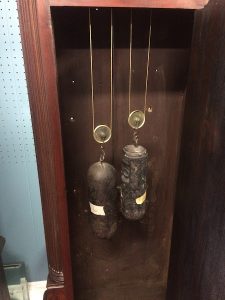 Obviously, antique tall case clocks have a delicate and well designed mechanical function. Sometimes, the gears are wooden, and the teeth may need repairs. Or, sometimes, the clock shop may need to make adjustments to the bushings or cables to keep the precision of time-keeping.
This delicate work can help your antique clock run. However, you may still need to do regular maintenance work to the clock.
A yearly service check up will ensure that it will run for many years to come. Obviously, like any piece of equipment, regular maintenance helps ensure the long term value.
Antique Grandfather Clock 1800s
As you might have guessed, the age of the clock adds greatly to the value. An antique grandfather clock from the 1800s in particular is quite desirable.
In my opinion, clocks from the early 1800s typically demonstrate the best craftsmanship and beauty.
Typically, these early Federal timepieces have beautiful hardwood cases. You may find beautiful cherry, tiger maple, walnut or mahogany makes up the tall case clock.
Additionally, these tall clock cases often have beautiful special details. For instance, you may find incredible flame mahogany veneers decorate the doors or base of the clock. Or, you may find unique moldings or arches.
For instance, this antique grandfather clock 1800s has a beautiful Federal style top. You will notice a broken arch top culminating in carved rosettes. Also, you can see that it had beautiful Federal style columns on either side of the face.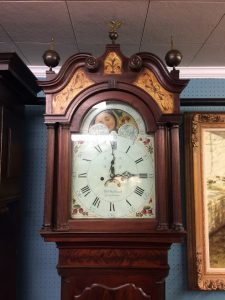 The brass finials and eagle center, too, are lovely early Georgian or Federal style details.
However, the hand painting of early clocks often really adds to the greatness. As you can see, the clock face has incredible floral touches in the corners. Also, even the pendulum has painted detail.
Antique Grandfather Clock Moon Phase
Another exquisite detail on antique 1800s Grandfather clocks is their moon phases. In most cases, the moon dial features 4 scenes that generally coordinate with the phases of the moon.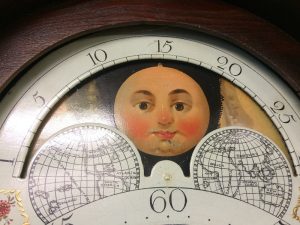 As you may know, moon phases offered another important time keeping instrument in the past. Understanding the phases of the moon and its cycle proved useful for tidal patterns. Additionally, lunar phases also impacted planting and harvest cycles. So, many antique grandfather clocks have a dial that helps keep track of the moon.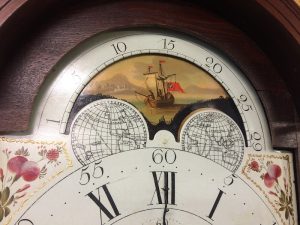 Often, these dials feature lavish and rich paintings of a large moon, ships and pastoral scenes. These colorful and vibrant details add beautiful artistry to the clock. Of course, it also makes it a beautiful changing piece of art in one's home.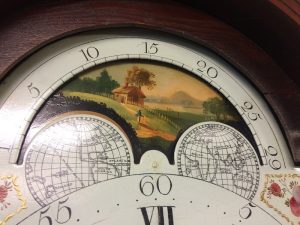 Are Antique Grandfather Clocks worth anything?
Most antique grandfather clocks can be worth anywhere from $1000 to $10,000. Of course, the provenance, condition, and artistry will impact the value of an old grandfather clock.
This particular grandfather clock sold in early 2022 for roughly $5000. Its condition, beauty and age helped it to sell fairly quickly. If it had the original feet, and perhaps more special features or grandness, one could guess the value may have been between $5000 and $8000 on the retail market.
Antique grandfather clocks with more important provenance can certainly sell for much more. For instance, if you can trace the clock to an important historical figure, likely the value is more than $10,000 retail.
However, like fine art and special antiques, the value really depends if someone is willing to pay for it. So, subjective details like beauty and quality certainly play a role.
Best Antique Grandfather Clocks
The best antique grandfather clocks feature a level of craftsmanship, fine original condition, beautiful sound and an incredible level of working condition.
Mostly, antique grandfather clocks suffer from the effects of time. Therefore, restoration of the case and interior works often is in order before they can be sold.
Often, these repairs can be costly. So, you may wish to get a personalized clock appraisal of your own antique clock to determine whether these repairs will be worth it.
If the clock is a family heirloom or holds sentimental value, I always advise doing sensitive repairs that will help keep the clock running and in good shape. Hopefully, your children or heirs will appreciate the fascinating and beautiful timepieces that they stand to inherit.
Do you have an antique grandfather clock? Was it an inherited piece or something you purchased from an antique shop near you? Let us know in the comments below!
Spread the love, Save for Later