Harden Furniture used to be a premier brand for luxury furniture stores.
Harden bedroom furniture, living room and dining room furniture decorated the most high end furniture stores around the country.
Indeed, most high end retailers looked at Harden as one of the best quality recommendations they could make to their clientele.
Their traditional styles and fine solid wood furniture spoke of timelessness and true quality.
Today, sadly, Pre-Owned Harden Furniture can only be found in select places.
Does Harden Furniture still exist?
Sadly, no Harden Furniture, the manufacturer of fine cherry furniture, no longer exists as a manufacturer. Unfortunately, if you love the Harden Furniture catalog, you will have to purchase gently used Harden from antique stores, online or from used furniture dealers.
Who Sells Harden Furniture?
Essentially, you can only purchase Harden Furniture at
Antique Stores
Thrift and Charity Shops
Fine Consignment Shops
Online Antique Stores
Craigslist Furniture Section
Chairish and Other Online Platforms
Furniture Manufacturing has finally halted at the Mcconnellsville, New York Factories as of 2018.
Harden Furniture Liquidation sales of all wooden parts and machinery took place during the last quarter of 2018. Customers, woodworkers, office workers and retailers said goodbye for the last time to Harden Furniture.




Harden Furniture History
Harden Furniture stayed a family company until its last few years and witnessed five generations of owners with the Harden name.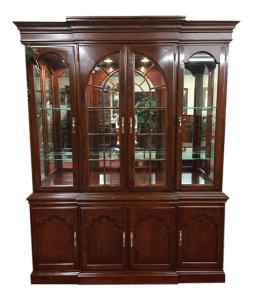 The Harden family settled in Northern New York State (North of Syracuse, near the Canadian border) in the 1840's. At that time, Charles S. Harden Sr., had returned home to the New York area after his adventurous spirit took him out west to search for gold.
While no gold nuggets turned up in the Colorado mines, Charles established a successful saw mill on the winding Fish Creek in New York.
His son, Frank, took a great interest in the saw mill and wood arts. It was at this time that the father and son duo saw opportunity utilizing their lumber and sawmill to build bridges. They formed a successful bridge construction company during the summer months. During harsh New York winters, they started making kitchen chairs.
These chairs gained popularity and jump started a new venture! Next, Harden started producing parlor chairs, rockers and upholstered pieces in the late 1800's.
Harden Cherry Furniture
In the 1930's, Frank's son, Harry, made a huge transformation to Harden's product line. Previously, Harden craftsmen used mahogany, maple and birch wood. Harry Harden decided to make native black cherry the focus in the company's fine furniture goods.
From this point forward, cherry wood harvested from local New York forests became the main component of Harden Furniture.
In fact, Harden purchased thousands of acres of forest and implemented a sustainable forestry program.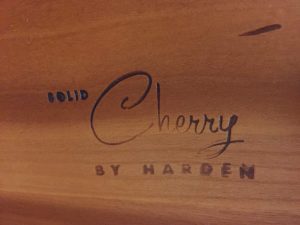 Most recent owner, Greg Harden, spoke of Harden's commitment to harvest select trees to allow for new growth and regeneration of their forests.
In fact, one of Harden's slogans was "Harden Furniture: From the Forest to your Home." Their focus on environmental sustainability earned them national recognition as well.
This commitment to the production of solid cherry furniture led the company to huge success in the 1970's through the 1990's. Known for its durability and beauty, cherry furniture by Harden developed into a status symbol for fine homes. At its peak, the company employed 500 people and produced and distributed thousands of pieces of furniture across the United States each year.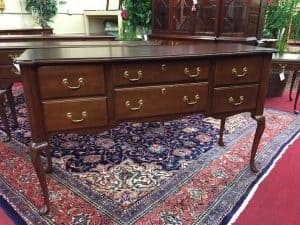 Like many American companies, including Pennsylvania House Furniture, Harden faced challenges in the post 1990 era.
As trade opened up with Asia and Mexico, American production moved overseas where cheaper labor markets emerged.
By the 1990's and 2000's, Harden Furniture Company struggled to compete on price.
Greg Harden sited a "20 percent disadvantage" of labor costs in their production lines compared to overseas manufacturers in an early 2000 interview.
Cheap imported furniture distributed by large retailers started to win dominance in the US market. In fact, most domestic fine furniture makers could see no way to compete with big box stores.
And as manufacturing jobs left our shores, the middle class who once was able to purchase and enjoy solid wood furniture, found no way to afford such a luxury.
Essentially, as manufacturing jobs left, so too did a strong middle class.
Fine Furniture occupied an even smaller portion of the market during the 2008 crash and subsequent recession.
Of course as many people faced foreclosure, opulent dining room sets with a price tag of $20,000 or more seemed out of touch with the new economic realities hoisted on the American people.
Facing these challenges to profits and diminishing sales, Harden started to experience layoffs and tightening finances.




Harden Furniture Company Buy Out
During the mid 2000's, Harden employed less than 300 people.
During these hard times, Harden also took a risk and started a product line made overseas. Their "Tapestry" line introduced a lesser priced imported line under the Harden umbrella. Unfortunately (or fortunately), this short-lived attempt to offer cheaper goods didn't boost sales and was phased out.
The time came after a series of layoffs, restarts and attempts to salvage the company that Harden LLC was sold. After 174 years of business, Harden Furniture came under new ownership.




Who Owns Harden Furniture?
In January 2018, Big Shoulders Capital, LLC out of Illinois purchased Harden Furniture.
While the new company aimed to give new life to Harden, they simply could not bring back the manufacturing process in a serious way. Additionally, the new owners could not surmount company debts. After two failed attempts to resuscitate the company, Harden furniture under Big Shoulders Capital LLC sent their tools and remaining equipment to the auction block in October of 2018.
Big Shoulders Capital and its partners are now attempting to sell the "Harden" name and the remaining intellectual property under sealed bids. Bidding for the name, website and furniture plans are open until February 1, 2019.




Harden Furniture Styles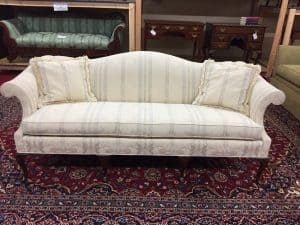 Certainly, we remember Harden fondly for their incredible furniture. As a vintage store, we witness the beauty and craftsmanship of Harden Furniture collection nearly every day. In fact, it remains one of our favorite traditional furniture manufacturers.
But what differentiates Harden from other brands?
Besides the commitment to solid cherry, I think the Harden Furniture Collections designs were truly top notch.
Harden worked relentlessly at perfecting their cabinet, table and chair designs. Harden bedroom furniture, with beautiful poster beds and dressers, equaled Stickley furniture's quality in my opinion. By their peak, the company sold over 750 different furniture pieces, and most, if not all, were adaptations of period pieces.
It goes without saying that Harden studied the masters.
Elegant block front chests echoed the work of 18th Century Rhode Island cabinetmaker, Samuel Goddard.
Gooseneck arms on an elegant dining chair mimic English classics, like the popular Queen Anne style.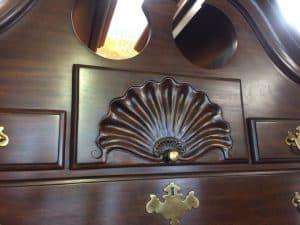 The shell carvings and full bonnet on a Harden highboy highlight the beautiful work of early American masters.
And of course, the ornate overlays often found on a Harden secretary or curio cabinet echo the works of Thomas Chippendale.
Finally, there is always a certain elegance to the details on Harden furniture. We often see end tables and dining tables with cookie corners, rather than simple flat aprons. Solid brass swan neck hardware often decorates Harden drawers.
Another interesting Harden signature: Harden often did raised designs rather than inlay work. For instance, we have seen the belle-fleur motif popularized by George Hepplewhite make its way to Harden pieces. But instead of inlaying with a lighter wood, the Harden pieces show raised carvings on their solid cherry components.




Harden Furniture Finish
Of course, great wood, high level craftsmanship and beautiful designs are only part of the process. The stunning wood creations also have to go through final finishing.
As one of our vintage Harden catalog's states,
"Harden's beauty is much more than 'skin deep.'.. Each piece of wood is beautifully matched; no natural defects are permitted, even on unexposed wood… Each drawer is meticulously sanded, sealed, lacquered and waxed so that even the most delicate silks and laces can be stored within, safely. Harden's unique 18-step finishing process enhances the natural beauty of the wood and makes their furniture satin smooth to the touch."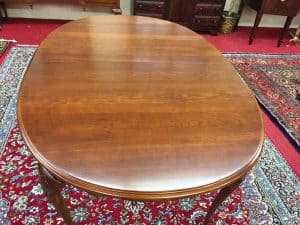 Heirloom furniture features a lengthy 18 step finishing process that protects the wood from blemishes and signs of wear. In fact, while regular polishing and careful use certainly helps, it is the finishing process that takes a piece of furniture from good to great!
Harden's deep cherry finishes are both beautiful and phenomenally strong. With good care, Harden furniture can be passed down from generation to generation. Pre-owned Harden furniture will surely outlast its less expensive counterparts.




Harden Furniture in the White House
While most pieces in the White House are exact replicas, often made by Kittinger Furniture, Harden also has a place of honor in our nation's capital.
Several of their fine black cherry pieces sit in the First Lady's office. Harden also made 1000 chairs for the Capital's Visitor Center and chairs for the House and Senate.
Most recently, Harden also was commissioned to make a 16 foot long conference table for the Theodore Roosevelt room in the White House in 2011. The special White House project took several special considerations. It had to fit the narrow room (built in 1902) and also be easy to disassemble for other types of receptions. Of course, obviously, it had to have presence and style to impress the President and Heads of State that would meet there. 🙂 Harden rose to the occasion and developed a stunning conference table made of their signature domestic cherry.




Harden Furniture Values
Vintage furniture can face fluctuations like any other market. Of course, both trends in interior design and in the general economy can affect buying decisions for the general population.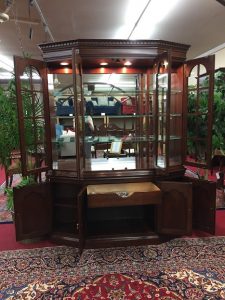 That said, Harden held a steady grip on the high end furniture market for many years. There are many people who had extreme loyalty towards the brand, and thus the name recognition for Harden is rather high, and for good reason.
Currently, on the used market, Harden furniture may be facing a short term loss in value, much like most pre-owned fine furniture. You can purchase fine furniture made by Harden at wonderful places like Bohemians for pennies on the dollar. 🙂
Personally, I feel as though Harden Furniture may appreciate in value in coming years, especially as the legend of Harden grows. The sad truth of their recent closing may send loyal fans to seek out Harden furniture for sale. Right now, traditional fine vintage furniture really has no match in quality and Harden still stands as one of the premier companies.
True American Fine Furniture can be an incredible investment for savvy buyers. And personally, I see traditional designs taking center stage again in the design world once again. Fabrics and accessories can always be changed or modified, but when a room has fine Harden Furniture as its bones, you will immediately notice the elegant difference.




What to Look for in Harden Furniture?
As with any used furniture, you may have questions about what to look for in Harden Furniture for sale.
Of course, seeing the brand name in the drawers and undersides of chairs and tables provides reassurance of quality. In nearly all case pieces (dressers, sideboards, china cabinets) the name Harden is burned into the wood. In most cases, the year that the piece was made also accompanies the brand name, most often seen on the back of these pieces.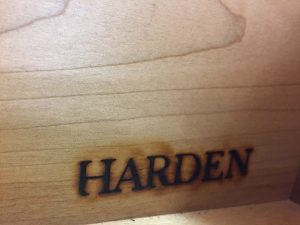 Paper tags and cloth labels were used on chairs and upholstered goods though. So if you don't see the Harden tag on a sofa or chair, it is possible it went missing or someone removed it. Then, without a bill of receipt or other evidence, it becomes hard to attribute the piece to Harden unless you have a very trained eye!
With all this in mind, the evidence of the Harden name is still only half the battle. The condition of the Harden piece speaks volumes.
While most Harden furniture comes from fine homes and is well kept, there are instances when Harden furniture suffers from bad storage, over use, or harmful polishes.
We have seen solid cherry dining tables cup and warp when they were improperly stored in very cold or humid places. Storage units without temperature control can do quite a bit of harm to beautiful cherry furniture. You may see splits on the sides of china cabinets or warped china cabinet doors.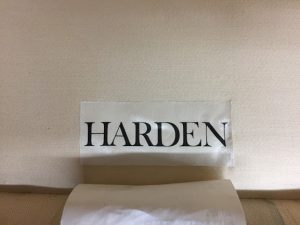 Also, many people do not realize that inexpensive furniture polishes can do harm to the hand-rubbed finishes of Harden pieces. So be careful if you see a waxy or hazy finish on Harden. This may signal a little overzealous use of the aerosol cans! (As a side note, we recommend a particular Harden furniture polish! Where to buy Harden Furniture Polish?)
Finally, chair joints often see the most use, so be weary of loose joints in dining chairs. While they can be repaired, dining chairs need lots of clamps and lots of patience.




Harden Furniture Company
While sadly not in business anymore, thousands of people still have the opportunity to enjoy Harden Furniture in their homes. The beautiful dining, living room and bedroom furniture by Harden will remain an excellent choice for modern homes.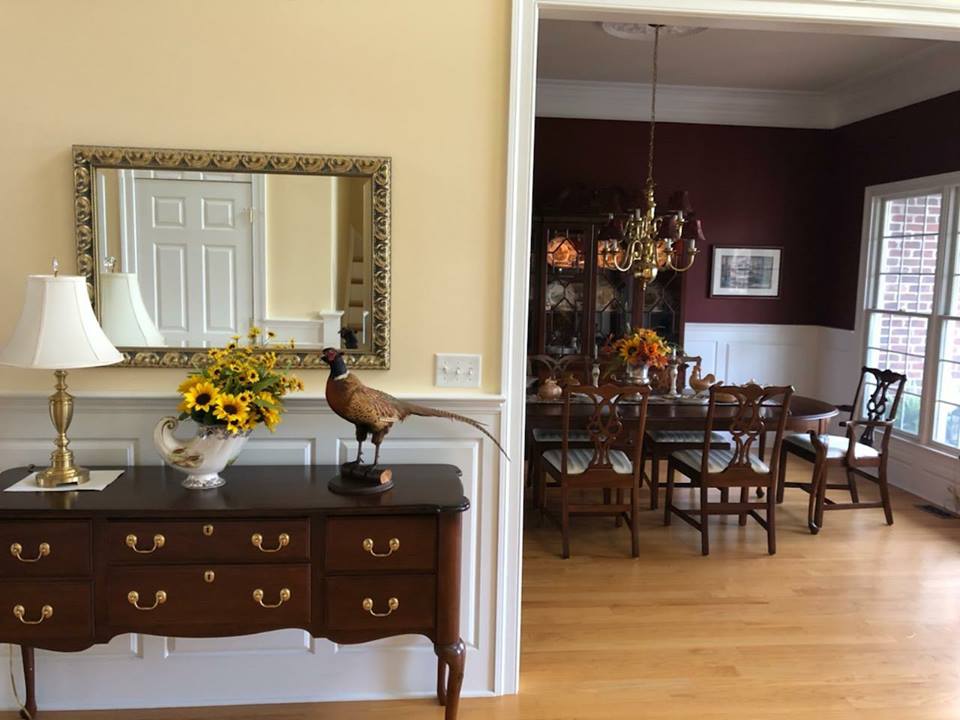 As we see Harden close for good, I feel lucky and honored to have sold some incredible Harden pieces over the years.
Indeed, I hope to find more of these vintage Harden beds, Harden dressers, Harden sofas and Harden dining room furniture in the future. Mature clients recognize the Harden name for its quality and craftsmanship, while younger clients immediately recognize the beauty and style.
I sincerely hope you consider vintage Harden Furniture for your home. And if you have inherited some Harden Furniture pieces, I do hope you treasure them for years to come!
I can only guess that Harden will become more beloved as years go by, and no new company can come close to replacing them in craftsmanship, quality or beauty.
Thank you for reading and for inviting us into your traditional home!
Written by Rachel LaBoheme




Spread the love, Save for Later