Antique Mirrors and Interior Design
When it comes to antique mirrors, interior designers and decorators all seem to agree. You cannot beat the impact of genuine old mirrors in a home.
The incredible gilding, patina and beautiful designs of old mirrors make them a beautiful work of art for the home. Additionally, they reflect light and add old world glamor and sophistication to a space.
Can Old Mirrors be Worth Money?
That said, not all antique mirrors are worth a lot of money. Indeed, antique mirrors have to have a great look, a bit of history and be in great condition to be worth money in today's market.
Unfortunately, if the mirror frame shows damage, the glass is heavily silvered (or distressed) or if the mirror design doesn't have much visual impact, it can be worth next to nothing.
On the other hand, old antique mirrors with incredible carvings, inlay or fine gilding can cost upwards of thousands of dollars.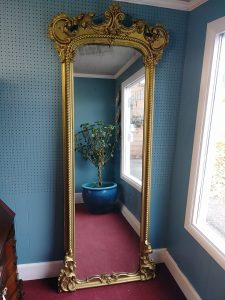 Also, old mirror glass was made of mercury or silver backing.
Typically, an appraiser can look at the frame's composition and see whether it is composed of wood, metal, or some type of modern composite material, like a modern resin. They should also see whether it has been repainted, or regilded. Of course, this has an impact on the overall value.
Obviously, an antique mirror in original pristine condition will likely result in the highest valuation from an antique appraiser.
So, let's take a deeper look at antique mirrors. We will discuss different styles of antique mirrors, as well as the potential value of old mirrors in the market today.
How Can You Tell If an Antique Mirror is Antique?
There are several ways to tell if an antique mirror is truly antique.
Firstly, an antique appraiser will look at the style. A true antique mirror will have trademark details that will place it in a historical timeframe.
Secondly, you must examine the construction and material of the mirror. Certainly, thousands of reproduction mirrors have been produced over the years.
So, it is important to determine if your old mirror was made to look old, or truly demonstrates old techniques and materials.
For instance, if the mirror in question does not appear to be hand carved, or if it is made of resin, rather than wood, it likely is a reproduction and not a true antique.
Also, you may see that an antique mirror has been restored or modified over the years. It is not uncommon to see an old mirror that has been re-gilded, or even repainted with modern gold paint.
While the process of repainting or re-gilding an old mirror does hurt the value, it may be preferable to a mirror that has lost all shine and shimmer.
What is Antique Mirror called?
Without going into a huge history lesson, here is a brief list of common period mirror styles:
Antique Federal Mirror. Can include convex mirrors, gilded mirrors, wooden mirror frames. Often, antique Federal Mirrors will include motifs like Eagles, Pheonixs, and laurel leaves.
Adams Mirrors. Often have carved columns on either side and can have painting on glass or other fine details. Alternatively, this style can feature fine metal work known as festoons on the top and sides.
Chippendale Mirrors. Typically, Chippendale Mirrors have scalloped and scroll work edges. In general, you often find these mirrors in mahogany and walnut.
Antique Rococo Mirrors. Gilded, ornate and sometimes asymmetrical in design. Commonly, Rococo mirrors have pierce carvings in the frames.
Victorian Mirrors. Victorian mirrors can mimic French, Renaissance or even Medieval designs. These ornate mirrors tend to mimic historic styles from previous periods, like Rococo.
Art Deco Mirrors. Generally can have cut or etched designs in the glass, itself. Additionally, typically have feminine shield shapes. Also, can mimic art deco geometry.
Art Nouveau Mirrors. Typically, art nouveau mirrors feature motifs from nature, like leaves, trees or flowers that naturally flow across the mirror surface.
After the style of the mirror is identified, an expert will take a look at the construction and the materials of an old mirror. Certainly, this helps determine whether the mirror is truly old or a reproduction.
Of course, a true antique mirror from a very early period will have signs that it was hand carved out of wood and then gilded or painted.
What did Victorian Mirrors look like?
Victorian Mirrors came in many shapes and sizes. Because of the length of the Victorian period, mirrors changed quite a bit in style.
Some Victorian mirrors had geometric carvings and wood and painted elements. Other Victorian mirrors had a much more feminine look, with carved roses, cupids or floral elements.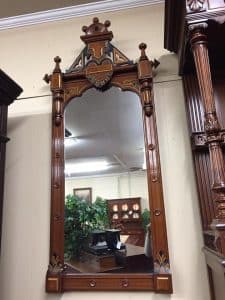 At times, Victorian mirrors also had gilding finishes and other times they may have had deep wood finishes.
Finally, some Victorian mirrors were actually antique mirror full length. These tall mirrors are often called "Pier Mirrors" and can be used in walk-in closets, foyers or bedrooms. They typically have very dramatic looks.
How Do you know if a mirror is good quality?
When shopping for an antique mirror, you should pick it up to determine the weight. Most likely, real antique mirrors have a heavy feel. Since they were made of solid wood, and thick glass, they likely weigh a lot.
However, if shopping online, you should look at the details and images provided to determine the quality. Close-ups on the carvings and details reveal a lot about the quality of the mirror.
Additionally, in close-up photos, you can really examine the antique mirror texture. Antique Mirror glass sometimes has spots or imperfections that occur with age.
Finding the Right Mirror for a Space
There are so many ways to find a beautiful mirror for any space in the home. Here are a few final tips to finding the right mirror for a space.
Mirror Over a Fireplace. Typically, when you plan to put a mirror over a fireplace, you have to think about the width of the fireplace and the height of the ceiling. Certainly, if you have very tall ceilings, you will want to enhance the verticality of the space with a very tall or even antique full length mirror.
Antique Mirror Over a Buffet. Generally, choose a mirror that is at least three-quarters of the width of the buffet to make it look great.
Placing an Antique Mirror in a Bathroom. Certainly, over a pedestal sink or vanity, an antique mirror brings an incredible look to a bathroom. Think about materials as well as dimensions. You do not want to have a mirror with a fragile composition that could warp in a steamy bathroom.

Decorating a Foyer with an Antique Mirror. Of course, an antique mirror sets a statement in a foyer. With the right mirror, you can really set a mood or present a sophisticated home as soon as you enter.
Gallery Wall of Mirrors. While it takes a bit of planning, creating a gallery wall with several different mirrors can be an incredible look. Trailing up a staircase, in a long hallway or in a maximalist style living room can really take your home up to the next level.
I hope you enjoyed this article about antique mirrors. Let us know in the comments below your questions regarding antique mirrors.