Defining Grandmillennial Style
If you are within the know with the design community, you probably have heard the term Grandmillennial Style before. The term was recently coined in 2018 to describe the growing rise of young twenty and thirty-somethings who have sought out traditional furniture and accessories for their home.
In other words, they (like me) were fed up with the very stark, dry and impersonal interior design trends we have been fed for years.
The term combines the word "Grandmother" with the generation most interested in the style: "millennials." The "Grandmother" part of the word refers to an older, more refined taste that we tend to associate with older generations. Aptly, the word "Grand" also implies a level of wealth and sophistication.
However, Grandmillennial style is a bit different from "traditional decorating". Typically, Grandmillennial rooms have a youthful-granny vibe (hence, the name) which is especially apparent in the color palette and ultra-feminine style.
In essence, Grandmillennial style involves traditional brown furniture as well as some painted pieces. It includes patterned fabrics, fine china, porcelain and brass, and traditional oil paintings. It also means oriental rugs and clocks. In short, everything we sell here at Bohemians. 🙂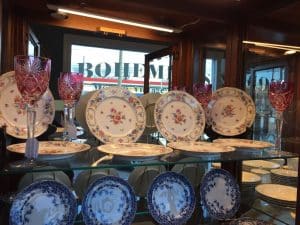 Generally, Grandmillennial style has a strong insistence on a pastel color palette. It also usually involves lots of white and bright interiors and a mix of modern and traditional style.
There also are some common elements you tend to see in the style:
Needlework Pillows
Fine China
Chinoiserie (or Chinese inspired) wallpaper
Crystal, Silver and Brass Elements
Essentially, this style weaves elements from classic decorating with fresh flavors that make it feel current.
What I love about Grandmillennial Style
There are many reasons to be happy about this growing style trend. So here's my list of reasons to wholeheartedly embrace Grandmillennial-ism:
Color is Back. Of course, it sure beats the drab and monotonous style of Mid Century Modern and Modern Farmhouse Furniture. Finally, the young people have faced color with less trepidation and are starting to experiment with hues other than light gray, medium gray and gray-gray.

Real Furniture takes center stage. Certainly, this new trend embraces wood furniture in more classic styles. Think: Queen Anne or Chippendale chairs, a vintage mahogany secretary desk, or art deco sideboard. Surprisingly, these young sophisticated ladies and gents have finally ditched the pressed board and are finding the merits of solid wood furniture. As you might have guessed, this means that they are buying high end used furniture.

As far as accessories, the classic Grand Millennial girl likely prefers to shop at antique malls, and online antique stores to feather her nest. So, that means she will likely start admiring fine china, more traditional art like botanical prints, portraits and landscape paintings. Personally, I couldn't be happier that my obsession with fine china and gilded mirrors has become slightly normalized as this trend has taken hold. 🙂

Pattern is Your Friend. Finally, I love that this particular style is attempting to layer a room with more varied textiles and prints. For so long, it seemed that pattern was a dirty word in decorating. Chintz, patterned silks, toiles, and even ethnic prints decorate everything from bedrooms to charming laundry rooms.

So the fact that "busy" patterns are back is music to my ears!

Scallops and finishing trims take it up a notch. In addition to sumptuous patterns and fabrics, Grandmillennials love to trim their upholstery and pillows. So, you will see some gorgeous traditional trimming methods and old school drape designs coming back, like swags, and cornice boards. These old school details speak to a more finished and elevated room design.
What I Hate About Grandmillennial Style
As with every trend, there are bound to be some negative aspects.
Firstly, I should probably state that I am a bit of a contrarian in general. Once something becomes mainstream or popular or cool, I tend to get a little disappointed and not really like it as well.
I don't know if this is because I secretly want to be one of those cool outsider-types, or if the trend itself is already getting diluted and commercialized.
Or if simply drawing a box around the trend and defining it, takes away a little mystique…
However, these are some reasons I don't particularly love GM style:
Sometimes it can lean a little 1970s-esque. There is a kitschy subset of this trend which doesn't quite do it for me. Think granny square afghans, kitty cat clocks, or knick-knacks that are mass-produced rather than painted or made by hand. Sometimes the end result is a bit cluttered and childish for my taste.
Often, I see a candy colored color palette. Don't get me wrong, I love pale blue and pink as much as the next girl, but sometimes, I think the new Grandmillennial girl is afraid to explore the entire color wheel of rich tones and intense color.
Sometimes, it's a bit too feminine. Along with the color palette in the point above, there are some Grandmillennial rooms that would benefit from a little masculine energy. Whether that means a touch of black, or a heavier piece of furniture, or even a few harder lines to balance all the curves, I feel a little yang to the yin would help balance the trend, better.
The patterns have started to become a little predictable. I have studied pattern design, and let me tell you, there are billions of fabrics and wallpapers out there. Unfortunately, as I see this trend take off, I have seen "Grandmillennial Influencers" start to copy one another with very famous fabrics and wallpapers. Don't get me wrong, I love the famous Hydrangea Drape by Schumacher as well. But, I fear, like a good song on the radio, these iconic fabrics and wallpapers could get a bit worn out with overuse.
Is Grandmillennial Style Right for you?
Overall, I think there is more right with this trend than wrong. Certainly true quality furniture, and high end fabrics and wallpaper create a refined look. Also, it has a more personal and layered look that resonates very strongly with me.
I also think that it offers a great excuse for people to start exploring their family's heirlooms. And, I think it encourages people to start collecting fine things and objects that are beautiful and decorative.
As a caveat, I think as of right now, this trend overall has a high-end feel. Certainly, the use of fabrics and wallpapers at the $200 a yard price point, as well as fine mahogany and cherry furniture help it look rich and sumptuous.
As with all things that become trendy, there may be a lower end, mass-market Target-style capitalization of Grand-Millennialism, which I am not looking forward to.
In fact, it may have already started, with plastic Staffordshire dogs or fake gilded mirrors. Unfortunately, these cheaper knock-offs can really drag the true essence of the trend down.
Although there is nothing inherently wrong with offering "the look for less," I do think the better path to follow would be to look for the real deal in the "wild." By that, I mean, truly shop for an antique in an antique mall or second hand store, instead of settling for the convenient reproduction.
So, there you have it. My two cents on Grand Millenial Design. I would love to hear what you think about this trend. Do you feel it is an overall positive trend in the decorating world? Or is it too sickeningly sweet for you?
Spread the love, Save for Later