Kittinger Furniture and Why it is Considered (one of) the BEST
High End Furniture Dealers often consider Kittinger Furniture as one of the best hand crafted vintage furniture brands!
Although not widely heard of, Kittinger has gained a reputation from their exclusivity.
Unlike Ethan Allen, which has positioned itself as an every-man's furniture brand, Kittinger remains like a secret club to those with enough taste (and means) to afford it.
Kittinger Furniture Value
In many ways, vintage Kittinger Furniture gains value from its scarcity. Thus, on the auction block or in resale situations, vintage Kittinger Furniture often reaches very high prices.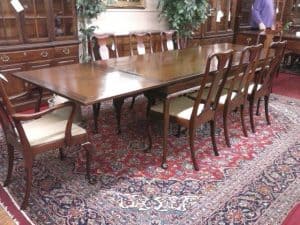 Even old vintage Kittinger catalogs can cause sticker shock. A Colonial style dining table and chairs in the 1960's for instance, had a retail price tag of over $1,000. And no, that number has not been adjusted for inflation!
One has to remember that in the 1960's, a person could purchase a modest home for roughly ten thousand dollars. (Take a look at this fun and shocking site about the 1960's prices to learn more!) Indeed, Vintage Kittinger Furniture aligns with the Rolls Royce of Furniture.
Of course, Kittinger Furniture value, while fluctuating like any other market, seems to hold steady as a top tier furniture brand. Like many luxury brands, vintage Kittinger Furniture continues to have a host of devoted followers.
If you are lucky enough to own a piece of vintage Kittinger Furniture, consider it a true gem to cherish!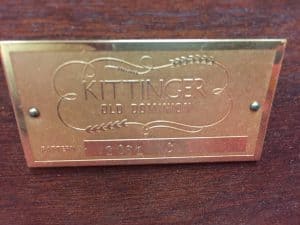 Kittinger Reputation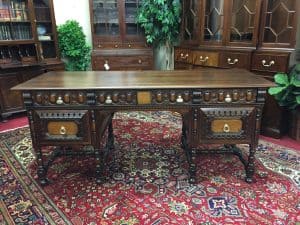 The high reputation of Kittinger Furniture stems from several key facts.
Most notably, Kittinger Furniture has had great associations with prominent places. First and foremost is a special place on Pennsylvania Avenue: the White House! (See a virtual tour of White House.)
In the 1960s, president Nixon started a long tradition of commissioning Kittinger Furniture to furnish key rooms in the White House.
Of course, this included a twenty-two and a half foot banded mahogany table and twenty four Chippendale style chairs. (The President's chair sits a bit higher than the others- nice touch!) Kittinger also did several other reproduction pieces, including the President's tea tables, and armchairs in various rooms of the West Wing.
Kittinger Furniture Factory
Obviously, Kittinger stood out among furniture companies! Kittinger Furniture produced vintage furniture in a way that made them stand out and above their competitors.
They had incredible attention to detail, meticulous handwork and a combination of mass scale and small scale finishing techniques.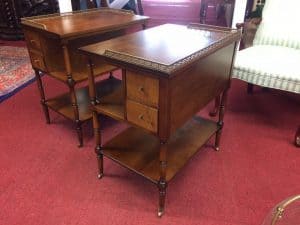 Indeed, many of their pieces required delicate and difficult techniques.
Within their Buffalo, New York factories, hundreds of people specialized in each step of the process. In fact, employees had to go through long apprenticeships within the company in order to be trusted with certain jobs.
Levels of skill were rewarded with titles like "Master Craftsman." Often, these craftspeople handled the same piece of furniture for days or even weeks at a time! Every stage of production within the Kittinger Furniture line required intense hours and high scrutiny. (You can read more about these manufacturing processes on the Kittinger website.)
Vintage Kittinger Furniture
The result of these time commitments and quality checks can be seen and felt in vintage Kittinger furniture.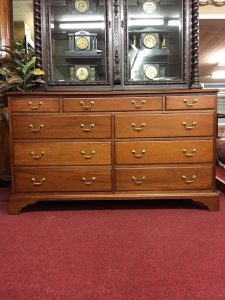 Vintage Kittinger dressers sit perfectly within their cases. Drawers do not sag, bow or stick within the frame. Likewise, vintage Kittinger cabinet doors on vintage buffets align perfectly and do not bow. Vintage Kittinger tables tend not to warp or split. Vintage Kittinger chairs have hand tied springs and perfectly spaced upholstery tacks. All of these methods point to phenomenal craftsmanship.
All functional features aside, Kittinger furniture can not be discussed without discussing their aesthetics. Simply put, the grain of the exquisite mahogany veneers, and complementary woods, just glows!
A vintage Kittinger table often has the most impeccable shine. Kittinger offered both open-pore and closed pore finishing techniques. (Thus, they could achieve very deep hand rubbed looks or spectacular sheens!)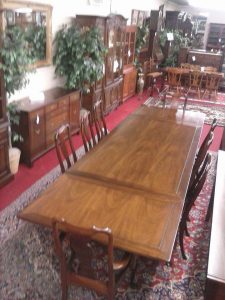 While some Kittinger Vintage furniture designs did see some updates in the 1960's (particularly on Kittinger Office furniture), most of Kittinger designs are very traditional. This of course adds to their lasting appeal. We will discuss Kittinger's Colonial Williamsburg association below.
While modern technologies were eventually integrated into Kittinger factories, two hands and ten fingers could not be mechanically duplicated when it came to the art of furniture-making.
At least, not in the Kittinger Furniture Factories.
Kittinger Furniture and Colonial Williamsburg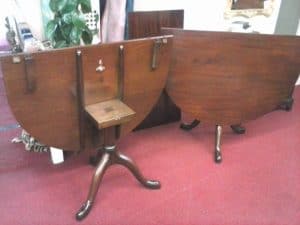 Kittinger has strong ties with Colonial Williamsburg.
Colonial Williamsburg served as the capital of one of the original thirteen colonies for 80 years. The city, of course, was a seat of power. Patrick Henry, George Washington and Thomas Jefferson all made frequent visits to Williamsburg, Virginia.
Thus, Colonial Williamsburg sat as a cultural and political center until 1780. It was a planned city, and a stylish one. In style, the city fashioned itself like tasteful London. Orderly gardens and Georgian style buildings demonstrate this British influence.
Once the tobacco, lumber, wheat and corn industries took hold in Virginia, wealth and commerce developed. Indeed, industries like silver making, dressmaking and furniture production flourished in the colony. Wealthy inhabitants of the city sought elegant furnishings and stylish furniture to decorate their homes.
Rockefeller and Colonial Williamsburg
Yet, when the capital of Virginia moved to Richmond in 1780, Williamsburg fell into a long period of neglect. 150 years of neglect, in fact! It was not until 1926 that John Rockefeller Jr. set up a non-profit foundation to restore and reconstruct Williamsburg's city and open it to the public. Rockefeller aimed to ensure our nation's early Colonial roots were not forgotten.
Indeed, Rockefeller's hoped, "that the future may learn from the past" and that "the patriotism, high purpose and unselfish devotion of our forefathers to the uncommon good" be remembered.
But one must keep in mind, Rockefeller cared deeply about the project. He wanted to ensure Williamsburg continued and had funding. Ten years after the start of his Williamsburg project, he introduced the Craft House.
The Craft House at Colonial Williamsburg introduced exact handcrafted replicas of furniture, glass, ceramics, prints, crystal, silver, pewter and glass. These creations were exact reproductions of period pieces. In fact, artisans wore period clothing and created their wares right on site! This allowed Colonial Williamsburg to sell merchandise all across the country.
Kittinger CW Furniture (Colonial Williamsburg Furniture)
The committee at Williamsburg chose Kittinger Furniture Company to work with them in the furniture reproduction program. Indeed, Kittinger's attention to quality and precision made them an obvious choice to recreate these historic pieces. Of course, these replicas of 18th century designs required incredible devotion to the craft of furniture making. As you can imagine, the collaboration was a huge hit!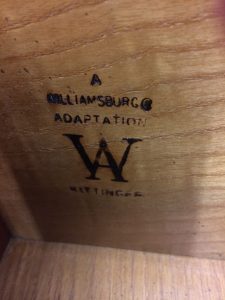 The collaboration between Kittinger and Colonial Williamsburg lasted for fifty years. During that time, three hundred different antique models were reproduced.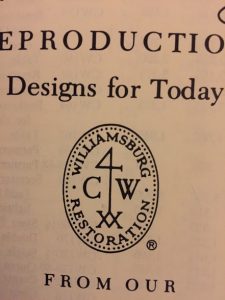 Each piece of furniture included with their sale a stamp and Williamsburg insignia. The insignia kind of has an Illuminati-style secret look to it. They also included information regarding the original piece of antique furniture that the fine reproduction was modeled after.
Thus, Kittinger CW furniture pieces (as they are often called) have a high demand. These very special pieces of vintage furniture further elevate the value of Kittinger Furniture.
Kittinger CW furniture gives twentieth century people a connection to the past. It commemorates an important time in American history and early American furniture. It celebrates our rich history.
And the beauty of these simple yet elegant furniture styles simply cannot be denied!
Colonial style furniture, although obviously influenced by British cabinetmakers, has elegance and patriotism. CW Kittinger furniture Vintage pieces remain collectible and stylish today.
Kittinger Furniture and Historic Newport Furniture
Kittinger's prestige grew throughout the 20th century and this opened up new avenues and opportunities for the company.
Like their collaboration with Colonial Williamsburg, the Preservation Society of Newport County sought out Kittinger to help them with reproducing their valuable antiques. Newport, Rhode Island was also an important city center in Colonial times.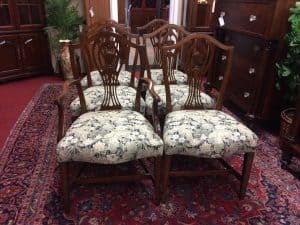 However, Newport, Rhode Island developed as a Quaker colony. Two important Quaker families, the Goddard and Townsend families, migrated to Newport and started important furniture cabinet maker shops during the Colonial Period. For 120 years, both family names produced extraordinary furniture. Notably, early Goddard and Townsend names are associated with shell carved chests and ball and claw feet.
Original furniture by these makers have brought huge auction records. For instance, a Goddard and Townsend six shell bookcase desk reached a soaring 12.1 million at auction in 1989. Thus, the reproduction pieces by Kittinger Historic Newport gained popularity and prestige!
Indeed, Kittinger Historic Newport Furniture has lots of appeal as fine heirloom furniture. Of course, reproduction furniture of this caliber continues to have high price tags. One could expect to pay quite a few thousand dollars for Historic Newport Vintage chairs, for instance.
Kittinger reproduced these early pieces with grace and style. Historic Newport furniture by Kittinger includes a paper tag. Although not as common, Historic Newport furniture remains an excellent choice when decorating a fine or historic home.
Kittinger Furniture (A Brief History)
Despite its glorious reputation, Kittinger Furniture history has not been without its ups and downs as a company! Kittinger has had a long history since their inception in 1866.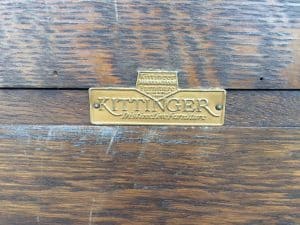 In that year, the company was known as Thompson, Colie and Co and actually started as a paper company in Buffalo, New York. The paper company switched to upholstered furniture in 1870. With that as their main focus, the company produced Colonial style upholstery.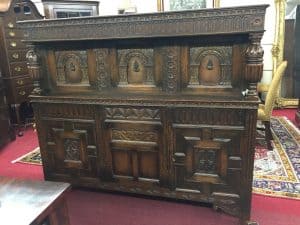 In 1913, Ralph and Irvine Kittinger purchased the company and renamed in "Kittinger" that year. Their goals were simple. They wanted to produce the best furniture possible.
Irving wrote of his aim in this way: "Our business is not primarily to turn furniture into money, but to produce something really worthwhile." he wrote.
This drive for quality and high style helped Kittinger reach great heights. In 1929, the company grossed 1 million in sales, an incredible sum for a company during this period! The company maintained this level of success and it passed down through several generations within the Kittinger family.
However, by 1966, roughly 100 years since their start, the family sold Kittinger to General Interiors Corporation. The next twenty five years, Kittinger Company changed hands five more times.
It came under the ownership of the following companies:
General Mills Corporation
Chicago-Pacific Corporation
Maytag Corporation
Ladd Furniture Corporation
Michael Carlow (private investor)
Like many domestic furniture companies in the US, new labor markets squeezed Kittinger's profits. By the time Michael Carlow, a serial investor, came around in 1990, Kittinger profits suffered badly and the company was sold for an undisclosed amount.
Kittinger Drama!
Michael Carlow's tenure as head of Kittinger has been wrought with drama and illicit activity! By the time he came around in 1990, Kittinger had lost their license with Colonial Williamsburg. The CW trademark was passed on to Baker Furniture.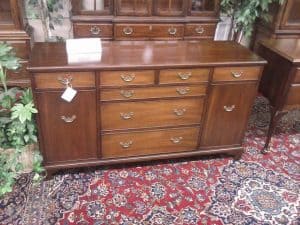 However, the Buffalo factories of Kittinger apparently still had in stock approximately 9 million dollars worth of chair legs, backs and furniture parts made for the Colonial Williamsburg line. According to Fortune Magazine, Carlow insisted that they sell the parts anyways, modifying the designs a bit in an effort to avoid a lawsuit. However, Colonial Williamsburg went forward with a lawsuit of over $500,000 against the company.
Michael Carlow also allegedly cheated Kittinger Furniture Employees out of certain benefits. Union officials claimed he didn't send in Worker's Compensation to the State or FICA taxes to the feds.
Additionally, Carlow also allegedly used Kittinger and dozens of other companies he invested in to enact check kiting scams. Kiting refers to taking advantage of the float time in the banking system. Con artists write bad checks before a bank can notice the scam. Many banks do not report this behavior, because it could cause chaos and expose the bank as insecure. Michael Carlow later served time for this fraudulent behavior.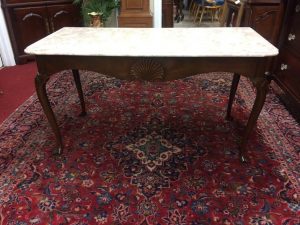 This immoral behavior and multiple lawsuits forced Kittinger to meet a chaotic end in 1995. The fine furniture company closed their doors. Many felt the company would fade into obscurity. Kittinger's last remnants headed to the auction block…
Kittinger Company Remains Open
However, the company did not close forever or fade into obscurity!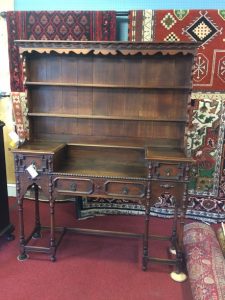 Fortunately, a devoted employee who had spent nearly twenty years at the company stepped in. Ray Bialkowski started working at Kittinger in 1979 in the sanding department. He worked up the ranks and eventually received a promotion as a master cabinetmaker. He then became a leader in the Cabinet Department.
In 1996, he and his wife Karen decided to purchase the Kittinger Company. Ray's and Karen's love of the company has salvaged the brand, and pushed it in new directions. Currently, Kittinger continues in the production of fine furniture. It is one of the few remaining domestic furniture companies of such clout and with such a long history. Of course, it remains internationally known and recognized.
Karen's background focused in interior design. She proposed to open The Kittinger Gallery in Buffalo. Since this proposal, the retail and design center has been instrumental for the company. It continues to attract partnerships with other retailers and custom work for Kittinger.
Vintage Furniture by Kittinger and What to look for
With all of the interesting stories behind the Kittinger brand, there exists a mystique behind vintage Kittinger furniture.
However, although vintage Kittinger furniture and antique Kittinger furniture remains popular, some tips come to mind…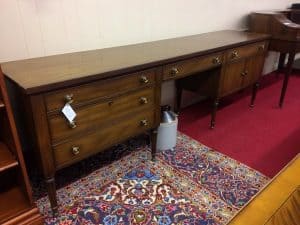 Firstly, even though the brand has utmost importance, one should still choose vintage furniture because it speaks to you. Furniture requires an investment. Why not choose something that makes you happy everyday, instead of settling for something that just "works"? As corny as it sounds, we always feel the right piece will find you. Decorating your home is a long distance race, not a sprint.
Secondly, take note of the condition of vintage furniture. Kittinger, as a luxury brand, typically comes from a home where furniture is well cared for. Although not always true, when someone goes to incredible expense to purchase a piece of furniture, they generally polish it regularly. They take care not to place glasses or vases directly on top. Indeed, they care for it like a member of the family!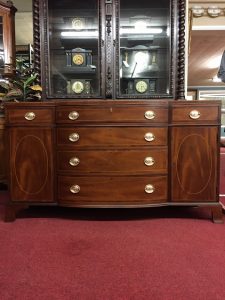 However, there are times when this logic doesn't hold true. So check the drawers, cabinet doors and feet. Often vintage furniture left in storage can suffer from flooding, water damage or splitting due to temperature changes.
When purchasing vintage furniture online, check the measurements! Photos can deceive! Also, take a few minutes to really inspect each photo. Pictures tell a thousand words, like they say!
Finally, we always recommend to check the listings we have prepared for you. You never know what special Kittinger treasure might be waiting for you here!
Of course, if you are trying to sell Kittinger pieces, check out our Guide for Selling Furniture.
Comment Below!
Do you own any Kittinger pieces? Comment below! We'd love to hear what special treasures you have found!
Thank you for delving into the fascinating world of vintage furniture with us!
Written by Rachel LaBoheme
Spread the love, Save for Later