Antique China Cabinets
Antique China Cabinets come in all shapes and sizes and can fall under a plethora of different styles and periods. Today, we will be looking at a very particular Hepplewhite Style China Cabinet that we sold a few years ago.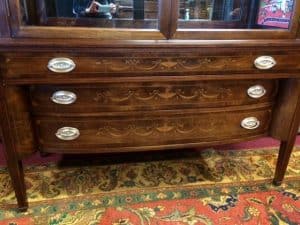 This beautiful Hepplewhite Style China Cabinet was one of my favorites for many reasons, so let's dive right in and discuss the history, style and value of this antique china cabinet.
Hepplewhite Style China Cabinet
This Hepplewhite Style China Cabinet has several characteristics which classify it in the Hepplewhite Style.
George Hepplewhite was an 18th Century British Designer who largely popularized a very finely detailed style of decoration and furniture. Taking from Neoclassical designs, Hepplewhite's drawings featured delicate inlay of multiple types of fine woods.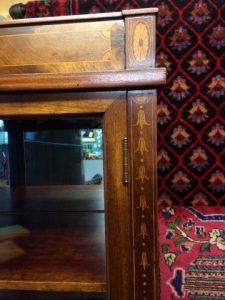 The tapered straight legs of this china cabinet also fits very nicely into the category of Hepplewhite style.
Finally, the graceful proportions and brass oval hardware firmly place this cabinet in the Hepplewhite Style category.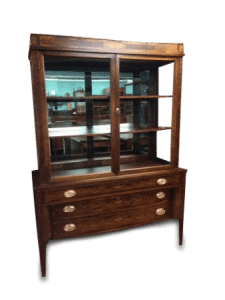 Dating an Antique China Cabinet
Dating an antique china cabinet can often cause issues for people who can identify a style but who are not versed in furniture construction.
This cabinet, while showing many beautiful features of the Hepplewhite style, does not date to the 18th Century.
Rather, its construction reveals a later reproduction from the early 20th century.
In the early 20th century, fine furniture makers aimed to revive the elegance of Hepplewhite and Federal styles. Often, very high-end furniture workshops produced incredibly detailed cabinets, sideboards and buffets for their wealthy clientele, aiming to replicate the fine antiques of the Federal period.
Brands like Potthast Furniture and R.J. Horner competed with their exquisitely inlaid pieces, all revivals and adaptations of early Federal Period Antiques.
This antique cabinet had an original paper label with the New York Workshop stamped on the back. Undoubtedly, this showy cabinet aimed to impress in a fine Manhattan showroom. Of course, it's previous owner no doubt felt it imparted elegance and refinement as a magnificent showpiece for fine china or crystal.
Value of An Antique China Cabinet
The value of an antique china cabinet such as this one made in the early 20th century depends largely on the condition and the overall beauty.
Having established that it is not of the Federal Period, but a revival piece, it does not have the same value as say this desk that belonged to Thomas Jefferson that was valued at over $100,000.
However, the Antique Hepplewhite Style China Cabinet still received a value of between $2000 and $3000 in our shop. The sympathetic refinishing, masterful inlay work, and overall quality of the cabinet gave it this retail sale value. Indeed, it sold rather quickly at this price.
Likely, this cabinet should appreciate in the future. Largely, experts agree that antique furniture prices have tanked significantly since the 2008 crash, causing many to consider a "buy and hold" investment strategy.
With the price of lumber skyrocketing and the quick production of furniture today (often overseas in large city-like manufacturing operations), furniture with significant artistic hand work like the fine inlay of this antique cabinet, seems all the more rare and incredible!
Likewise, current reproduction furniture from high end makers today, like Henkel Harris, Kittinger, Baker and Stickley, command significant retail prices in the five figures, albeit from potentially a smaller slice of the market.
Thus, this antique Hepplewhite style china cabinet could certainly appreciate in value in the future.
Antique Furniture Values
Antique Furniture values can fluctuate much like any market. We would love to know your thoughts about antique china cabinets of this caliber. Do you own a Hepplewhite Style Cabinet? What do you think of our evaluation of this Antique China Cabinet?
Please leave your comments below!
Thank you for reading!
Rachel LaBoheme
Spread the love, Save for Later