Antique French Hunt Cabinets
Antique French Hunt Cabinets are large, impressive and sure to wow. Often carved of solid oak or walnut, Antique Cabinets feature carvings of beasts and fauna and typically were used in large manor homes.
While no two are exactly alike, this genre of furniture does have several attributes that make it easily recognizable.
So just what is a French Hunt Cabinet? What is the history of this type of cabinet? And most importantly, what are they worth today?
We sold an incredible antique French Hunt Cabinet just a few years ago, so let's dive in to this fascinating subject of the Antique French Hunt Cabinet.
(Make sure you watch this Antique French Hunt Cabinet Video!)
What is a French Hunt Cabinet?
French Hunt Cabinets are typically a two piece cabinet with base and top. Of course, the top section might have glass fitted in the doors and is used primarily for display. Typically, the bottom cabinet has two drawers and two cabinet doors.
Consistent with all Hunt Cabinets, though, is the theme of the carvings and decoration. The hunt, or in French, "La Chasse," is an age-old pastime of French nobles and elite.
The sport of the hunt became increasingly popular in the 19th century. As a demonstration of valor and bravery, hunting in the perilous French woods became both a symbol of wealth and masculinity.
Of course, these country homes were no small cottages, but rather showy estates. Often built of stone with turrets and fortresses, many dating back to feudal times, these manor houses called for large and impressive furniture.
Thus, nearly all antique French Hunt Cabinets feature a strong Renaissance Revival or Gothic flavor. Heavy carvings, deep exaggerated carvings and dark finishes also characterized hunt furniture.
Often, hanging pheasants, hares, deer, stags and other prey elaborately hang from the doors and drawers of these antique cabinets. Typically, lifelike leaves, branches and flowers also make up the carvings of a hunt cabinet.
The three dimensional quality of these antique cabinets was meant to wow! Craftsmanship of this caliber took weeks and sometimes months of work to complete and was no easy or inexpensive task.
This particular antique hunt cabinet was both a feat of design and engineering! Elaborate barley twist columns on either side, complex moldings, and frightening beast-like handles made this massive oak cabinet truly spectacular! Not to mention, very life-like birds jutting out of the cabinet door made quite an impression.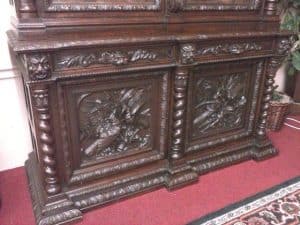 The Value of an Antique Hunt Cabinet
Because of the quality and enormity of this particular antique hunt cabinet, we had a tough time placing a dollar value on it in our antique shop. To be honest, we felt that this cabinet stood out from others we had seen, both in the detailed carvings and the overall condition.
However, for better or for worse, certain aspects of the antique hunt cabinet had been modernized over the years.
Original glass in the doors had been replaced with a handsome, albeit modern beveled glass. Also, this cabinet had been fitted with touch lighting and glass shelves. These glass shelves were thick and cut in a curved way so as to fit the cabinet beautifully.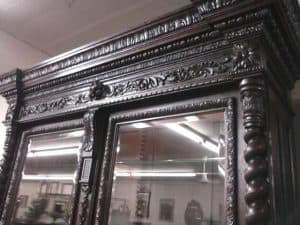 Certain people may say that these changes hurt the overall value of the antique. Others would argue that these changes made the cabinet more appealing, and certainly more useful as an impressive display cabinet.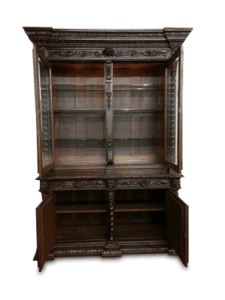 Antique Furniture in Original Found State
I believe that antiques in "original found state" do NOT necessarily have more value than altered or restored antiques. In fact, this school of thought that only values "original" antiques is quite limiting and misleading for the general public.
All precious antiques, including signed furniture and valuable paintings at the Louvre or the Metropolitan, undergo restoration work. Preservation and restoration, when done sensitively, can help lengthen the lifespan of works made of wood, oil, canvas, fabric, and even stone and glass for future generations.
Time, light, and humidity can do damage to works of art, and with a delicate approach, we can alter a work in order to maintain it.
Of course, as any restoration expert knows, we come to a work of art with modern eyes. In other words, we cannot remove our own modern context or point of view.
Thus, one of the previous owners of this hunt cabinet made the decision to fit it with touch lights and modern glass.
In the end, our Antique French Hunt Cabinet sold for between $3000 and $4000 and has a very happy home in a grand home in Pennsylvania. It houses a lovely and precious display of family heirlooms for the owners, and the columns remind them of Roman architecture they saw on their honeymoon. 🙂
The Value of Antique Hunt Cabinets in the Years to Come
Many antique furniture experts have seen a decline in value of 19th century furniture since the 2008 crisis and because of other technological factors.
The caliber of carved furniture of this style cannot be denied. However, the heavy Renaissance style may only fit a very select number of today's homes. Obviously, if demand is low, prices could remain low.
However, despite this, this type of antique cabinet is likely to appreciate in coming years, due in part to the declining number of cabinets available.
Additionally, as cheap imported furniture of shoddy quality has inundated the marketplace, antiques of fine quality have started to attract new buyer interest.
Of course, only time will tell how the values of antique hunt cabinets may be affected in coming years.
What do you think? Do you own an antique hunt cabinet of this type? Do you believe it is worth more than you paid? What will the value of these types of antique cabinets be in coming years?
We would love to hear your thoughts in the comments below!
Best,
Rachel LaBoheme