Antique Furniture Question
Tom B. writes:
"Good Morning ~
We have a buffet we cannot identify. I was wondering if you might be able to help us find out more about it. I have attached photos. I cannot find this model though we do know it has markings from Northern Furniture Company– Sheboygan, WI.
It has 2 side cabinets, 2 center drawers, and 1 long bottom drawer
Any information you might care to share would be greatly appreciated if you know or find out anything about the piece or can direct me to someone who can help. It belongs to my parents
Most Sincerely,
Tom from Vegas"
Antique Furniture Answer : Our Experts Answer!
Rachel writes:
Dear Tom,
Your buffet appears to be mahogany and from the photo appears to be from circa 1930-1949. Northern Furniture Company made some beautiful mahogany and cherry furniture in Sheboygan Wisconsin. They changed the company name in 1949, so if it is stamped we can assume it was made before that date.
The style is commonly referred to as "Queen Anne style," and is a Colonial revival style that has remained popular for many years (and largely to this day). The shell carving and cabriole legs are common for Queen Anne style. Queen Anne style reached the American colonies by way of England in the late 18th century. However, it has been repeated and revived and adapted throughout our history. The swooping legs and delicate carvings of Queen Anne style can be considered the utmost of "traditional furniture."
Northern Furniture Company may not be that well known in the Vegas area, but on the east coast, there are some collectors and dealers who value their furniture pretty highly.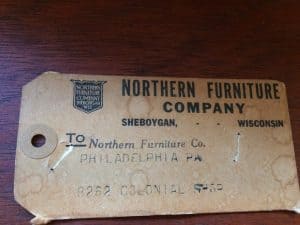 Northern Furniture Company was known as a pretty high end reproduction company that operated out of Wisconsin for a period of about 60 years. Originally, they operated under the name, "Mattoon Manufacturing Company" from 1881 until about 1904. Most of their furniture comprised of dining room, bedroom and bookcase furniture.
Later, in 1949, the company changed it's name to R-Way Furniture.
Without seeing the condition in person, it is hard to put a value on your buffet. I would say a good price at auction would be between $200-400 in my area. If the piece had more inlay or carvings, the estimate would be higher. From the photo, your parent's sideboard does not appear to have a substantial amount of carved or inlay detail.
Hope this helps! Thanks for writing!
Take care,
Rachel
Contact Us with Your Questions!
Do you need help identifying your antique furniture? Want to know our estimated value of your vintage furniture? Have style questions related to antique furniture? Write to us with your questions at:
rachel@ebohemians.com
Please, Please, Please crunch your image size so that we can receive your photos! (Use compressjpeg.com or a zip file) Please also note, all opinions stated on our Q & A are opinions of our authors. We do our best to answer your questions about history, value and style!
Also, please note that by sending us your photos and questions, you give us permission to reprint and use your images and first name on our blog. Thank you.