What's the Value of an Ethan Allen Georgian Court Server? Bohemians sold an Ethan Allen Georgian Court Server for $400-$500 in October of 2019. This vintage server, which has a nice traditional look, sold rather quickly at this price.
Ethan Allen furniture prices on the secondary market have been holding strong for pieces that are in excellent condition. They always offer a very good value for your money.
The specifications regarding this vintage sofa table were as follows:
Ethan Allen Georgian Court Server
Item: Vintage Ethan Allen Georgian Court Server with Flip Top.
Age & Condition: Circa 2000. Some signs of use (mostly to the top.)
Dimensions: 40″ wide (60″ when opened) x 20″ deep x 36″ tall.
Ethan Allen Georgian Court Server
Ethan Allen Georgian Court Server in solid cherry. This little piece has great storage and practicality!
This small Ethan Allen server has a flip top which reveals a heat and water resistant surface. Also, the little server has two drawers and two cabinet doors that open wide for plenty of storage.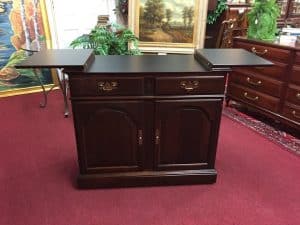 There is a small carved rosette in the center of the server as well. Finally, this Ethan Allen flip top server sits on castors for easy movement around the dining room.
Vintage Ethan Allen Furniture
Vintage Ethan Allen Furniture has a loyal following, and great name recognition. Of course, for this old furniture company, Ethan Allen has earned a reputation for some great lines of traditional, cherry furniture, like this Georgian Court Server.
Indeed, while it may not have the high resale value of certain brands like Stickley Furniture and Baker Furniture, Ethan Allen still tops the list of great American Furniture companies.
So, many people recognize the Ethan Allen name. Of course, this often helps the resale value, as well as the relative speed of sale, of vintage Ethan Allen furniture. More obscure furniture brands that had less longevity no doubt are a bit tougher to sell on today's competitive market. See also Ethan Allen dining room sets
Selling furniture can be a great hobby or a full time business, but usually it helps to price your pieces competitively!
Do you have Ethan Allen dining room furniture you have sold in the past? Or do you prefer to pass this great vintage furniture on to your family? Let us know in the comments below.
Spread the love, Save for Later