Bohemians Antiques sold a vintage Ethan Allen Sofa Table in the summer of 2020 for about $300. This sofa table had some flaws, but still had a very nice traditional look.
The specs on the sofa table were as follows:
Item: Vintage Ethan Allen Sofa Table with Three Drawers.
Age & Condition: Circa 1980-1990. Several light scratches and flaws to the top.
Dimensions: 58″ wide x 16″ deep x 27.5″ tall.
The full description of the Ethan Allen sofa table is as follows:
Ethan Allen Cherry Sofa Table with Three drawers. This vintage sofa table could fit in so many places in the home.
The narrow table has a nice curved edge. Of course, it also has nicely carved Queen Anne legs.
Overall, the table is in pretty good shape. However, there are several scratches and flaws to the top. Please see photos.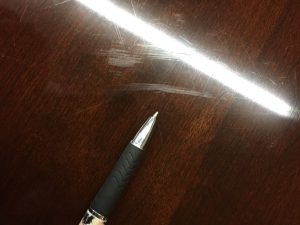 You may be curious to learn more about the history of Ethan Allen. In fact, while most people have heard the name Ethan Allen before, not many know too much about the company.
Ethan Allen's history dates back all the way to the 1930's!
While still open today, many people prefer vintage Ethan Allen of yesteryear. Certainly, if you appreciate great craftsmanship, solid wood furniture, and traditional designs based on antique furniture, vintage Ethan Allen is a sound investment.
Of course, even a flawed sofa table, like this one, can be restored. Solid wood furniture, therefore, can still have a fairly decent resale value on the secondary market today. However, obviously, a more pristine sofa table likely would have had a higher price on the resale market.
Indeed, when it comes to high end used furniture, condition is paramount!
Do you have a soft spot for Ethan Allen furniture? Let us know in the comments below!